Brendan Rodgers
Association football player and manager from Northern Ireland (born 1973)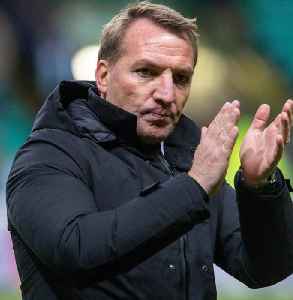 Brendan Rodgers is a Northern Irish professional football manager and former player who is the manager of Premier League club Leicester City.


Brendan Rodgers salutes his best result as Leicester boss

Brendan Rodgers hailed his best result as Leicester manager after his side ranout stunning 5-2 winners at Manchester City on Sunday. Jamie Vardy grabbed ahat-trick as the Foxes came from behind to..
Credit: PA - Press Association STUDIO Duration: 01:07
Published
Leicester: 2020/21 season in preview

A look ahead to Leicester's season, as Brendan Rodgers' side look to build ontheir fifth-place finish. The Foxes will hope to put the disappointment ofmissing out on Champions League football behind..
Credit: PA - Press Association STUDIO Duration: 00:48
Published
You Might Like



Disappointment if Leicester miss top four but big improvements needed - Rodgers

Leicester boss Brendan Rodgers says missing out on the top four would be a "disappointment" but insist it would "whet the appetite" for 2020-21.




BBC News - Published





Vardy one of world's best strikers, says Leicester boss Rodgers

Leicester City striker Jamie Vardy is "one of the top strikers in the world", according to manager Brendan Rodgers.




BBC News - Published





Brendan Rodgers: Leicester City manager says he had coronavirus

Leicester City manager Brendan Rodgers says he "had no strength" after contracting the coronavirus in March.




BBC News - Published




Leicester boss Rodgers reveals he had coronavirus

Leicester City manager Brendan Rodgers says he "had no strength" after contracting the coronavirus in March.




BBC News - Published





Leicester City 4-0 Aston Villa: Jamie Vardy scores twice in big win

Leicester City manager Brendan Rodgers thought his side looked back to their best as Jamie Vardy ended his goal drought in a convincing win over Aston Villa.




BBC News - Published





Jamie Vardy: Leicester City boss Brendan Rodgers backs striker to end goalless run

Leicester striker Jamie Vardy will soon end his goalless run and reach a century of Premier League goals, says boss Brendan Rodgers.




BBC News - Published




James Maddison: Brendan Rodgers defends Leicester midfielder over Dubai night out

People are "trying to fit a narrative" around James Maddison, says Leicester boss Brendan Rodgers who defends his player following a newspaper article.




BBC News - Published





Jamie Vardy: Leicester City striker could be fit to face Aston Villa in Carabao Cup

Leicester boss Brendan Rodgers says Jamie Vardy's injury is "not as serious" as first feared and the striker could be fit for Tuesday's EFL Cup semi-final at Aston Villa.




BBC News - Published





Hamza Choudhury: Leicester's Brendan Rodgers says midfielder gave side 'identity back'

Hamza Choudhury gave Leicester their "identity back" in the 1-1 Carabao Cup semi-final first-leg draw with Aston Villa, manager Brendan Rodgers says.




BBC News - Published





Leicester v Liverpool: It is win or bust for Foxes so what will Brendan Rodgers do? - Darren Fletcher analysis

With Leicester needing to beat Liverpool to keep alive their Premier League title hopes, Match of the Day pundit Darren Fletcher explains what the Foxes might try against the unbeaten Reds.




BBC News - Published





Brendan Rodgers: Leicester manager says no players will leave in January

Leicester will not sell any of their players during the forthcoming transfer window, manager Brendan Rodgers says.




BBC News - Published





Rodgers 'happy' for Leicester to be left out of title race chat

Leicester City boss Brendan Rodgers says he is happy for his side to be left out of the Premier League title conversation despite sitting second in the table.




BBC News - Published





Brendan Rodgers rules out leaving Leicester amid Arsenal rumours

Brendan Rodgers rules out leaving Leicester after rumours link him with the Arsenal managerial vacancy.




BBC News - Published




James Maddison: Leicester boss Brendan Rodgers backs midfielder after casino 'mistake'

Leicester boss Brendan Rodgers defends James Maddison after he was seen in a casino after pulling out of England squad because of illness.




BBC News - Published





Liverpool 2-1 Leicester: Sadio Mane 'made most of contact', says Brendan Rodgers

Leicester boss Brendan Rodgers says Sadio Mane 'made the most of the contact' as he won a stoppage-time penalty in Liverpool's 2-1 win at Anfield.




BBC News - Published





Match of the Day 2: Rodgers on Pereira quality & his ambitions for Leicester City

Leicester City boss Brendan Rodgers joins Match of the Day 2 to talk about the quality of full back, Ricardo Pereira & his ambitions for the club.




BBC News - Published





Vardy scores two as Leicester hammer 10-man Newcastle

Leicester City's impressive start to the season under Brendan Rodgers continues with a thumping 5-0 win over Newcastle United.




BBC News - Published





Maguire valuation not met, says Leicester boss Rodgers

Leicester boss Brendan Rodgers says the club's valuation of Harry Maguire has not been met, following Manchester United's £70m bid.




BBC News - Published