Coronavirus disease 2019
Infectious respiratory disease caused by severe acute respiratory syndrome coronavirus 2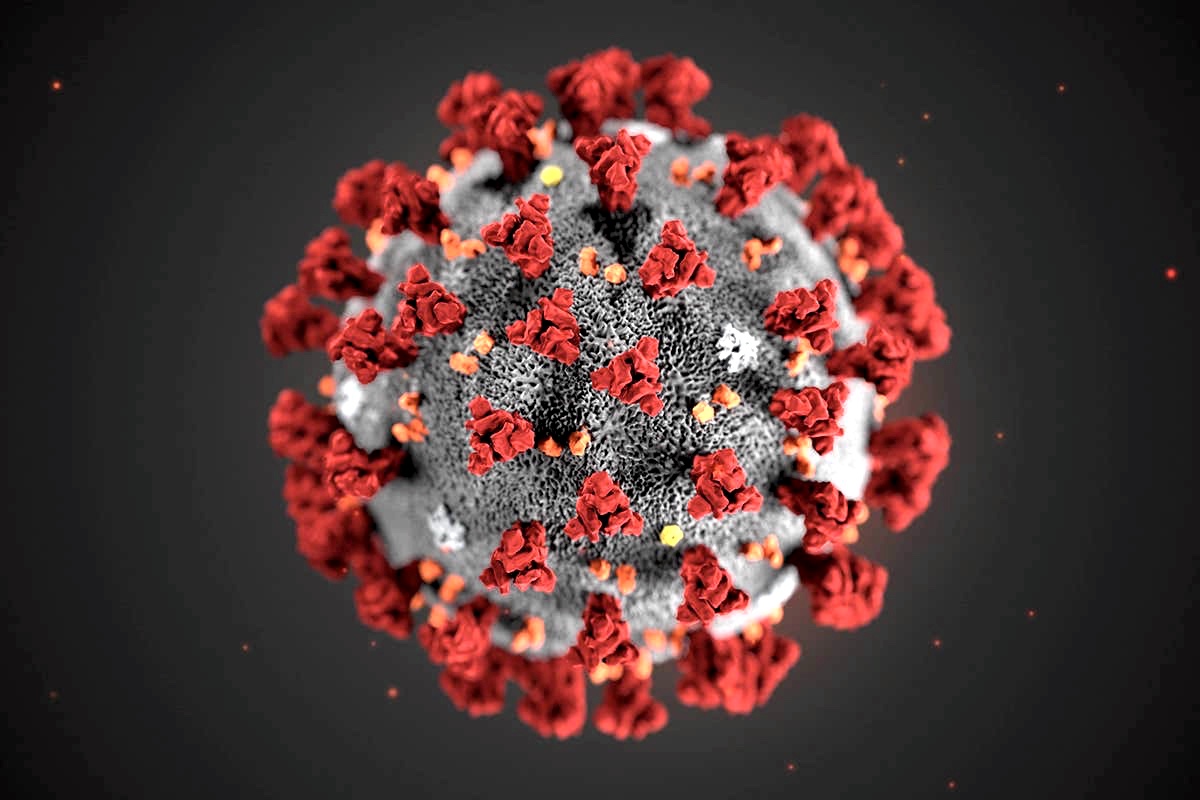 Coronavirus disease 2019 (COVID-19) is a contagious respiratory and vascular disease. It is caused by becoming infected with severe acute respiratory syndrome coronavirus 2 (SARS-CoV-2), which is a specific type of coronavirus. Common symptoms include fever, cough, fatigue, shortness of breath or breathing difficulties, and loss of smell and taste. The incubation period, which is the time between becoming infected with the virus and showing symptoms, may range from one to fourteen days. While most people have mild symptoms, some people develop acute respiratory distress syndrome (ARDS) possibly precipitated by cytokine storm, multi-organ failure, septic shock, and blood clots. Longer-term damage to organs has been observed, and there is concern about a significant number of patients who have recovered from the acute phase of the disease but continue to experience a range of effects—including severe fatigue, memory loss and other cognitive issues, low grade fever, muscle weakness, breathlessness, and other symptoms—for months afterwards.


PM defends funding for Tier 3 regions

Boris Johnson has defended the funding given to regions in Tier 3 Covid alert level, following a breakdown in negotiations with local leaders in Greater Manchester. Report by Etemadil. Like us on..
Credit: ODN Duration: 02:31
Published
Humans' 'disrespect of nature' is partly to blame for COVID-19: Jane Goodall

The world-renowned ethologist, who devoted her life to the protection of chimpanzees, deplored our treatment of animals and their habitat. View on euronews
Credit: euronews (in English) Duration: 10:06
Published
Boris Johnson moves Greater Manchester into Tier 3

Prime Minister Boris Johnson has announced that Greater Manchester will be placed into Tier 3 Covid alert level, despite opposition from local leaders over financial support. Report by Etemadil. Like..
Credit: ODN Duration: 01:59
Published
Coronavirus in numbers: UK death toll rises by 241

The Government said that, as of 9am on Tuesday, there had been a further21,330 lab-confirmed cases of coronavirus in the UK. It brings the totalnumber of cases in the UK to 762,542. The Government also..
Credit: PA - Press Association STUDIO Duration: 00:34
Published
Brush your teeth to lower risk of Covid-19

Brushing your teeth before you leave the house could offer you extra protection from Covid-19.
Credit: Cover Video STUDIO Duration: 01:23
Published
Chancellor defends Covid support for Manchester

Chancellor Rishi Sunak defends the support given to Greater Manchester amid resistance from the region to accept Tier 3 restrictions to deal with rising Covid-19 cases. Report by Etemadil. Like us on..
Credit: ODN Duration: 01:26
Published
Rishi Sunak departs Downing Street for Treasury Questions

Chancellor Rishi Sunak departs Downing Street for the House of Commons where he will face Treasury Questions amid criticism over the government's financial support package for Covid affected..
Credit: ODN Duration: 00:30
Published
Ireland, Wales to re-enter lockdown as COVID-19 surges in Europe

European countries tighten COVID-19 curbs as WHO urges nations to enforce quarantine measures to contain new surges.
Credit: Al Jazeera STUDIO Duration: 02:22
Published
MGNREGA provides jobs to labourers in remote areas of Rajouri

In the wake of COVID-19 pandemic, jobless labourers living in far-flung hilly areas are getting an opportunity to earn for living. Labourers in J-K's Rajouri started working in different sectors under..
Credit: ANI Duration: 02:34
Published
Ireland to be placed in second lockdown

Ireland will be placed in a second lockdown in a bid to curb the spread ofCovid-19. The Irish Government has agreed to impose the highest level ofrestrictions under its five-tiered plan for living with..
Credit: PA - Press Association STUDIO Duration: 00:55
Published
Trump: Dr. Fauci has made 'bad calls'

President Donald Trump on Monday told reporters that the director of the National Institute of Allergy and Infectious Diseases, Dr. Anthony Fauci, has made "bad calls" when it comes to the handling of..
Credit: Reuters Studio Duration: 00:44
Published
Govt not opposed to another stimulus package: FM Sitharaman

Union Minister of Finance and Corporate Affairs, Nirmala Sitharaman, on October 19 said that the government is open to another stimulus package to deal with the blow of COVID-19. "We have not closed..
Credit: ANI Duration: 01:45
Published
Future will be shaped by those who invest in science, innovation: PM Modi

Prime Minister Narendra Modi attended inaugural function of Grand Challenges Annual Meeting 2020 via video-conferencing on October 18. Microsoft founder Bill Gates also interacted with PM Modi during..
Credit: ANI Duration: 03:22
Published
CVS to hire 15,000 to help with COVID-19, flu

U.S. pharmacy chain CVS Health said it will hire 15,000 employees in the fourth quarter of this year as the onset of winter could fuel a resurgence in the spread of COVID-19 and flu cases. Conway G...
Credit: Reuters Studio Duration: 00:57
Published
Watch: Doctor dances to cheer Covid patients; earns praise from Hrithik Roshan

A video of a doctor in Assam dancing to cheer up Covid-19 patients has gone viral on the internet. The video shows Dr Arup Senapati dancing to a Bollywood number at the Silchar hospital. The doctor can..
Credit: HT Digital Content Duration: 01:34
Published
Watch: PPE-clad doctor shakes his legs to make COVID patients smile

Even as COVID-19 is taking a toll on the world population, especially the frontline workers, a video of a doctor from Silchar Medical College dancing in his PPE kit has gone viral. The PPE-clad doctor..
Credit: ANI Duration: 01:44
Published
Rahul Gandhi attends Covid-19 review meeting at Kerala's Malappuram

Rahul Gandhi attended a Covid-19 review meeting at Malappuram on October 19. In the past 3 days, Malappuram recorded the highest number of cases in Kerala. Gandhi also interacted with Wayanad residents..
Credit: HT Digital Content Duration: 01:21
Published
Covid-19: Which areas are in what tier?

A look at the breakdown of which areas are in what tier of coronavirusrestrictions, and what that means. Liverpool and parts of the North Westremain in Tier 3 - the highest level of restrictions.
Credit: PA - Press Association STUDIO Duration: 00:40
Published
40% COVID cases can increase during winters on daily basis in India: Cardiologist

Air Quality Index (AQI) of national capital remained in poor condition on October 19 amid fear of coronavirus pandemic. Speaking to ANI, the Senior Director of Interventional Cardiology in Max Super..
Credit: ANI Duration: 01:38
Published
Rahul Gandhi arrives at Malappuram Collectorate for COVID-19 review meeting in Kerala

Rahul Gandhi arrived at Malappuram Collectorate for a COVID-19 review meeting on October 19. He is on 3-day visit to his parliamentary constituency, Wayanad. Earlier, Congress workers welcomed Rahul..
Credit: ANI Duration: 01:11
Published
You Might Like



DJ Paul Says Three 6 Mafia Will Stop KY Show If Fans Don't Social Distance

DJ Paul says Three 6 Mafia's indoor concert -- the first such U.S. show in the COVID era -- won't play out like the infamous Chainsmokers gig this summer ... the fun ends if fans don't follow the..




TMZ.com - Published





Covid: Man punched for taking off face mask on Blackpool tram

Police release CCTV images of a suspect after a tram passenger is attacked on a Blackpool service.




BBC News - Published





Covid: Greater Manchester to move to Tier 3 restrictions from Friday

Boris Johnson says he "regrets" a deal over financial support could not be reached with local leaders.




BBC News - Published





Covid: 'Heartbreak' at Greater Manchester tier 3 status

Business owners express frustration and upset as they warn of a tough winter under new Covid rules.




BBC News - Published





Covid: London 10pm curfew should be scrapped, mayor says

Sadiq Khan says the 10pm curfew "does not make sense" and puts hospitality venues at risk.




BBC News - Published





Coronavirus: German Alpine region goes into lockdown

The Berchtesgaden area starts a two-week lockdown, Germany's first since the spring Covid peak.




BBC News - Published





Covid: Tier 3 restrictions set to be imposed on Greater Manchester

Talks have broken down between local leaders and Westminster but the restrictions will be brought in anyway.




BBC News - Published





Covid: Manchester in limbo as deal deadline passes

The government had suggested tier three rules could be imposed if no deal was reached by noon.




BBC News - Published





UK plan to be first to run human challenge Covid trials

Work is under way to start trials in January where volunteers will be deliberately exposed to the virus.




BBC News - Published





Coronavirus: How pollution could make India's Covid fight tougher

New studies show an association between severe pollution and a spike in Covid-19 cases and deaths.




BBC News - Published





Covid: Lockdown at holiday park 'turned my life around'

After 20 years of rough sleeping or in prison, a man has described how he found help during lockdown.




BBC News - Published





Covid: Midday deadline for Greater Manchester coronavirus deal

If an agreement on new restrictions for the area cannot be reached, the PM will decide on the next steps.




BBC News - Published




Covid: Latest Greater Manchester talks end with no agreement

A meeting between ministers and local leaders about Covid restrictions ended "abruptly", a source says.




BBC News - Published





UK Space Agency backs NHS drone in Covid fight

The £500k trial could eventually carry coronavirus samples and tests between hospitals and labs.




BBC News - Published





Coronavirus: Tier 3 rules for Nottingham 'must come with support'

"Covid is a real danger but so is business failure and unemployment," says Nottingham's council leader.




BBC News - Published





Anti-Masker Kicked Off UK Flight, Coughs on Everyone

Anti-mask rants, and dangerous COVID behavior, aren't just a U.S. problem -- an angry passenger spewed her breath on fellow fliers when she was kicked off a UK flight. The incident went down Sunday on..




TMZ.com - Published





Wasps' place in Premiership final under threat after more positive Covid-19 cases

Wasps' participation in Saturday's Premiership final is in doubt after four more players test positive for Covid-19.




BBC News - Published





Covid: Oxford University cases triple on previous week

Almost 70% of positive cases at at the institution are confirmed in the week to 16 October.




BBC News - Published





Coronavirus: Germany improves ventilation to chase away Covid

Public buildings receive €500m of German state cash to improve ventilation systems.




BBC News - Published





Covid: Bolton MP Yasmin Qureshi in hospital after positive test

Yasmin Qureshi says she started to feel unwell about two weeks ago and immediately self-isolated.




BBC News - Published





Covid-19: Talks to resume over Greater Manchester restrictions

Regional leaders say they want better financial support before they will agree to move into the top tier.




BBC News - Published





Covid-19: How restaurants are preparing for winter

Why restaurant owners hope outdoor heaters and marquees might help keep customers coming back.




BBC News - Published





Coach Nick Saban Dances In Locker Room After Negative Covid Test and Alabama Win

University of Alabama football coach Nick Saban was back in the game Saturday when his team trounced the University of Georgia ... and the team celebrated the win in spectacular fashion with its..




TMZ.com - Published





Covid-19: Top Palestinian official Saeb Erekat taken to Israeli hospital

Chief negotiator Saeb Erekat, 65, is transferred from his West Bank home to a hospital in Tel Aviv.




BBC News - Published





People sent to 'non-existent' Covid testing site in Sevenoaks

Kent County Council apologise after people sent to a mobile unit that has not yet been installed.




BBC News - Published





Covid-19: Row over rules 'not just about Greater Manchester'

The region's mayor calls on Boris Johnson to negotiate with him over stricter Covid-19 curbs.




BBC News - Published





Covid: What the tier rules say about the split between science and politics

Why does the divergence between science and politics appear to be wider than it has ever been?




BBC News - Published





Coronavirus: Dutch royals return amid anger over Covid holiday

The family flew back from Greece after just a day on holiday there, amid intense criticism.




BBC News - Published





Covid: Far-right protesters attack Slovak government office over virus measures

Riot police disperse a crowd reportedly including neo-Nazis outside the government building.




BBC News - Published





Covid: Confusion over fresh talks in Manchester tier row

Downing Street says talks will resume on Sunday - but local leaders deny knowledge of a call.




BBC News - Published




8-Year-Old Saves Halloween with Wild Candy Chute

An 8-year-old kid named Harry may have figured out a way to save Halloween!!! Harry lives with his fam in Washington, D.C. and was apparently noodling on how he and his pals could trick-or-treat in..




TMZ.com - Published





Brother of Liverpool mayor Joe Anderson dies with Covid

Joe Anderson has said his brother, who was admitted to hospital with coronavirus, has died.




BBC News - Published





Covid: Tighter rules kick in for millions in England

But a stalemate continues in Manchester as local leaders resist central government's proposals.




BBC News - Published





Oxford takeaways fined over Covid curfew breach

Oxford City Council fines two Cowley Road restaurants for serving customers after the 10pm curfew.




BBC News - Published





Hundreds queue in Yiwu, China for experimental Covid-19 vaccine

The vaccine is available to the public in the city of Yiwu but is still in the final trial stages.




BBC News - Published





Stars and Scars -- You Be the Judge

Donald Trump has been more than sketchy about the last COVID-negative test he got before his debate with Biden, and lots of celebs are endorsing Biden, but will it help? So we gotta ask ...




TMZ.com - Published





Covid: Manchester leaders 'ready to meet' PM over restrictions

Boris Johnson says he may impose extra restrictions if an agreement cannot be reached with local officials.




BBC News - Published





Georgia State Rep. Vernon Jones Crowd Surfs During Trump Rally

President Trump's predicting a red wave on Election Day, but one of his rallies looked like a potential wave of COVID cases when a Georgia politician treated it more like a mosh pit. Georgia state Rep...




TMZ.com - Published





India Covid-19: Bollywood faces biggest box office test as cinemas open

With barely any new film releases and the pandemic still raging, India's cinemas stare at losses.




BBC News - Published





Hatfield rail crash service marks 20th anniversary

Covid-19 restrictions mean the memorial to the four passengers killed is limited to 30 people.




BBC News - Published





Covid-19: The Southend fans missing their 'football families'

Football fans say Coronavirus is not just harming the clubs, it is affecting the supporters too.




BBC News - Published





Fundraiser to save Covid-hit Down's syndrome charity

Children with Down's syndrome are taking part in a 300-mile challenge to save a "lifeline" charity.




BBC News - Published





Texas Teen Wins $25,000 for Developing Potential COVID-19 Treatment

A teenage girl in Texas is getting national recognition for her work on a potential treatment for COVID-19 ... and she's already getting paid. Anika Chebrolu, a 14-year-old freshman at Independence..




TMZ.com - Published





Covid: Chris Christie 'was wrong' to not wear masks

Chris Christie says he was "wrong" to shun masks after battling Covid-19 in intensive care for days.




BBC News - Published





Campaigning for an election during Covid-19

Candidates and their supporters in Guinea's presidential election have had to campaign during Covid-19.




BBC News - Published





Covid: PM warns he may 'need to intervene' on Manchester

Boris Johnson urges local leaders to "engage constructively" with the government over tougher rules.




BBC News - Published





North Yorkshire: Police force to set up 'Covid cars'

North Yorkshire Police wants to use rapid response vehicles to act on tip-offs from the public.




BBC News - Published





Government 'incompetence' blamed for wrong Covid tier ads

Adverts in newspapers in Northumberland and Bradford wrongly said the areas are in the medium tier.




BBC News - Published





Covid: 'Massive disappointment' over Lancashire tier 3 move

New Covid restrictions in Lancashire are "basically suffocating" trade, one pub boss says.




BBC News - Published





Covid: What are the Tier 1, Tier 2 and Tier 3 lockdown rules?

There are extra curbs on socialising and hospitality in areas deemed most at risk from coronavirus.




BBC News - Published