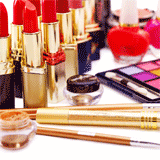 Cosmetics and fashion eye new sales front
Brands are turning to more mature models to tailor their appeal to older consumers
FT.com
Treat yourself to a beauty egg this Easter
Major cosmetics brands have launched beauty eggs in time for Easter this year. Lush, L'Oreal and Ghost are among the brands offering beauty eggs on the British High Street.
MailOnline
This week, in honor of FOX's Gotham... Elsa Rhae uses makeup to transform herself into some of your favorite Batman Villains (The Joker, Harley Quinn, Poison Ivy and Two Face)!


Source: AWE Me -



Wende Zomnir, Founder of cosmetics brand Urban Decay, says that brick-and-mortar stores are an essential part of the makeup-buying experience, and social media helps inform the consumer about each..


Source: Cheddar Inc. -



Easter isn't just for the kids. Here are some fun things to put in Easter baskets and eggs for adults. Buzz60's Sean Dowling has more.


Source: Buzz60 -



Kim Kardashian's concealer line is getting dragged for its said lack of inclusivity before it even becomes available.


Source: Clevver News -



Cosmetics juggernaut L'Oreal has bought Modiface, the Canadian augmented reality beauty company that powers the makeup filters on the Galaxy S9's Bixby Vision. We've had our eye on ModiFace for..


Source: Wochit Business -


The chemicals in your cosmetics aren't regulated
Health * * It's up to us to stay educated and informed on the products that keep us looking good. Cosmetics aren't really regulated for safety or efficacy—most consumers don't know that..
Popular Science
Brand MEMI pits itself against cult products with convincing results
New cruelty-free cosmetics brand MEMI has pitted its affordable range, starting from £10, against products such as MAC and Chanel to see if beauty fans can spot the difference.
MailOnline
How to banish acne: Social media star makes one small lifestyle change and rids acne for good
Amy Saunders' change in diet has transformed her skin [Media Drum World] Amy Saunders, 27, saw her skin flare up when she was just 11 years old, following a family holiday to the Caribbean. After..
OK!
Probiotic Skin Care For Radiant Skin
Probiotic skin care is a growing trend in cosmetics industries. We all know about taking probiotics through food/ supplements. This probiotic helps to keep the digestive system healthy and keep the..
Fab Newz
L'Oreal Buys Augmented Reality Beauty App, Allowing Robots To Point Out Our Every Flaw
Augmented reality is the new cool in the cosmetics industry. It promises to show women exactly what's wrong with their faces, so they can spend money in the futile attempt to fix it. What's not to..
Futurism
Kylie Jenner fans think she's using BOTOX after Stormi Webster's mum sends them wild with busty selfie
Kylie Jenner shared a photo on Instagram of her huge chest[kylie jenner/instagram] Kylie Jenner has shared a photo with her ample assets bursting from her strappy top.  Stormi Webster's mum thrilled..
OK!
Kylie Jenner reveals strict rule in place before people meet daughter Stormi Webster
Kylie Jenner has revealed strict rules for friends and relatives when meeting baby Stormi  [Kylie Jenner/Instagram] Keeping Up With The Kardashians star, Kylie Jenner, has a strict rule in place for..
OK!
Sweet smell of success as national cosmetics giant expands in Derby
One retailer is experiencing success
Derby Telegraph
This Is Why Justin Bieber & Selena Gomez Are Taking A Break
This Is Why Justin Bieber & Selena Gomez Are Taking A Break Kim Is Back To Her Roots! See Her New Hair Kim Collaborating With Madonna On A New Cosmetics Line? 'American Idol': Wildest Show Scandals..
Radar Online
Serena Williams Files 'Aneres' Trademark for Cosmetics Line
Serena Williams wants to serve an ace on yo face ... with a new cosmetics line. The tennis great filed legal docs to trademark "Aneres" (spells Serena backwards, btw). Serena had already locked down..
TMZ.com