Airbus
European aircraft manufacturer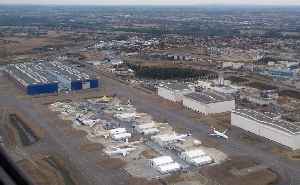 Airbus SE is a European Multinational Aerospace corporation. As of 2019, Airbus is the world's largest airliner manufacturer and took the most airliner orders. Airbus is registered in the Netherlands; its shares are traded in France, Germany and Spain. It designs, manufactures and sells civil and military aerospace products worldwide and manufactures aircraft in the European Union and various other countries. The company has three divisions: Commercial Aircraft, Defence and Space, and Helicopters, the third being the largest in its industry in terms of revenues and turbine helicopter deliveries.


Europe Inc. plunges into the red

A huge day for earnings Thursday saw bleak numbers for European corporate titans including Renault, Volkswagen and Airbus. But drugmaker AstraZeneca sounded a more positive note. Julian Satterthwaite..
Credit: Reuters Studio Duration: 01:37
Published
Airbus offers concession to end U.S. tariffs

Europe's Airbus said on Friday it was amending French and Spanish government loans in a "final" bid to reverse U.S. tariffs and jog the United States into settling a 16-year-old dispute over billions..
Credit: Reuters Studio Duration: 01:26
Published
Thousands protest Airbus layoffs in Spain

Thousands of workers gathered on Thursday near Madrid to protest against planned layoffs by Airbus. Julian Satterthwaite reports.
Credit: Reuters Studio Duration: 01:33
Published
Airbus deliveries slump; Rolls-Royce bleeds cash

Airbus workers are protesting against planned job cuts, but new figures show the firm's jet deliveries have slumped. Meanwhile airliner engine maker Rolls-Royce is burning through cash. Julian..
Credit: Reuters Studio Duration: 01:28
Published
PMQs: PM's investment announcements only 0.2% of GDP

Labour Leader Sir Keir Starmer has criticised the investment announcements made in a speech by Prime Minister Boris Johnson yesterday, which he claimed amount to "investment equivalent to less than a..
Credit: ODN Duration: 03:12
Published
Airbus planning to cut 1,700 jobs in UK as result of coronavirus crisis

Aerospace giant Airbus is planning to cut 1,700 jobs in the UK as a result of the coronavirus crisis, the company announced.The news is a huge blow to its site at Broughton in north Wales, where wings..
Credit: PA - Press Association STUDIO Duration: 00:36
Published
UK factories suffer worst quarter on record - CBI

UK factories saw their weakest quarter on record, according to the latest survey from the CBI, and there's little sign that things are about to get better. Julian Satterthwaite reports.
Credit: Reuters Studio Duration: 01:14
Published
You Might Like



EU threatens escalation in tariff fight over Boeing and Airbus subsidies

The EU says it will act "decisively" if the US imposes new tariffs, escalating a row about aviation subsidies.




BBC News - Published





Plane-maker Airbus to cut 15,000 jobs amid coronavirus fallout

The aerospace firm blames coronavirus for the cuts, warning of 1,700 job losses at its UK plants.




BBC News - Published





Airbus to cut 1,700 jobs in UK

Company statement says firm 'plans to adapt its global workforce and resize its commercial aircraft activity in response to the Covid-19 crisis'




Independent - Published





Germany approves 6 billion euro warship contract, 2.8 billion to Airbus: source

The German parliament's budget committee on Wednesday approved a 6 billion euro ($6.73 billion) contract to buy four MKS 180 warships from Dutch shipyard Damen, a source said.




Reuters - Published





Crashed Pakistan A320 jet insured for $19.7 million: airline document

The Pakistan International Airlines (PIA) Airbus SE A320 jet that crashed into a crowded residential district of Karachi last week killing 97 people on board was insured for $19.7 million, an airline..




Reuters - Published





Pakistani airliner carrying 99 plunges into Karachi houses

A Pakistan International Airlines Airbus jet with 99 people on board crashed into a crowded residential district of the city of Karachi on Friday afternoon while approaching the airport.




Reuters - Published




Pakistani PIA plane carrying 99 crashes in Karachi, many feared dead

An Airbus plane with 99 on board crashed into a residential area of the Pakistani city of Karachi on Friday while on approach to the airport, with at least one passenger surviving but many others..




Reuters - Published




Airbus is 'bleeding cash', chief executive warns

In a letter to workers Guillaume Faury reportedly said the firm's existence was now threatened.




BBC News - Published





Boeing abandons $4.2 billion Embraer jetliner tie-up

Boeing Co on Saturday pulled out of a $4.2 billion deal to buy the commercial jets division of Brazil's Embraer , unraveling years of work on a transformative move driven by expanding competition with..




Reuters - Published





Airbus furloughs 3,000 French aerospace workers

Airbus will furlough some 3,000 French aerospace workers by tapping a government-backed scheme for four weeks starting from Monday, the planemaker said on Friday, in its latest effort to cope with the..




Reuters - Published





Ventilator receives first approval in UK's coronavirus battle

Britain has given regulatory approval to a ventilator which will be made by a group of companies including Airbus, Ford and McLaren, the first such go-ahead as part of efforts to combat the..




Reuters - Published




Crisis blocks Airbus plan for new A321 jet plant in France

Airbus has shelved plans to add a French assembly line for its A321neo just 10 weeks after the expansion was launched, as the coronavirus fallout spreads to its best-selling jetliner.




Reuters - Published





Exclusive: Airbus shelves plan to add new A321 assembly line

Airbus has shelved plans to create a new assembly line in Toulouse, France, for its A321 airliner as the company wrestles with the coronavirus crisis.




Reuters - Published




Exclusive: Airline crisis forces Airbus to consider A320 output cuts

Airbus is studying a sharp cut in output of its top-selling A320 plane series amid an industry-wide slowdown triggered by the coronavirus crisis, sources familiar with the matter said.




Reuters - Published





Britain orders 10,000 ventilators in fight against coronavirus: source

Britain has placed an order for 10,000 ventilators to be made by a consortium of companies including Ford , Airbus and Rolls-Royce as part of efforts to fight the coronavirus, an industry source told..




Reuters - Published





Britain places new order for 10,000 ventilators: source

Britain has placed an order for 10,000 ventilators to be made by a consortium of companies including Ford, Airbus and Rolls-Royce as part of efforts to fight coronavirus, an industry source told..




Reuters - Published





Boeing eyes production pause as virus spreads: sources

Boeing Co is leaning toward a temporary work stoppage at its twin-aisle jetliner factories due to the spread of coronavirus, people familiar with the matter said on Thursday, echoing a similar move by..




Reuters - Published





'Single biggest shock': Aviation battles coronavirus cash crunch

Boeing and other U.S. aviation companies are seeking billions of dollars in aid as they battle to survive a plunge in demand caused by the coronavirus pandemic, while Airbus is pausing production at..




Reuters - Published





Airbus suspends production in France and Spain, shares slide

Airbus announced plans to halt operations at its plants in France and Spain for four days as the coronavirus crisis spread from battered airlines to the manufacturing sector.




Reuters - Published





Exclusive: Airbus draws up contingency plan to slow or halt output - sources

Airbus has drawn up contingency plans to slow or stop production if France is placed under a drastic lockdown due to coronavirus, two people familiar with the matter said.




Reuters - Published




Exclusive: 'Made in Russia' passenger jet finds a single buyer, Aeroflot

Russia's main home-grown passenger jet, the Sukhoi Superjet 100, conceived as a rival to Airbus, Bombardier and Embraer, has no confirmed orders this year beyond a long-standing deal with state carrier..




Reuters - Published




Exclusive: No orders for Russian-made Superjet, rival to Western jets, except Aeroflot - sources

Russia's main home-grown passenger jet, the Sukhoi Superjet 100, conceived as a rival to Airbus, Bombardier and Embraer, has no confirmed orders this year beyond a long-standing deal with state carrier..




Reuters - Published





Timeline: Highlights of the 16-year Airbus, Boeing trade war

The U.S. government on Friday raised tariffs on aircraft imported from the European Union, ratcheting up pressure on the EU to resolve an epic 16-year-old dispute over support for airplane makers, and..




Reuters - Published





Airbus says higher U.S. tariffs on EU planes will harm U.S. airlines, consumers

The U.S. government's decision to raise tariffs on European-built aircraft will hit U.S. airlines already facing a shortage of aircraft and complicate efforts to reach a negotiated settlement with the..




Reuters - Published





Airbus, Quebec to buy out Bombardier's A220 stake

Airbus has teamed up with the Quebec government to buy Bombardier's 33.5% stake in the A220 passenger jet program, completing the Canadian firm's exit from civil aviation and boosting Airbus's position..




Reuters - Published





Airbus pledges profit gain after bribery settlement hit

Airbus plunged to a 1.362 billion euro ($1.48 billion) net loss in 2019, weighed down by a multinational bribery settlement, but the European aerospace group pledged to increase operating profit and..




Reuters - Published




Airbus to buy rest of Bombardier stake in A220 passenger jet program

European planemaker Airbus has reached a deal to buy the remaining stake of Canadian plane and train maker Bombardier in the A220 passenger jet program, it said on Thursday.




Reuters - Published





Airbus confident can sell more than 1,000 A321XLRs over 10 years

Airbus SE is confident of selling more than 1,000 A321XLR aircraft, a longer-range version of the single-aisle A321neo jetliner, over the next 10 years, a senior executive at the manufacturer said on..




Reuters - Published




Airbus unveils 'blended wing body' plane design after secret flight tests

Airbus on Tuesday unveiled a curvaceous aircraft design that blends wing and body, designed to slash carbon emissions by some 20%.




Reuters - Published





China virus hits cruise ships, carmakers, airlines and Airbus

Thousands of passengers and crew on two cruise ships in Asian waters were placed in quarantine for China's coronavirus on Wednesday as airlines, car manufacturers and other global companies counted the..




Reuters - Published




AirAsia CEO Fernandes and chairman step aside as Airbus bribery allegations probed

AirAsia Group CEO Tony Fernandes and Chairman Kamarudin Meranun will step aside for at least two months while the airline and authorities investigate allegations Airbus paid a bribe of $50 million to..




Reuters - Published





AirAsia's Fernandes denies Airbus bribe involving his former F1 team

AirAsia Group Bhd's Tony Fernandes on Tuesday denied a now-defunct Formula 1 racing team formerly co-owned by him had any links to a bribery scandal involving the Malaysian airline's only plane..




Reuters - Published





Airbus bribery scandal triggers new probes worldwide

Fallout from the Airbus bribery scandal reverberated around the world on Monday as the head of one of its top buyers temporarily stood down and investigations were launched in countries aggrieved at..




Reuters - Published





AirAsia shares plunge after Airbus bribery allegations

Shares of Malaysia's AirAsia Group and unit AirAsia X fell on Monday, after allegations by Britain's Serious Fraud Office that Airbus paid a bribe of $50 million to win plane orders from Asia's largest..




Reuters - Published





Malaysia regulator to probe if AirAsia broke rules in Airbus deals

Malaysia's securities regulator said on Sunday it will examine whether AirAsia Group and unit AirAsia X broke securities laws, after UK prosecutors accused executives of receiving bribes from Airbus..




Reuters - Published





Malaysia probes allegations that Airbus bribed AirAsia bosses

Malaysia's anti-graft agency is investigating allegations by Britain's Serious Fraud Office that Airbus paid a bribe of $50 million to win plane orders from Asia's largest budget airline group,..




Reuters - Published





Record $4 billion Airbus fine draws line under 'pervasive' bribery

Airbus bribed public officials and hid the payments as part of a pattern of worldwide corruption, prosecutors said on Friday as the European planemaker agreed a record $4 billion settlement with..




Reuters - Published





Airbus fined record $4 billion in global bribery settlement

Airbus bribed public officials and hid the payments as part of a pattern of worldwide corruption, prosecutors said on Friday as the European planemaker agreed a record $4 billion settlement with..




Reuters - Published