Brussels
Capital region of Belgium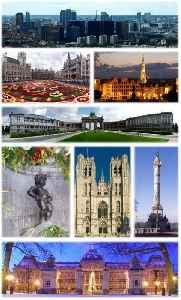 Brussels, officially the Brussels-Capital Region, is a region of Belgium comprising 19 municipalities, including the City of Brussels, which is the capital of Belgium. The Brussels-Capital Region is located in the central portion of the country and is a part of both the French Community of Belgium and the Flemish Community, but is separate from the Flemish Region and the Walloon Region. Brussels is the most densely populated and the richest region in Belgium in terms of GDP per capita. It covers 162 km2 (63 sq mi), a relatively small area compared to the two other regions, and has a population of over 1.2 million. The metropolitan area of Brussels comprises over 2.5 million people, which makes it the largest in Belgium. It is also part of a large conurbation extending towards Ghent, Antwerp, Leuven and Walloon Brabant, home to over 5 million people.


UK flags taken down at EU buildings in Brussels ahead of Brexit
Britain's Union Jack was removed from lines of EU member state flags at the European Council and European Parliament buildings in Brussels on Friday evening ahead of the United Kingdom's exit from the..
Reuters - Published
EU leaders agree to extend sanctions on Russia: diplomats
European Union leaders meeting in Brussels on Thursday agreed to extend their main economic sanctions against Russia for six months to the end of July 2020, four diplomatic sources told Reuters.
Reuters - Published
Ben Wallace keen to serve ahead ofCabinet reshuffle
Defence Secretary Ben Wallace, another minister reportedly under threat, said reshuffles could be "brutal" but said he hoped his military experience and the fact he is a northern MP would help keep him..
Credit: PA - Press Association STUDIO Duration: 00:36Published
UK changes name of diplomatic mission in Brussels
Britain's diplomatic mission in Brussels sent an employee out early on Saturday to change the building's nameplate to read "UK Mission to the European Union", signalling its new non-member status.View..
Credit: euronews (in English) Duration: 00:50Published
'Brexit Day' steps into transition twilight zone
After years of wait, the day has finally come. The United Kingdom leaves the European Union for an uncertain Brexit future, the most significant change to its place in the world since the loss of..
Credit: Reuters - Politics Duration: 01:29Published
Manneken Pis: Brussels landmark dressed in Union Jack waistcoat ahead of Brexit
A famous sculpture in Brussels has gone all British ahead of Brexit on Friday. View on euronews
Credit: euronews (in English) Duration: 00:30Published
Spoof video highlights EU parliament's costly caravan to Strasbourg
As members of the European Parliament gathered in Strasbourg this week, a German politician claimed he had found a treaty loophole that could put a stop to the monthly caravan of EU lawmakers and their..
Reuters - Published
From bubble tea to disaster: How one Vietnamese dreamer apparently met her fate
In Berlin she posed outside a beer garden, a beaming smile upon her face. In Brussels she sipped sugary bubble tea and posed on the steps of the old stock exchange.
Reuters - Published
'Problematic points' in Boris Johnson's Brexit plan must be fixed by UK, not us, says EU
Brussels denies that 'ball is in its court'
Independent - Published
EU Council will be too late to negotiate Brexit deal: French source
Time to agree a Brexit deal is running out and it will be too late for European leaders to iron out a deal at a European Council meeting in Brussels in mid-October, a French diplomatic source said on..
Reuters - Published
New jobs in Brussels: EU leaders narrow down their shortlist
European Union leaders aim to wrap up a tortured job selection process on Sunday in their third attempt to decide who will take over the bloc's top five posts and set policies that affect the lives of..
Reuters - Published
EU leaders to discuss Brexit as Theresa May visits Brussels for the last time
Last scheduled trip will be low-key with main focus elsewhere on EU agenda
Independent - Published
British MPs Vote Against 'No Deal' - What Now for Brexit?
by Simon Baxendale - In what is continuing to be a dramatic week as far as Brexit voting is concerned, British Parliament has narrowly voted against the event of a 'no deal' Brexit..
One News Page Staff - Published
Brexit: Will the UK Have to Keep Paying the EU?
by Simon Baxendale - Another week has gone by, and it has – as always – been another dramatic week for Brexit, and for UK Prime Minister Theresa May. In brief, May has managed to get..
One News Page Staff - Published
You Might Like