John Hickenlooper
John Hickenlooper's 2019–2020 efforts to become the 46th President of the United States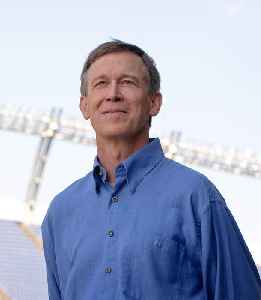 John Wright Hickenlooper Jr. is an American politician, businessman, and geologist who was the 42nd governor of Colorado from 2011 to 2019. He is a member of the Democratic Party. In 2019, Hickenlooper campaigned for the 2020 Democratic nomination for the president of the United States but dropped out before any primaries were held. He subsequently announced his candidacy for the United States Senate in 2020 against one-term incumbent Republican Cory Gardner.


Ex-U.S. presidential candidates Hickenlooper, Inslee to run for office in home states
Two Democratic governors who recently abandoned their long-shot presidential bids announced their next steps on Thursday, with both opting to run for office in the friendlier political territory of..
Reuters - Published
Democratic presidential hopeful O'Rourke back on campaign trail; Hickenlooper drops out
Democratic presidential candidate Beto O'Rourke said on Thursday he was resuming his campaign with a new sense of focus after a mass shooting in his Texas hometown, while rival John Hickenlooper ended..
Reuters - Published
Two Republicans, 21 Democrats Are Presidential Hopefuls For 2020
The largest group of Democratic presidential candidates in the modern U.S. political era has gotten smaller. Twenty-one rivals now are seeking their party's 2020 nomination, reports Reuters. This is..
Credit: Wochit News Duration: 00:48Published
Democratic former Colorado Governor Hickenlooper drops 2020 White House bid
Former Colorado Governor John Hickenlooper dropped his bid for the 2020 Democratic presidential nomination less than six months after trying to position himself as a centrist among a crowded field..
Reuters - Published
Departing advisers urged John Hickenlooper to quit White House race: source
Five senior advisers are leaving the 2020 U.S. presidential campaign of Democrat John Hickenlooper after staff urged the former Colorado governor to quit the race as his fundraising flounders, a source..
Reuters - Published
White House does not need a 'strongman,' Hickenlooper says in 2020 policy speech
Former Colorado Governor John Hickenlooper on Monday said there is an "authoritarian mentality" in the White House and the United States does not need its own "strongman," as he delivered the first..
Reuters - Published
Democrats support expanding Medicare, with some caveats that could matter to voters
After launching his 2020 presidential bid last week, John Hickenlooper took a different stance on establishing a "Medicare-for-all" government health insurance program than many of his Democratic..
Reuters - Published
Former Democratic Colorado Governor Hickenlooper joins presidential race
Former Colorado Governor John Hickenlooper joined the growing field of Democratic presidential candidates on Monday, hoping to position himself as a centrist and an experienced officeholder who is best..
Reuters - Published
You Might Like