Herman Cain
American businessman and politician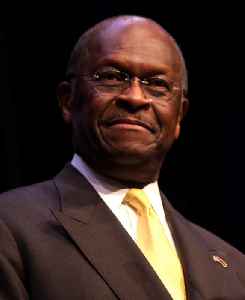 Herman Cain was an American business executive, writer, and Tea Party activist. Born in Memphis, Tennessee, Cain grew up in Georgia and graduated from Morehouse College with a bachelor's degree in mathematics. He then earned a master's degree in computer science at Purdue University, while also working full-time for the U.S. Department of the Navy. In 1977, he joined the Pillsbury Company where he later became vice president. During the 1980s, Cain's success as a business executive at Burger King prompted Pillsbury to appoint him as chairman and CEO of Godfather's Pizza, in which capacity he served from 1986 to 1996.


No, No, No! Herman Cain Is Tweeting From Beyond The Grave

Former presidential hopeful Herman Cain died of COVID-19 on July 30th. But according to Gizmodo, that hasn't stopped him from tweeting. In fact, either Cain's ghost or someone who has access to his..
Credit: Wochit News Duration: 00:36
Published
Herman Cain dies after COVID-19 diagnosis

Herman Cain, a former Republican presidential candidate and supporter of President Donald Trump who pointedly refused to wear a mask during the coronavirus pandemic, has died after contracting..
Credit: Reuters Studio Duration: 01:37
Published
Herman Cain Dies Of CoronaVirus

Businessman Herman Cain has died from coronavirus. Cain is the former CEO of Godfather's Pizza. He also ran for President in 2012. His death was reported in an obituary sent from his verified Twitter..
Credit: Wochit News Duration: 00:37
Published
You Might Like
Search this site and the web: