Mediterranean Sea
Sea connected to the Atlantic Ocean between Europe, Africa and Asia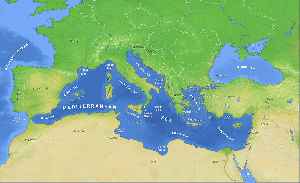 The Mediterranean Sea is a sea connected to the Atlantic Ocean, surrounded by the Mediterranean Basin and almost completely enclosed by land: on the north by Southern Europe and Anatolia, on the south by North Africa and on the east by the Levant. Although the sea is sometimes considered a part of the Atlantic Ocean, it is usually identified as a separate body of water. Geological evidence indicates that around 5.9 million years ago, the Mediterranean was cut off from the Atlantic and was partly or completely desiccated over a period of some 600,000 years, the Messinian salinity crisis, before being refilled by the Zanclean flood about 5.3 million years ago.


Stonehenge: DNA reveals origin of builders
Ancestors of the people who built Stonehenge travelled west across the Mediterranean to get to Britain.
BBC News - Published
EU countries take migrants after Mediterranean stand-off
The 64 African migrants will be redistributed among four countries after being stranded at sea.
BBC News - Published
Operation Sophia: EU to scale back Mediterranean rescue mission
The European Union is set to end the navy patrols aimed at preventing migrants from making the perilous Mediterranean Sea crossing from North Africa to Europe.
Credit: euronews (in English) Duration: 01:57Published
The European Union's Model for Asylum-seekers
The European Union has a different plan for those seeking asylum. But could it work in America?
Credit: Newsy Studio Duration: 02:34Published
Search this site and the web:
You Might Like