Mediterranean Sea
Sea connected to the Atlantic Ocean between Europe, Africa and Asia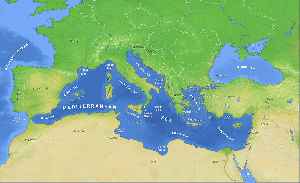 The Mediterranean Sea is a sea connected to the Atlantic Ocean, surrounded by the Mediterranean Basin and almost completely enclosed by land: on the north by Southern Europe and Anatolia, on the south by North Africa and on the east by the Levant. Although the sea is sometimes considered a part of the Atlantic Ocean, it is usually identified as a separate body of water. Geological evidence indicates that around 5.9 million years ago, the Mediterranean was cut off from the Atlantic and was partly or completely desiccated over a period of some 600,000 years, the Messinian salinity crisis, before being refilled by the Zanclean flood about 5.3 million years ago.


20 people missing from migrant boat rescued off Spanish coast
Spanish rescue services are searching for at least 20 people missing from a migrant boat found adrift in the Mediterranean after a passenger ferry rescued 27 people still aboard on Wednesday.
Reuters - Published
After three weeks stranded off Tunisia, migrant group to be repatriated
Tunisia has allowed dozens of migrants, mostly from Bangladesh, to disembark after three weeks stranded in the Mediterranean, so that they can return to their home countries, the Red Crescent said on..
Reuters - Published
EU Mediterranean states back Cyprus in dispute with Turkey over offshore gas reserves
Earlier this week Cyprus said it had issued arrest warrants for the crew of a Turkish drilling ship which it said had infringed on its territory.
Credit: euronews (in English) Duration: 01:35Published
'Tragic, terrible': Scores die as migrant boat sinks off Tunisia
UN refugee agency says 65 refugees and migrants drowned after vessel went down in the Mediterranean Sea.
Credit: Al Jazeera STUDIO Duration: 02:05Published
Tunisia migrant boat disaster: Survivor watched passengers slip under water 'one after one'
A survivor of a migrant boat disaster in the Mediterranean has told how he watched fellow passengers slip away and sink to their deaths.
Credit: euronews (in English) Duration: 00:40Published
Search this site and the web:
You Might Like