Antarctica
Polar continent in the Earth's southern hemisphere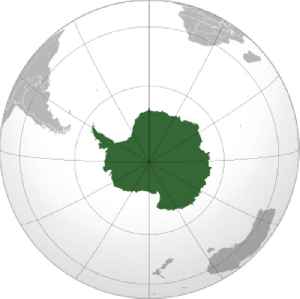 Antarctica is Earth's southernmost continent. It contains the geographic South Pole and is situated in the Antarctic region of the Southern Hemisphere, almost entirely south of the Antarctic Circle, and is surrounded by the Southern Ocean. At 14,200,000 square kilometres, it is the fifth-largest continent and nearly twice the size of Australia. At 0.00008 people per square kilometre, it is by far the least densely populated continent. About 98% of Antarctica is covered by ice that averages 1.9 km in thickness, which extends to all but the northernmost reaches of the Antarctic Peninsula.


'Molar Berg' does a quick Antarctic pirouette
Satellite spies the White Continent's newest giant iceberg as it spins around.
BBC News - Published
Climate change: Emperor penguin 'needs greater protection'
The Antarctic icon could lose more than half its population by 2100, say scientists.
BBC News - Published
Earth Just Had The Hottest September Ever Recorded
Earth just saw its hottest September ever recorded, reports HuffPost.com. It was marked by extreme weather, spotty rainfall and shrinking polar ice caps. As a whole, the month was about 1.02 degrees..
Credit: Wochit News Duration: 00:42Published
This 'Antarctic Sabbatical' - the trip that turns you into a polar researcher
'Antarctic researcher' is one of those jobs no one actually expects to get. Like astronaut or MI6 agent we might have fantasised about it as kids - a starry-eyed mentor might even have told us to..
Credit: PA - Press Association STUDIO Duration: 00:50Published
Watch: Aurora borealis light up Antarctic sky and ice
The green polar lights threw light across the ice. They are caused by disturbances in the magnetosphere by solar wind, causing particles to move into the upper atmosphere and emit light.
Credit: euronews (in English) Duration: 00:20Published
Aurora dances brightly above Zhongshan Station in Antarctica
The aurora is a natural light predominantly seen in the high-latitude regions around the Arctic and Antarctic. It is caused by disturbances in the magnetosphere by the solar wind, which is a stream of..
Credit: euronews (in English) Duration: 00:50Published
Bardem takes fight to protect oceans to U.N.
Spanish actor Javier Bardem said during an interview with Reuters on Monday that his experience of traveling through the Antarctic made him realize just how "fragile" the ecosystem is. Bardem later..
Credit: Reuters Studio Duration: 01:33Published
315 billion-tonne iceberg breaks off Antarctica
The Amery Ice Shelf in Antarctica produces its largest iceberg in more than 50 years.
BBC News - Published
Post office team picked for Antarctic Port Lockroy base
The team will spend four months franking stamps on tourists' postcards and counting penguins.
BBC News - Published
Thousands of penguin chicks wiped out
The second largest emperor penguin colony in Antarctica disappears, satellite images show.
BBC News - Published
Climate change: European team to drill for 'oldest ice' in Antarctica
The near-3km-long Antarctic ice core should reveal the cause of a key shift in Earth's climate past.
BBC News - Published
Climate change: Warning from 'Antarctica's last forests'
Scientists call for more research into the last time when atmospheric carbon dioxide levels were the same as today.
BBC News - Published
Climate change: Drilling in 'Iceberg Alley'
The huge blocks of ice that drift away from Antarctica have a story to tell about Earth's past - and its future.
BBC News - Published
Endurance: Search for Shackleton's lost ship begins
Scientists hope to discover one of the most famous ships in Antarctic exploration history this week.
BBC News - Published
Midwest U.S. in brutal grip of colder-than-Antarctica deep freeze
Frozen Arctic winds brought record-low temperatures across much of the U.S. Midwest on Wednesday, unnerving residents accustomed to brutal winters and keeping them huddled indoors as offices closed and..
Reuters - Published
UK team drills deep Antarctic hole
UK scientists have succeeded in cutting a 2km hole through the West Antarctic Ice Sheet.
BBC News - Published
You Might Like