Wembley
Human settlement in England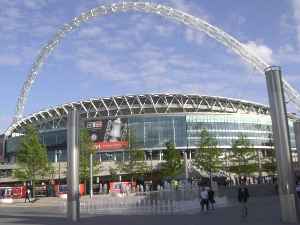 Wembley is the principal town of the borough of Brent in north west London, England, about 8 miles (13 km) west-northwest of Charing Cross. Wembley was formed a separate civil parish from 1894 and was incorporated as a municipal borough of Middlesex in 1937. In 1965, the area merged with the Municipal Borough of Willesden to create the London Borough of Brent, and has since formed part of Greater London.


Brentford v Fulham: Championship play-off final match preview

An in-depth look at the Championship play-off final between Brentford andFulham at Wembley, as the west London clubs look to seal promotion to thePremier League.
Credit: PA - Press Association STUDIO Duration: 01:15
Published
Jonny Williams targets another major tournament appearance with Wales

Jonny Williams' career has mirrored a roller coaster but he is determined toenjoy another high with Wales next summer. The midfielder was unable to stopCharlton going straight back down from the Sky..
Credit: PA - Press Association STUDIO Duration: 00:33
Published
Mikel Arteta gives update on Mesut Ozil

Arsenal manager Mikel Arteta confirmed Mesut Ozil has returned to training having missed the last six games but he refused to say whether Arsenal's highest-earner would feature at Wembley.
Credit: PA - Press Association STUDIO Duration: 00:43
Published
Teenager arrested on suspicion of Wembley sister murders

An 18-year-old man has been arrested over the murders of two sisters in a London park, the Metropolitan Police said.The teenager was arrested at an address in south London overnight on suspicion of the..
Credit: PA - Press Association STUDIO Duration: 00:31
Published
You Might Like



Fulham reach play-off final: Aleksandar Mitrovic may be fit for Wembley - Scott Parker

Fulham hope to be able to call on leading scorer Aleksandar Mitrovic in their play-off final against Brentford.




BBC News - Published





Fulham boss Scott Parker insists 'only half the tie done' after first leg win

Scott Parker brushes aside Neil Harris' suggestion that Fulham celebrated victory at Cardiff City as if they were already at Wembley.




BBC News - Published





England to play Wales in October friendly at Wembley

England will play Wales in a behind-closed-doors friendly at Wembley Stadium on 8 October.




BBC News - Published




Wembley murders: Danyal Hussein, 18, killed sisters in 'unprovoked and random attack', court hears

Teenage suspect appears in court charged with murdering Bibaa Henry and Nicole Smallman




Independent - Published





Wembley deaths: Man in court accused of sisters' murder

Nicole Smallman and Bibaa Henry were both found stabbed to death in a park in Wembley.




BBC News - Published





Wembley murders: 18-year-old man arrested over deaths of sisters in London park

Suspect remains in custody, say Metropolitan Police




Independent - Published





Wembley park murders: Emotional interview with mum of sisters found dead

The mother of two sisters stabbed to death in a Wembley park spoke to the BBC's Martin Bashir.




BBC News - Published





Wembley park murders: PCs 'took selfies next to sisters dead bodies'

The mother of two sisters murdered in a London park says the images "dehumanised" her children.




BBC News - Published





Wembley park sisters' murder photo share 'disgusting'

Two unnamed officers were suspended after non-official images of the scene were shared.




BBC News - Published





Cheltenham Town 0-3 Northampton Town (agg: 2-3): Cobblers seal comeback win to reach Wembley

Callum Morton's double seals a stunning play-off semi-final win as Northampton overturn a 2-0 first-leg deficit against Cheltenham.




BBC News - Published





Wembley stabbing: Sisters pictured dancing with fairy lights before double murder in London park

Police continue investigation into deaths of Nicole Smallman and Bibaa Henry




Independent - Published





League One play-offs: Wembley to stage final on 13 July as dates are confirmed

Wembley is to stage the League One play-off final on Monday, 13 July, after dates are confirmed for the semi-finals.




BBC News - Published





Wembley murders: Two sisters stabbed to death in London park were killed by stranger, police believe

Nicole Smallman and Bibaa Henry had just celebrated birthday party with family and friends




Independent - Published





Wembley murders: Sisters found in London park were stabbed to death, post mortem finds

No arrests have been made over deaths of Nicole Smallman and Bibaa Henry




Independent - Published





Wembley 'murders': Two sisters die in London park after birthday party

Two sisters have been found dead in a London park where they had reportedly celebrated one of their birthdays.




Independent - Published





Wembley deaths: Bodies of two women found in northwest London park

Two women have been found dead at a park in northwest London.




Independent - Published





NFL scraps all four London 2020 fixtures set for Wembley and Tottenham

The NFL decides to scrap the four games scheduled to take place in London later this year.




BBC News - Published




Wembley gang shooting: Trio guilty of mistaken identity murder

Kwasi Mensah-Ababio was shot because he bore a "striking resemblance" to the intended target.




BBC News - Published





Wembley machete victim left in permanent vegetative state

The judge at the trial of Keiano Gooden-Josephs describes London knife crime as "depressing".




BBC News - Published





Watkin's Wembley folly: London's 'Eiffel Tower' that never was

A Victorian rail magnate tried to build a taller tower than Eiffel's - but it did not go to plan.




BBC News - Published





England 1-2 Germany: Phil Neville says Lionesses' form is 'totally unacceptable'

Head coach Phil Neville takes responsibility for England's "totally unacceptable" form after the Lionesses lose to Germany at Wembley.




BBC News - Published





England concede late goal to lose to Germany in front of record 77,768 crowd

England concede a late goal to lose their friendly against Germany at Wembley - in front of a record crowd for a Lionesses game of 77,768.




BBC News - Published





England v Germany: Toni Duggan and Jodie Taylor prepare for Wembley sell-out fixture

England's Toni Duggan and Jodie Taylor chat to Football Focus' Eilidh Barbour before the friendly against Germany at a sold-out Wembley.




BBC News - Published





England v Germany: Wembley is the 'pinnacle' says Gemma Bonner

England defender Gemma Bonner says she "never thought it would be a reality" to play at "the pinnacle" of Wembley for Saturday's sell-out friendly against Germany.




BBC News - Published





Houston Texans 26-3 Jacksonville Jaguars: Texans win last London game of 2019

The Houston Texans rounded off this year's NFL London Series with a 26-3 win over the Jacksonville Jaguars in front of 84,771 at Wembley.




BBC News - Published





England women to face Czech Republic in international friendly in November

England women will face the Czech Republic in their last international friendly of 2019, three days after playing Germany at Wembley.




BBC News - Published





England women set for record attendance against Germany at Wembley

A record attendance for a women's football match in the UK could be set after England announce their Wembley friendly against Germany has sold out.




BBC News - Published




Are Phil Neville's England in position to make most of Wembley match against Germany?

One month before playing in front of a record crowd at Wembley, are England's performances failing to capitalise on the hype?




BBC News - Published





England 1-2 Brazil: Defeat by Brazil extends Lionesses' winless streak

England's World Cup homecoming was spoiled by Brazil as the Lionesses' poor run of form continued in front of a record crowd for a match outside Wembley




BBC News - Published




Lionesses slip to defeat by Brazil at Riverside

England's World Cup homecoming is spoiled by Brazil as the Lionesses' poor run of form continues with a 2-1 defeat in front of a record crowd for a match outside Wembley.




BBC News - Published





England face potential Scotland Euros date

Scotland will face England at Wembley in the group stage of the 2020 European Championship finals should they qualify, Uefa has confirmed.




BBC News - Published





Craig Small murder: Four arrested over man shot dead in Wembley

Men questioned over killing of 32-year-old 'peacemaker'




Independent - Published





Craig Small: Four arrests over Wembley fatal shooting

Craig Small, 32, died in hospital shortly after he was shot dead outside a shop in Wembley.




BBC News - Published





England 4-0 Bulgaria: Harry Kane scores hat-trick in Three Lions win

Captain Harry Kane scored a hat-trick as England completed a routine win over Bulgaria at Wembley to continue their perfect start to Euro 2020 qualifying.




BBC News - Published





'It's good to have rules, children know where they stand'

At the Michaela School near Wembley a strict 'tiger teaching' approach has drawn both criticism and praise.




BBC News - Published





Wembley shooting: Two men charged with murder

Kwasi Mensah-Ababio was found with fatal head injuries in parkland in north-west London on Sunday.




BBC News - Published





Fourth London murder inquiry after man dies in Wembley

The man died after being found with serious head injuries in a park in north-west London.




BBC News - Published





Police launch murder probe after man found dead in northwest London

Suspected killing in Wembley becomes fourth in capital in 48 hours




Independent - Published





Murder probe after man shot dead

The victim was found with gunshot wounds in Wembley on Friday and pronounced dead in hospital.




BBC News - Published





Wembley shooting: Murder investigation launched after man shot dead in London

A murder investigation has been launched after a man was shot dead in London.




Independent - Published