Motorcycle
Two- or three-wheeled motor vehicle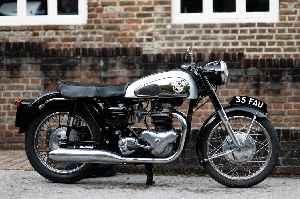 A motorcycle, often called a bike, motorbike, or cycle, is a two- or three-wheeled motor vehicle. Motorcycle design varies greatly to suit a range of different purposes: long distance travel, commuting, cruising, sport including racing, and off-road riding. Motorcycling is riding a motorcycle and related social activity such as joining a motorcycle club and attending motorcycle rallies.


Drunk motorcyclist filmed slamming into oncoming car
Biker banned from road after collision which left him critically hurt
Independent - Published
Daley Mathison death: Motorbike convoy for Stockton racer funeral
Daley Mathison died after crashing during the opening race of the 2019 Isle of Man TT on 3 June.
BBC News - Published
Search this site and the web:
You Might Like