Dubai
Metropolis in United Arab Emirates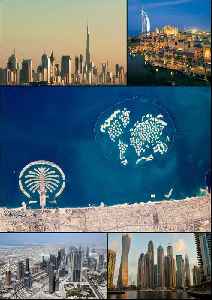 Dubai is the largest and most populous city in the United Arab Emirates (UAE). On the southeast coast of the Persian Gulf, it is the capital of the Emirate of Dubai, one of the seven emirates that make up the country.


VFS: Who is the company subcontracted by the Home Office to process visa applications?
The Dubai-based firm handles some of the most sensitive personal data held by dozens of governments around the world, including the bulk of UK visa applications – but it remains largely unknown
Independent - Published
How Home Office makes millions a week from outsourcing visas to Dubai-based firm accused of exploitation
Exclusive: UK government made £438.1m in the last year alone after outsourcing operations to a Dubai-based firm that has been deluged with complaints
Independent - Published
Dubai sets its sights on becoming the happiest place on earth
In Dubai, happiness is a national policy goal and the city has set at 95 percent happiness target by 2021 in the hope that it will have a positive effect on the economy. We take a look at the business..
Credit: euronews (in English) Duration: 04:00Published
Dubai ruler's wife seeks protection from UK court
The wife of Dubai's ruler, Sheikh Mohammed bin Rashid al-Maktoum, has applied to a British court for what's called a "forced marriage protection order", as well as wardship of her children. But it's..
Credit: Reuters Studio Duration: 01:17Published
You're welcome back home, Ireland's education minister tells ex-pat teachers
Irish education minister visits Dubai where many teachers have gone to earn a better living.
Credit: euronews (in English) Duration: 00:51Published
Search this site and the web:
You Might Like