California
State in the western United States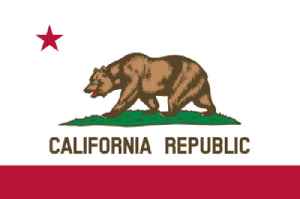 California is a state in the Pacific Region of the United States. With 39.5 million residents across a total area of about 163,696 square miles (423,970 km2), California is the most populous U.S. state and the third-largest by area, and is also the world's thirty-fourth most populous subnational entity. California is also the most populated subnational entity in North America, and has its state capital in Sacramento. The Greater Los Angeles Area and the San Francisco Bay Area are the nation's second- and fifth-most populous urban regions, with 18.7 million and 9.7 million residents respectively. Los Angeles is California's most populous city, and the country's second-most populous, after New York City. California also has the nation's most populous county, Los Angeles County, and its largest county by area, San Bernardino County. The City and County of San Francisco is both the country's second most densely populated major city after New York City and the fifth most densely populated county, behind only four of the five New York City boroughs.


CA Governor stresses continued deadly impact of COVID-19

California Governor Gavin Newsom on Monday gave an update on fatalities and new coronavirus cases in his state, as cases soared in California over the July Fourth weekend,
Credit: Reuters Studio Duration: 01:25
Published
Californians near wildland fireproof their homes

A community in northern California living in wildland works with officials to fireproof their homes as fire season returns in the warmer months. Fred Katayama reports.
Credit: Reuters Studio Duration: 01:25
Published
California Bans Singing In Church

California continues to battle a spike in coronavirus cases. Business Insider reports California has banned people from singing or chanting in places of worship. Early in the virus battle California..
Credit: Wochit News Duration: 00:37
Published
From Deathbed, California Man Pleads For People To Wear Masks In Public

51-year-old California man Thomas 'Tommy' Macias died after contracting COVID-19 at a barbecue in June. A resident of Lake Elsinore, California, Macias died June 21, three days after testing positive..
Credit: Wochit News Duration: 00:41
Published
California cafe stays alive with charity lunches

Oakland, California's Farley's East brought back workers in April thanks to a government loan, but the small business is really being kept afloat by a non-profit paying the eatery to provide charity..
Credit: Reuters Studio Duration: 02:12
Published
Christina Ricci reportedly wins protective order against husband

Christina Ricci has reportedly been granted a protective order against her estranged husband, James Heerdegen, following a police call-out to her home in Woodland Hills, California.
Credit: Cover Video STUDIO Duration: 00:48
Published
California closes bars, indoor dining in most of state

Indoor activities at restaurants, movie theaters and other facilities will be banned in most of California for at least three weeks as COVID-19 infections surge, Governor Gavin Newsom said on..
Credit: Reuters Studio Duration: 01:28
Published
72 Year Old Woman Gored By A Bison At Yellowstone National Park

A 72-year-old California woman was gored by a bison at Yellowstone National Park. The incident occurred when the woman tried to take a picture of the animal. According to a statement by the park, the..
Credit: Wochit News Duration: 00:32
Published
Woman who fell in love with female best friend reveals how they got pregnant at the same time

A career woman who married her female best friend - before they fell pregnant "in tandem" using a £72 home insemination kit and a sperm donor found online - describes their babies as "almost twins,"..
Credit: PA - Press Association STUDIO Duration: 01:57
Published
US Coronavirus Cases Hit A New High

The US surpassed its highest single-day total of new coronavirus cases on Wednesday. Health departments recorded a combined total of more than 36,000 new coronavirus cases. The previous single-day..
Credit: Wochit News Duration: 00:32
Published
John Wayne's son defends dad from allegations of racism

John Wayne's son has expressed dismay over demands to remove the movie star's name from an Orange County, California airport due to alleged ties to racism.
Credit: Cover Video STUDIO Duration: 00:49
Published
'Golden State Killer' pleads guilty to California murders

[NFA] An ex-policeman accused of being the "Golden State Killer," a serial predator who terrorized much of California with a string of slayings, rapes and break-ins over 10 years, pleaded guilty on..
Credit: Reuters Studio Duration: 01:54
Published
Some California bars close as U.S. cases soar

[NFA] Some bars in California remained closed on Monday as coronavirus cases nationwide soar to record levels. Colette Luke has more.
Credit: Reuters Studio Duration: 01:39
Published
Party's Over For Seven California Counties As Governor Orders Closure Of Bars, Nightclubs

California has seen a jump in new novel coronavirus COVID-19 cases, and Gov. Gavin Newsom is cracking down. According to Business Insider, Gov. Newsom ordered bars and nightlife spots to close in seven..
Credit: Wochit News Duration: 00:34
Published
Former Walmart Employee Kills One, Injures Others At Walmart Distribution Center

An otherwise ordinary day at work in Red Bluff, California, turned to horror on Sunday. CNN reports at least two people are dead and four are injured after a shooting at a Walmart distribution center..
Credit: Wochit News Duration: 00:40
Published
Golden State Killer To Plead Guilty So He Can Avoid Death Penalty

Former police officer Joseph James DeAngelo Jr. intends to plead guilty to going on a rampage of rapes and murders across two decades. According to Newser, the Golden State Killer will enter his plea..
Credit: Wochit News Duration: 00:34
Published
Walmart distribution center shooting leaves two dead

[NFA] A shooting at a Walmart distribution center in Red Bluff, California, killed at least two people and injured four others late on Saturday, officials said. Freddie Joyner has more.
Credit: Reuters Studio Duration: 01:28
Published
Paralympian Angela Madsen found dead while trying to row from California to Hawaii

CNN reports three-time Paralympian and six-time Guinness World Record holder Angela Madsen died earlier this week. The 60-year-old passed while attempting a solo row from Los Angeles to Honolulu...
Credit: Wochit News Duration: 00:36
Published
California hospitals see influx of COVID patients

After a record number of daily cases of coronavirus were reported in California, emergency rooms across the state are getting swamped with new patients. This report produced by Chris Dignam.
Credit: Reuters Studio Duration: 02:25
Published
US Fears 'Apocalyptic' Surges of COVID-19 in Most Populous States

California, Florida and Texas have seen record-breaking spikes in COVID-19 cases over the past week.
Credit: Cover Video STUDIO Duration: 01:05
Published
Don't Have A Cow, Man: Judge Rules @DevinCow Can Carry On Trolling Devin Nunes

In 2019, Rep. Devin Nunes (R-Ca.) filed a complaint against Twitter, @DevinCow, and @DevinNunesMom, seeking damages of $250 million. According to Gizmodo, the ardent supporter of President Donald Trump..
Credit: Wochit News Duration: 00:38
Published
Disneyland To Postpone Reopening Amid Record Number Of Coronavirus Cases

The magic kingdom is delaying its reopening date. The resort, located in Anaheim, California, was set to reopen on July 17 after being closed for months. The delay comes as record numbers of..
Credit: Wochit News Duration: 00:32
Published
You Might Like



California orders residents to wear masks in 'most settings outside the home'

California on Thursday ordered residents to wear masks in "most settings outside the home," saying the new rule was necessary because too many Californians were neglecting to cover their faces during..




Reuters - Published





Requiring masks 'political hazard' as COVID-19 surges in California breadbasket

The first wave of COVID-19 came slowly to San Joaquin County in the heart of California's breadbasket, but the much-feared second surge is roaring through, sickening as many people in the two weeks..




Reuters - Published




Two men linked to 'boogaloo' movement charged in U.S. courthouse guard killing

Two men inspired by the militant anti-government "boogaloo" movement have been charged in the drive-by killing of a federal courthouse guard in Oakland, California, last month during a night of nearby..




Reuters - Published





California utility PG&E pleads guilty to 84 wildfire deaths

The judge had the company chief plead guilty 84 times for each of the victims from 2018's Camp Fire.




BBC News - Published





PG&E pleads guilty to 84 counts of involuntary manslaughter in California wildfire

Pacific Gas & Electric pleaded guilty on Tuesday to 84 counts of involuntary manslaughter stemming from a devastating 2018 wildfire in Northern California touched off by the utility company's power..




Reuters - Published




Two men charged in slaying of federal courthouse guard in Oakland, California

Two men have been charged in the slaying last month of a federal courthouse guard in Oakland, California, during an ambush blocks away from anti-racism protests sparked by George Floyd's death at the..




Reuters - Published





Robert Fuller: US to review black hanging deaths after outcry

Officials say they do not suspect foul play in the deaths of two black men in California.




BBC News - Published





Deeper inquiries launched into hanging deaths of two black men in California

The deaths of two black men found hanged from trees 10 days and 50 miles (80 km) apart in California, one in a municipal park, gained deeper scrutiny on Monday amid a public outcry that authorities..




Reuters - Published




Some scold, others cheerlead: U.S. states tackle reopening differently

The two most populous U.S. states took markedly different approaches to reopening on Monday with New York scolding local governments for not enforcing social distancing and California encouraging..




Reuters - Published





'Golden State Killer' suspect to plead guilty: LA Times

An ex-policeman in California charged with murder and kidnapping attributed to a serial predator dubbed the 'Golden State Killer' is expected to plead guilty in a deal that will spare him the death..




Reuters - Published





U.S. Supreme Court snubs Trump on challenge to California 'sanctuary' laws

The U.S. Supreme Court on Monday handed President Donald Trump a defeat in his legal showdown with the most-populous U.S. state, declining to hear his administration's challenge to "sanctuary" laws in..




Reuters - Published




Amazon's business practices examined by two U.S. states

State investigators in both California and Washington are examining Amazon's business practices, two newspapers reported, citing people familiar with the matter.




Reuters - Published




Suicide finding for black man found hanging in California stirs anger

Police in California on Friday said a young black man found hanging from a tree likely committed suicide, stirring outrage among community members who said authorities were too quick to draw..




Reuters - Published




Zoom hits political turbulence in Washington, Beijing; lobbyists ready

Zoom Video Communications , whose remote meeting app made the obscure California company a hub for global communications during the coronavirus pandemic, now finds itself fighting political battles in..




Reuters - Published





California examines Amazon's business practices: WSJ

California investigators are examining Amazon.com Inc's business practices as part of an inquiry into the company, the Wall Street Journal reported on Friday, citing people familiar with the matter.




Reuters - Published





Man charged in pipe bomb ambush of deputies, wrote far-right phrase in blood

A U.S. Air Force sergeant is accused of shooting dead a Sheriff's deputy in California's Santa Cruz mountains last week, throwing lit pipe bombs and shooting at other deputies and planning to kill..




Reuters - Published





California police shoot and kill suspect wanted in Central California "shooting spree"

Police shot and killed a man wanted in a Central California "shooting spree", and three law enforcement officers were wounded in the shoot-out at vineyard where he was tracked down on Thursday..




Reuters - Published




California man charged with videotaped poisoning of homeless people

A California man has been arrested on charges he poisoned eight homeless people by giving them food laced with a caustic substance derived from hot chili peppers in a string of attacks videotaped for..




Reuters - Published





Man charged with poisoning homeless people in California

The suspect is accused of feeding his victims with a substance "twice as strong" as pepper spray.




BBC News - Published





California police look for 'armed and dangerous' suspect in Paso Robles shooting

Police were on the hunt for a gunman suspected of shooting and wounding a sheriff's deputy at a police station in central California on Wednesday, who was also linked to the killing of a local man, law..




Reuters - Published





Uber, Lyft drivers are employees, says California regulator

Drivers working for ride-hailing services such as Uber Technologies Inc and Lyft Inc will now be considered employees under California's new gig worker law, the state's public utilities agency said on..




Reuters - Published




Coronavirus spreads among fruit and vegetable packers, worrying U.S. officials

From apple packing houses in Washington state to farm workers in Florida and a California county known as "the world's salad bowl," outbreaks of the novel coronavirus are emerging at U.S. fruit and..




Reuters - Published




Disney eyes July reopen for California theme parks

Walt Disney Co plans to reopen the Disneyland Park and Disney California Adventure park on July 17, pending approval from state and local authorities.




Reuters - Published





California police investigate shooting of sheriff's deputy, body found

A gunman fired several shots at a police station in central California early on Wednesday, wounding a sheriff's deputy, law enforcement officials said, and a body found hours later dead from a gunshot..




Reuters - Published





California, Southwest face new coronavirus woes as U.S. economy reopens

Coronavirus cases and hospitalizations are spiking in parts of California and the U.S. Southwest, prompting Arizona to reactivate its emergency plan for medical facilities and California to place..




Reuters - Published




Half of Californians live in areas with worrying resurgence of coronavirus

Nearly half of all Californians live in areas where coronavirus infections and hospitalizations are rising quickly enough to put their counties on a watch list for potential reinstatement of shutdowns,..




Reuters - Published





U.S. charges firm president, trader in COVID-19 fraud schemes

U.S. authorities on Tuesday said they have charged the head of California medical technology firm Arrayit Corp and an investor in the company, alleging that they had roles in schemes related to..




Reuters - Published





Chief of California firm charged in COVID-19 fraud scheme: Department of Justice

The president of a California medical technology company has been charged for ties to a scheme involving false and fraudulent claims for allergy and COVID-19 testing, the U.S. Department of Justice..




Reuters - Published





California says movie theaters can reopen by Friday with crowd limits

Movie theaters can reopen in California as early as Friday if they receive approval from local officials, limit attendance and impose other safeguards to prevent the spread of the novel coronavirus,..




Reuters - Published




Historic Oakland black book store sells out of books on racial discrimination

Marcus Books in Oakland, California, has served the black community in the Bay Area with books by and about African Americans for the past 60 years.




Reuters - Published





Black girls and supporters surf around the world to honor George Floyd

From California to Indonesia, Australia and Senegal, black girls and supporters floated on surfboards on Friday to pay tribute to George Floyd, the black man whose death in U.S. police custody has..




Reuters - Published





California to allow pro sports, day camps as coronavirus shutdowns ease

California broadly relaxed its coronavirus-related shutdowns on Friday, moving to allow professional sports to be played without audiences and reopen day camps, tribal casinos, museums and zoos as soon..




Reuters - Published





California says film and TV production can resume as early as June 12

Film and TV cameras can start rolling in California as soon as June 12, state officials said as they approved new guidelines to prevent the spread of the novel coronavirus on sets.




Reuters - Published





Minneapolis, California move to end police neck restraints

The Minneapolis City Council on Friday voted to end use of chokeholds and neck restraints like that used by a white police officer who pressed his knee into the neck of unarmed black man George Floyd..




Reuters - Published




Businesses should be reimbursed for damage by protesters, California governor says

Businesses damaged in protests over the killing of George Floyd, an unarmed black man who was asphyxiated in police custody in Minneapolis, should be reimbursed for their losses, California Governor..




Reuters - Published




Magnitude 5.5 earthquake rocks Southern California, no immediate reports of damage

A 5.5 magnitude earthquake struck on Wednesday in the California desert about 150 miles (241 km) northeast of Los Angeles, the U.S. Geological Survey said.




Reuters - Published





California court hears appeal of $289 million verdict against Bayer in first Roundup cancer trial

A California appeals court on Tuesday heard arguments in the first case that went to trial over allegations that Bayer AG's glyphosate-based weed killer Roundup causes cancer, resulting in a $289..




Reuters - Published





California attorney general submits regulations for approval under privacy law

California's attorney general on Tuesday submitted proposed regulations for approval under the state's new digital privacy law, which gives Americans the right to request that their data be deleted..




Reuters - Published