Amazon rainforest
Rainforest in South America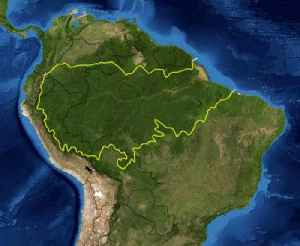 The Amazon rainforest, alternatively, the Amazon Jungle, also known in English as Amazonia, is a moist broadleaf tropical rainforest in the Amazon biome that covers most of the Amazon basin of South America. This basin encompasses 7,000,000 km2 (2,700,000 sq mi), of which 5,500,000 km2 (2,100,000 sq mi) are covered by the rainforest. This region includes territory belonging to nine nations.


The hard fight to stop COVID-19 in the Amazon

Brazilian health authorities are struggling to contain a coronavirus surge in the Amazon, in a country that now has both the second-highest number of cases and fatalities globally. Gavino Garay has the..
Credit: Reuters Studio Duration: 02:27
Published
Amazon deforestation soars amid pandemic lockdowns

Environmentalists in Brazil are denouncing an acceleration of deforestation in the Amazon rainforest that they say is directly linked to the coronavirus pandemic.
Credit: Al Jazeera STUDIO Duration: 02:44
Published
You Might Like



Amazon forest fires could increase risk of serious coronavirus infections

An intense season of fires in the Amazon rainforest this year could overwhelm health systems and lead to unnecessary deaths, including of coronavirus, as pollution worsens respiratory conditions,..




Reuters - Published





Brazil police arrest dozens in illegal Amazon rainforest logging ring

Police stormed a dozen sawmills in Brazil's Amazon rainforest in a dawn raid on Tuesday, arresting about 30 people accused of involvement in an illegal logging ring.




Reuters - Published





Isolation not enough to save Amazon indigenous village from COVID-19

Tres Unidos, an indigenous village in Brazil's Amazon rainforest, locked out all visitors, hoping that isolation would keep it safe. And yet the new coronavirus still came.




Reuters - Published





Amazon mayor warns of indigenous genocide as coronavirus spreads

The mayor of the largest city in the Amazon rainforest said the coronavirus pandemic is killing indigenous people and warned of a "genocide" if Brazil's right-wing government fails to protect..




Reuters - Published





Brazil delays vote on land bill amid threat of environmental boycott

Brazil's lower house of Congress on Wednesday delayed voting on a land bill seen by some as contributing to deforestation in the Amazon rainforest, which has dozens of European companies threatening to..




Reuters - Published




In the Amazon, an indigenous nurse volunteers in coronavirus fight

Vicente Piratapuia, 69, of the Piratapuia tribe had a high fever and could hardly breathe, but he refused to leave his home on the outskirts of the Amazon rainforest's biggest city.




Reuters - Published





Brazil's Bolsonaro readies troops to fight Amazon rainforest destruction

Brazilian President Jair Bolsonaro on Thursday authorized deployment of armed forces into the Amazon region to fight fires and deforestation, three months earlier than in 2019, after a jump in..




Reuters - Published





Amazon city resorts to mass graves as Brazil COVID-19 deaths soar

Deaths from the coronavirus outbreak have piled up so fast in the Amazon rainforest's biggest city that the main cemetery is burying five coffins at a time in collective graves.




Reuters - Published





Two Brazilian governors test positive for coronavirus

Two Brazilian state governors tested positive for the new coronavirus on Tuesday, in the tourist hotspot of Rio de Janeiro and the Amazon rainforest state of Pará, becoming the latest leaders to get..




Reuters - Published





Televised raid on illegal Amazon mining angers Brazil government, leads to sacking

Brazil's Environment Minister Ricardo Salles has fired the country's top environmental enforcement officer, according to a government notice published on Tuesday, after a news program broadcast a..




Reuters - Published





Brazil confirms first indigenous coronavirus case in the Amazon

An indigenous woman in a village deep in the Amazon rainforest has contracted the novel coronavirus, the first case reported among Brazil's more than 300 tribes, the Health Ministry's indigenous health..




Reuters - Published





After smallpox and malaria, Brazil's tribes fear coronavirus is next lethal import

When Europeans first arrived in the Amazon rainforest, their smallpox decimated local tribes. Then rubber tappers, gold miners and settlers brought malaria, measles and influenza.




Reuters - Published




Amazon: Parts of rainforest 'emitting more CO2 than they absorb'

Up to a fifth of the Amazon rainforest has become a net source of CO2, research suggests.




BBC News - Published





Brazilian tribes back manifesto to save Amazon habitat from Bolsonaro

Leaders of native tribes in Brazil issued a rallying call to protect the Amazon rainforest and its indigenous people from what they called the "genocide, ethnocide and ecocide" planned by the country's..




Reuters - Published





Amazon tribes gather to plan resistance to Brazil government

Brazilian indigenous leaders on Tuesday began a four-day tribal gathering in the Amazon to plan their opposition to far-right President Jair Bolsonaro's push to open their reservations for commercial..




Reuters - Published





France to forge partnership with Brazil states on Amazon, bypassing Bolsonaro

France and a group of Brazilian states plan to announce a partnership to preserve the Amazon rainforest, the group's leader said on Monday, bypassing Brazil's federal government after a spat between..




Reuters - Published





Fires in the Amazon: a barrier to climate change up in smoke

Fire is not natural in the Amazon. Virgin rainforest, no matter how fierce the sun, is too wet to catch alight. If the forest burns it is almost always because of humans.




Reuters - Published




Brazil's Bolsonaro says DiCaprio gave cash 'to set Amazon on fire'

The Hollywood actor dismisses Jair Bolsonaro's claim he "gave money to set the Amazon on fire".




BBC News - Published





Brazil's president accuses actor DiCaprio of financing Amazon fires, offers no evidence

Brazilian President Jair Bolsonaro claimed on Friday that Hollywood star Leonardo DiCaprio financed fires being set in the Amazon rainforest, without presenting any evidence, the right-wing leader's..




Reuters - Published




Brazilian cosmetics company backs NGO after firefighters arrested

Brazilian cosmetics company Natura Cosmeticos SA said on Wednesday that it was concerned about a state police raid against a nongovernment organization (NGO) that it has partnered with on sustainably..




Reuters - Published





Brazil arrests volunteer firefighters in Amazon blazes, but critics cry foul

Brazilian police on Tuesday arrested four volunteer firefighters accused of intentionally setting fires in the Amazon rainforest, but civic leaders said the arrests amounted to government harassment of..




Reuters - Published





Amazon tribe demands Bolsonaro stop mining on reservations, hydro dams

Munduruku indigenous people led by 15 tribal chiefs blamed Brazil's President Jair Bolsonaro on Thursday for increased illegal mining on their reservation lands in the Amazon rainforest.




Reuters - Published





Illegal loggers kill Amazon indigenous warrior who guarded forest, wound another

Illegal loggers in the Amazon ambushed an indigenous group that was formed to protect the forest and shot dead a young warrior and wounded another, leaders of the Guajajara tribe in northern Brazil..




Reuters - Published





Pope, closing synod, decries plundering of the Amazon

Pope Francis on Sunday called for an end to the plundering of the Amazon basin, as he closed an assembly of Roman Catholic bishops who discussed the challenges the Church faces in the region.




Reuters - Published





Vatican synod proposes ordaining married men as priests in the Amazon

An assembly of Roman Catholic bishops from the Amazon on Saturday proposed that married men in the remote area be allowed to be ordained priests, which could lead to a landmark change in the Church's..




Reuters - Published




Amazon fires: What's the latest in Brazil?

The fires in the Amazon have been dampened - but it's not the only area under threat.




BBC News - Published





Amazonian tribes in Ecuador join anti-austerity protests

Indigenous tribe representatives from the Amazon in Ecuador joined an anti-austerity demonstration in Quito on Friday, as hopes for talks between protest leaders and the government dimmed following..




Reuters - Published





Poll shows Brazilian Catholics do not agree with Bolsonaro on Amazon

A majority of Brazilian Catholics believe global warming is a scientific fact and preservation of the Amazon rainforest is vital to reduce the effects of climate change, contrary to the view of..




Reuters - Published





Pope urges respect for indigenous Amazon peoples at start of three-week gathering

Pope Francis on Monday told an assembly of bishops discussing the Amazon region of South America that modern society should not try to impose its rules on indigenous people but respect their culture..




Reuters - Published





Rains, military response help curb fires in Brazil's Amazon in September

The number of fires in Brazil's Amazon rainforest has receded, falling 36% in September from August to well below a 20-year historic average for the month, amid improved weather conditions and..




Reuters - Published





Amazon fires: The volunteer firefighters battling to save Brazil's rainforest

A band of volunteer firefighters are on a mission to stop their stretch of Brazil's Amazon rainforest from going up in flames.




BBC News - Published





Amazon rainforest belongs to Brazil, says Jair Bolsonaro

President Jair Bolsonaro insists that the Amazon rainforest is his country's sovereign territory.




BBC News - Published





Brazilian climate strikers take aim at Bolsonaro for Amazon fires

Thousands of Brazilians demanded action on climate change on Friday, taking aim in nationwide protests at President Jair Bolsonaro who they say is allowing fires to destroy the Amazon rainforest,..




Reuters - Published





As Bolivian forests burn, Evo's bet on Big Farming comes under fire

In the tropical Bolivian city of Santa Cruz de la Sierra, a wealthy farming hub on the edge on the Amazon rainforest, President Evo Morales gathered with ranchers late last month to celebrate a maiden..




Reuters - Published





Amazon countries sign forest pact, promising to coordinate disaster response

Seven Amazonian countries on Friday signed a pact to protect the world's largest tropical forest via disaster response coordination and satellite monitoring, amid recent fires that torched thousands of..




Reuters - Published




Disapproval of Bolsonaro presidency jumps after Amazon crisis: poll

Brazilians saying that President Jair Bolsonaro is doing a "bad or terrible" job rose to 38% from 33% previously, in the first major poll since the government faced global outcry over its handling of..




Reuters - Published





As fires ravage the Amazon, indigenous tribes pray for protection

As thousands of fires ravage the Amazon, the world's largest rainforest, some indigenous tribes are turning to prayer in a bid to halt the destruction and protect their environment for future..




Reuters - Published





Brazil's Bolsonaro awaits news on U.S. help for Amazon

Brazil's President Jair Bolsonaro said on Friday he may have news later in the day on his request to U.S. President Donald Trump for help fighting the Amazon rainforest fires.




Reuters - Published





Brazil's Bolsonaro thanks Trump for support at G7 on the Amazon

Brazilian President Jair Bolsonaro on Thursday thanked U.S. President Donald Trump for his support in the Group of Seven's discussion of the Amazon region at last weekend's summit of the world's..




Reuters - Published





Brazil looks to neighbors for Amazon support, defends record

Brazilian President Jair Bolsonaro said on Wednesday he would meet with other South American countries to set common policy for defending the Amazon rain forest, while his foreign minister told Reuters..




Reuters - Published




Brazil announces South American meeting on Amazon, takes Chile's help

Brazilian President Jair Bolsonaro said on Wednesday that South American countries would meet to determine a common policy in defense of the Amazon rainforest, and took another swipe at France for an..




Reuters - Published