PewDiePie
Swedish YouTuber and commentator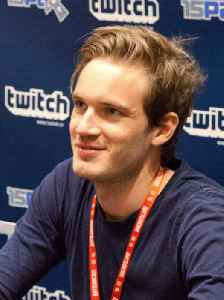 Felix Arvid Ulf Kjellberg, known online as PewDiePie, is a Swedish YouTuber, comedian, and gamer–commentator known for his YouTube video content, which mainly consists of Let's Play videos and comedic formatted shows.


PewDiePie cancels $50,000 donation to anti-hate group: 'I messed up'
The YouTuber says he chose to donate to the Anti Defamation League because he was advised to.
BBC News - Published
PewDiePie loses YouTube crown to T-Series
The Swedish gamer battled the Indian channel to remain the YouTuber with the most subscribers.
BBC News - Published
PewDiePie: Roblox lifts ban after social media backlash
Online multiplayer game Roblox has reinstated PewDiePie after banning the YouTuber for using his name.
BBC News - Published
The PewDiePie Hackers: Could hacking printers ruin your life?
A popularity contest backing YouTube star, PewDiePie, got out of hand and two teenage hackers are in hiding.
BBC News - Published
Search this site and the web:
You Might Like