Jack Grealish
English association football player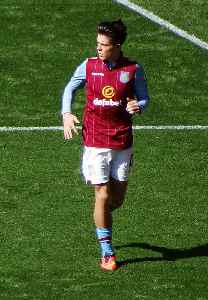 Jack Peter Grealish is an English professional footballer who plays as a winger or attacking midfielder for Premier League club Aston Villa and the England national team.


Football rumours from the media

Willian might stay at Chelsea, who are also poised to sign Kai Havertz,according to the rumour mill. Willian could be set to stay at Chelsea afterall, with a breakthrough reached in contract..
Credit: PA - Press Association STUDIO Duration: 02:12
Published
You Might Like



Jack Grealish: New Aston Villa deal for England midfielder

Aston Villa's England midfielder Jack Grealish signs a new five-year deal with the club.




BBC News - Published





Grealish signs new five-year deal with Aston Villa

Aston Villa midfielder Jack Grealish has signed a new five-year deal with the club.




BBC News - Published





Jack Grealish: He has made mistakes but is England midfielder misunderstood?

As Jack Grealish is involved with England for the first time, BBC Sport speaks to those who know him well to find out what he is really like.




BBC News - Published





Jack Grealish: Aston Villa midfielder called up to England squad

Aston Villa midfielder Jack Grealish is called up to the England senior squad for the first time.




BBC News - Published





Aston Villa's Grealish called up to England squad for first time

Aston Villa midfielder Jack Grealish is called up to the England senior squad for the first time.




BBC News - Published





Willian to turn down Chelsea after Arsenal talks - Tuesday's gossip

Willian to turn down Chelsea after holding Arsenal talks, Man Utd will wait to make Grealish move, Chelsea join Reguilon chase, plus more.




BBC News - Published





Aston Villa captain Jack Grealish charged over lockdown crash

Jack Grealish is accused of hitting two parked vehicles in a crash during the coronavirus lockdown.




BBC News - Published





Monday's football gossip: Man Utd to step up £75m push for Grealish

Manchester United will step up efforts for Jack Grealish with Jadon Sancho out of reach, Pierre-Emerick Aubameyang speaks on big Arsenal decision, plus more.




BBC News - Published




Saturday's gossip: Man Utd prioritise Villa's Grealish

Man Utd switch attention to Havertz, Leicester 'relaxed' on Chilwell future, Everton eye Thiago Silva, plus more.




BBC News - Published





Man Utd favour Grealish move over Maddison - football gossip

Man Utd prefer Grealish over Maddison, Real Madrid and Barcelona join Sancho race, Arsenal to fight AC Milan for Fekir, plus more.




BBC News - Published





Gossip: Man Utd lead chase for Bellingham, Everton consider Grealish move

Manchester United want 16-year-old Birmingham midfielder, Everton consider move for Jack Grealish, plus more.




BBC News - Published





Jack Grealish: Aston Villa captain 'embarrassed' after car incident

Aston Villa midfielder Jack Grealish says he is "deeply embarrassed" after being pictured at the scene of a car accident on Sunday.




BBC News - Published




Jack Grealish: Police investigating reports of car crash make contact with driver of damaged Range Rover

Aston Villa captain was pictured allegedly at the scene of an accident on Sunday morning hours after issuing 'Stay at Home' coronavirus video




Independent - Published





Jack Grealish: 'He thrives on being Aston Villa's main man' - Micah Richards analysis

Former Aston Villa defender Micah Richards explains what makes his old team-mate Jack Grealish tick and why he is such a special talent.




BBC News - Published





Is Jack Grealish playing himself into the England squad?

The form of Aston Villa's Jack Grealish has got people talking whether he can make the England squad for Euro 2020.




BBC News - Published





Jack Grealish, Andrew Robertson, Allan Saint-Maximin: Who are the Premier League's best dribblers?

BBC Sport looks at a new statistic measuring the effectiveness of dribblers in the Premier League, with Jack Grealish and Andrew Robertson impressing.




BBC News - Published





Jack Grealish: Aston Villa captain says he 'wants to play for England'

Aston Villa captain Jack Grealish says he wants to "get into the England team" following an impressive start to the Premier League season.




BBC News - Published





Match of the Day Mix: Jack Grealish's playlist features Akon, Stormzy & Justin Bieber

Aston Villa captain Jack Grealish talks Reece Parkinson through his Match of the Day Mix playlist featuring tunes from Akon, Justin Bieber, Stormzy and fellow Birmingham boy Mist.




BBC News - Published





Tyrone Mings: Aston Villa defender takes on Football Focus' Honesty Cards

Aston Villa's Tyrone Mings answers the Honesty Cards and reveals Jack Grealish's fondness for his own reflection and how a car upgrade was the sign he had made it as a player.




BBC News - Published





El Ghazi and Mings clash put to bed, says Villa captain Grealish

A clash between Aston Villa's Anwar El Ghazi and Tyrone Mings was "put to bed at half-time", says captain Jack Grealish after their draw with West Ham.




BBC News - Published





Aston Villa: Jack Grealish and Dean Smith on preparation for Premier League return

Jack Grealish and Dean Smith on Aston Villa's return to the Premier League, spending £110m on transfers and three rollercoaster years in the Championship.




BBC News - Published