Nashville, Tennessee
State capital and consolidated city-county in Tennessee, United States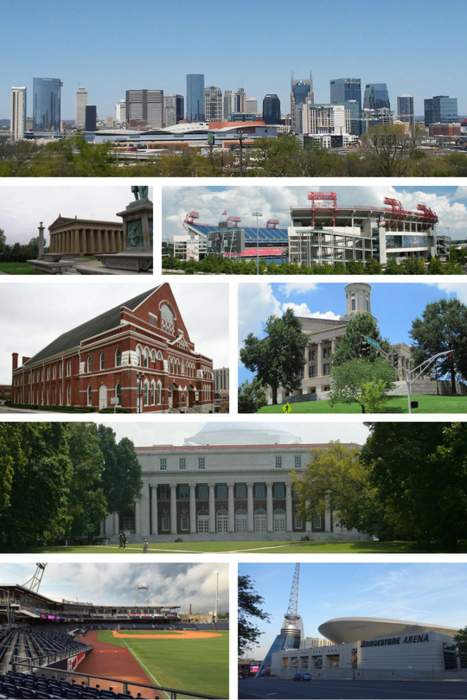 Nashville is the capital and most populous city of the U.S. state of Tennessee. The city is the county seat of Davidson County and is located on the Cumberland River. It is the 23rd most-populous city in the United States.


Trump and Biden Face Off in Final Debate

President Donald Trump and Democratic presidential candidate Joe Biden met in Nashville for the debate, moderated by Kristen Welker of NBC News.
Credit: Cover Video STUDIO Duration: 01:48
Published
Trump rallies in Nevada ahead of final debate

President Donald Trump implored supporters in Nevada on Sunday to cast ballots early in a state he narrowly lost in 2016, while Democrat Joe Biden urged North Carolina residents to "go vote today," as..
Credit: Reuters - Politics Duration: 01:27
Published
You Might Like



Country Music Star Mac Davis Dead at 78

Mac Davis -- best known as a '70s country music sensation and for writing hits for Elvis Presley -- has died following heart surgery ... TMZ has confirmed. Davis died Tuesday at a hospital in Nashville..




TMZ.com - Published





Justin Timberlake Gunning To Bring MLB Team To Nashville, Big Group's New Investor

Good news, bad news for Nashville ... The good -- Justin Timberlake's now officially on board with a plan to bring an MLB team to the city!!! The bad -- it still appears to be a massive pipe dream. JT..




TMZ.com - Published





Steven Spielberg's Daughter's Domestic Violence Case Tossed

Steven Spielberg's daughter no longer has to worry about her domestic violence case ... because TMZ's learned it's been tossed. A spokesperson with the Office of the Attorney General in Nashville tells..




TMZ.com - Published





They're 8,000 miles away and share the same passion

Erin Rae, in Nashville, and Mali, in Mumbai, share their experiences as musicians in lockdown.




BBC News - Published





Exclusive: How elite U.S. college students brought COVID-19 home from campus

Like many American colleges, Vanderbilt University in Nashville announced last month it was closing its dormitories and putting classes online because of the growing threat of coronavirus. It said it..




Reuters - Published




Tornadoes kill at least 25 in Tennessee on Super Tuesday, crews search for missing

A string of tornadoes tore through Nashville, Tennessee, and surrounding counties early on Tuesday, killing at least 25 people, leaving others missing and reducing neighborhoods to rubble as voters..




Reuters - Published




Tornadoes tear through Nashville, Tennessee on Super Tuesday, killing 22

Powerful tornadoes tore through Nashville, Tennessee and surrounding counties early on Tuesday, killing at least 22 people, leaving others missing and reducing homes and businesses to rubble even as..




Reuters - Published




Tornadoes wreak havoc on Tennessee, leaving at least 22 dead

A cluster of powerful tornadoes ravaged Nashville and other parts of Tennessee on Tuesday, killing at least 22 people, reducing homes and businesses to splinters and leaving tens of thousands of people..




Reuters - Published




Powerful tornadoes kill 22, leave parts of Tennessee resembling 'war zone'

At least 22 people were killed on Tuesday when a series of powerful tornadoes ripped through Nashville and other parts of Tennessee, flattening buildings and leaving tens of thousands of people without..




Reuters - Published




'Very strong' tornado rips through Nashville, killing at least nine

At least nine people were killed by a powerful tornado that struck Nashville, Tennessee in the early hours of Tuesday morning, flattening buildings, damaging an airport and leaving tens of thousands of..




Reuters - Published




Deadly tornadoes kill seven in Nashville, Tennessee

The two tornadoes in central Tennessee killed at least seven people, US media report.




BBC News - Published





Two people killed, around 40 buildings destroyed by Nashville tornado

A tornado struck Nashville, Tennessee in the early hours of Tuesday morning, killing at least two people and destroying around 40 buildings, police and firefighters said.




Reuters - Published




How making a violin brought these two together

When Nashville musician Amanda asked violinmaker Ray to make her one, little did she know where it would lead.




BBC News - Published





Tennessee executes man convicted of 1991 murder of ex-girlfriend

A Tennessee man found guilty of murdering his ex-girlfriend by setting her on fire in her car almost 30 years ago was put to death in the electric chair in Nashville on Thursday, prison officials said.




Reuters - Published




Former U.S. President Carter falls, requires stitches

Former U.S. President Jimmy Carter, 95, fell at his home in Plains, Georgia, but "feels fine" and will attend a Habitat for Humanity event in Nashville, Tennessee, on Sunday night, his staff said.




Reuters - Published