Volodymyr Zelensky
6th President of Ukraine since 2019, actor, director and film producer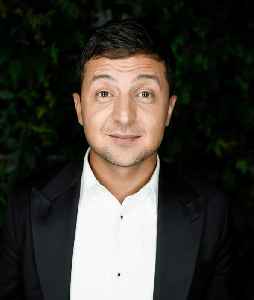 Volodymyr Oleksandrovych Zelensky, officially Zelenskyy, is the sixth and current president of Ukraine. Before entering politics, he was a comedian, actor, screenwriter, film producer, and director.


Volodymyr Zelenskyy: 'high chance' of ending war in Ukraine 'this year'.

In an exclusive interview for Global Conservation with Euronews Correspondent Sasha Vakulina, Ukraine President Vlodoymyr Zelenskyy has said there is a 'high chance' of ending the conflict in the..
Credit: euronews (in English) Duration: 20:00
Published
Full ceasefire takes effect in eastern Ukraine

Years of fighting between Ukrainian government forces and pro-Russian separatists may finally be coming to an end, as a ceasefire backed by presidents Vladimir Putin and Volodymyr Zelenskiy enters into..
Credit: Reuters Studio Duration: 01:04
Published
You Might Like



Ukraine's Zelensky accused by ex-leader of hosting Russian 'fifth column'

Ex-president Poroshenko sees Russian influence at work in the new administration.




BBC News - Published





Ukraine leader cancels meetings, trips after wife tests positive for coronavirus

Ukraine's President Volodymyr Zelenskiy cancelled face-to-face meetings and visits and will limit his contacts to a close circle after his wife tested positive for coronavirus, the presidential press..




Reuters - Published




Ukraine may grant visa-free access to citizens of China, Australia, Arab states to boost tourism

Ukraine is considering cancelling its visa requirement for tourists from China, Australia, New Zealand and Arab states in order to attract more visitors once lockdowns ease and bring more money into..




Reuters - Published





Ukraine must drain corruption swamp, Saakashvili says in latest comeback

Mikheil Saakashvili, the former president of Georgia, vowed on Friday to help his new boss, Ukrainian President Volodymyr Zelenskiy, clean out a political "swamp" of oligarchs' interests that he said..




Reuters - Published





Georgian ex-President Saakashvili toasts appointment to Ukraine reform role

Mikheil Saakashvili, the former president of Georgia, was appointed on Thursday to a senior role at an advisory body on reforms chaired by Ukrainian President Volodymyr Zelenskiy.




Reuters - Published




Invoking Cossack resistance, Ukrainian mayor defies lockdown measures

The mayor of a town in central Ukraine has unilaterally decided to ease lockdown restrictions, causing a row with President Volodymyr Zelenskiy's government as it seeks to avoid a second wave of novel..




Reuters - Published





Ukraine parliament votes to appoint presidential ally as new prosecutor general

Ukraine's parliament on Tuesday voted to appoint Iryna Venediktova, a 41-year-old lawyer and close ally of President Volodymyr Zelenskiy, as the country's new Prosecutor General.




Reuters - Published





Ukraine plans more lockdowns, IMF talks, food export curbs over coronavirus

Ukraine's President Volodymyr Zelenskiy announced nationwide shutdowns on Monday to contain the coronavirus spread, called for government restrictions on food exports and for aid talks with overseas..




Reuters - Published





Ukraine wants talks with IMF, food export curbs to fight virus fallout

Ukrainian President Volodymyr Zelenskiy asked his government on Monday to hold talks with the International Monetary Fund to ask for financial support to counteract the effect of the coronavirus on the..




Reuters - Published




Ukraine's prosecutor general axed in parliament no-confidence vote

Ukraine's prosecutor general was axed in a parliamentary vote on Thursday night, the latest casualty in a sweeping reshuffle by President Volodymyr Zelenskiy that has raised questions about the..




Reuters - Published





Ukraine president jettisons PM in search for 'new brains' to revive economy

Ukraine's president Volodymyr Zelenskiy ousted Oleksiy Honcharuk as prime minister after just six months in a reshuffle on Wednesday, saying that "new brains and new hearts" were required to revive the..




Reuters - Published





Ukraine president seeks 'new brains and new hearts' as he ousts PM

Ukraine President Volodymyr Zelenskiy ditched Prime Minister Oleksiy Honcharuk in a sweeping reshuffle on Wednesday after just six months in charge, saying "new brains and new hearts" were needed to..




Reuters - Published





Out with the new: Ukraine president to bring in experienced hands in reshuffle

Ukrainian President Volodymyr Zelenskiy's party is set to promote some experienced hands in a sweeping reshuffle on Wednesday, as it ditches a cabinet run by the country's youngest ever prime minister..




Reuters - Published





Ukrainian prime minister to exit in sweeping reshuffle

Ukraine's Prime Minister Oleksiy Honcharuk has resigned and the finance minister, foreign minister and the prosecutor general could also exit in a sweeping reshuffle this week, lawmakers from President..




Reuters - Published





Ukrainian prime minister has submitted resignation letter: lawmaker

Ukraine's Prime Minister Oleksiy Honcharuk has submitted his letter of resignation, Galyna Yanchenko, a lawmaker from President Volodymyr Zelenskiy's ruling party, told reporters on Tuesday.




Reuters - Published




Coronavirus: Ukraine protesters attack buses carrying China evacuees

President Volodymyr Zelensky urged people to show solidarity and remember "we are all human".




BBC News - Published





Ukraine president to convene security council meeting on Donbass fighting

Ukraine's President Volodymyr Zelenskiy will convene a Ukrainian security council meeting on Tuesday after one soldier was killed and four wounded in what Kiev said was heavy shelling by Russian forces..




Reuters - Published





Who needs an Oscar? I'm popular in U.S. now, jokes Ukrainian leader

Ukrainian President Volodymyr Zelenskiy, a former comic actor, joked on Saturday that after dreaming of Oscars and popularity in the United States, he had achieved at least the fame part through..




Reuters - Published





Leaders of Ukraine, Russia discuss release of prisoners

Ukrainian President Volodymyr Zelenskiy and Russian President Vladimir Putin spoke by phone about the release of Ukrainian citizens detained in Russia, eastern Ukraine and Crimea, Zelenskiy's office..




Reuters - Published





In wake of impeachment, U.S. senators to visit Ukraine

Three U.S. senators will meet with Ukrainian President Volodymyr Zelenskiy in Kiev on Friday, seeking to reinforce the importance of his country as a strategic U.S. ally after he found himself at the..




Reuters - Published




New Ukraine chief of staff: compromises possible in Russia talks

Ukrainian President Volodymyr Zelenskiy's new chief of staff Andriy Yermak said there could be compromises in Kiev's negotiations with Moscow over the future of the Donbass region but also stressed..




Reuters - Published





Ukraine's political course won't change after chief of staff's exit: presidential statement

The office of Ukraine's President Volodymyr Zelenskiy said on Tuesday the country's political course will not change after the dismissal of his chief of staff, Andriy Bogdan.




Reuters - Published





Ukraine's president fires chief of staff after reports of turf war

Ukraine's President Volodymyr Zelenskiy on Tuesday dismissed his chief of staff Andriy Bogdan, a lawyer whose links with a prominent tycoon had made him one of Zelenskiy's most controversial..




Reuters - Published





Ukraine president's chief of staff dismissed: presidential decree

Ukraine's President Volodymyr Zelenskiy has dismissed his chief of staff Andriy Bogdan and replaced him with a senior aide, Andriy Yermak, according to three decrees published on the presidential..




Reuters - Published





Ukraine's president asks pope to help win release of prisoners of war

Ukrainian President Volodymyr Zelenskiy asked Pope Francis on Saturday for help to win the release of prisoners of war held by Russia and Russian-backed separatists.




Reuters - Published





Recording shows Iran knew immediately it had shot down plane -Zelenskiy

A leaked audio recording of an Iranian pilot talking to the control tower in Tehran shows that Iran knew immediately it had shot down a Ukrainian airliner last month, Ukraine's president Volodymyr..




Reuters - Published




Ukraine wants larger compensation for its citizens killed in plane shootdown in Iran

Ukraine's President Volodymyr Zelenskiy said on Sunday that Kiev was not satisfied with a size of compensation Iran had offered to families of Ukrainians killed in the downing of a plane near Tehran..




Reuters - Published





Pompeo says Zelenskiy White House visit not conditional on Biden probes

U.S. Secretary of State Mike Pompeo said on Friday that a prospective visit by Ukrainian President Volodymyr Zelenskiy to the White House was not conditional on Ukraine opening an investigation into..




Reuters - Published




Ukraine PM in Davos: government and prime minister do not plan to resign

Ukraine's government and Prime Minister Oleksiy Honcharuk do not plan to resign and have good relations with President Volodymyr Zelenskiy, Honcharuk said on Thursday.




Reuters - Published





Ukraine president gives PM second chance after tape leak

Ukrainian President Volodymyr Zelenskiy on Friday allowed Prime Minister Oleksiy Honcharuk to keep his job after the leak of an embarrassing audio recording prompted Honcharuk to submit his..




Reuters - Published




Law enforcement must find out who secretly recorded Ukraine PM: Zelenskiy

Ukraine's President Volodymyr Zelenskiy urged law enforcement bodies on Friday to determine who was involved in the making of a secret recording in the office of Prime Minister Oleksiy Honcharuk and to..




Reuters - Published





Ukraine PM Honcharuk offers to quit in audiotape furore

PM Honcharuk appears to mock President Zelensky's grasp of economics in a leaked recording.




BBC News - Published





Ukraine PM says 'don't jump to conclusions' after submitting resignation letter

Ukraine's Prime Minister Oleksiy Honcharuk said people should not "jump to conclusions" after submitting a letter of resignation, which President Volodymyr Zelenskiy's office on Friday said he would..




Reuters - Published





Zelenskiy asks for Germany's support to bring Iran plane crash perpetrators to justice

Ukrainian President Volodymyr Zelenskiy on Wednesday asked Chancellor Angela Merkel for Germany's support in bringing the perpetrators of last week's plane crash in Iran to justice, according to a..




Reuters - Published




Truth about Iran crash could not be hidden, says Ukraine's Zelenskiy

The findings by Ukrainian experts in Iran meant that the truth about the crash of a Ukrainian passenger plane could not be concealed, President Volodymyr Zelenskiy said in a televised address on..




Reuters - Published




Ukraine president calls for plane crash perpetrators to be held accountable

Ukrainian President Volodymyr Zelenskiy said on Saturday that Iran's acknowledgement that it shot down a Ukrainian passenger plane was a step in the right direction but wanted those responsible to be..




Reuters - Published




Ukraine, France leaders agree French specialists to decode Iran crash black boxes

Ukrainian President Volodymyr Zelenskiy and French President Emmanuel Macron agreed on Saturday that French specialists would help decode the black boxes of the Ukrainian plane that crashed in Iran,..




Reuters - Published




Presidents of Ukraine, Iran to discuss downed plane -Ukrainian official

Ukrainian President Volodymyr Zelenskiy is set to hold a telephone call with his Iranian counterpart Hassan Rouhani on Saturday after Tehran said it had mistakenly shot down a Ukrainian passenger jet,..




Reuters - Published




Ukraine president expects full investigation, compensation from Iran on plane crash

Ukraine expects a full investigation, a full admission of guilt and compensation from Iran after the downing of a Ukrainian passenger plane, President Volodymyr Zelenskiy said in a statement on..




Reuters - Published




Ukraine president says spoke with Canada's Trudeau, agreed need for objective probe of plane crash

Ukraine and Canada have agreed to push for an objective investigation into the crash of a Ukrainian passenger plane in Iran, President Volodymyr Zelenskiy said on Friday after speaking with Prime..




Reuters - Published





Ukraine president says information from U.S. will help plane crash probe

Information provided by the United States will help investigate the crash of a Ukrainian passenger plane in Iran, President Volodymyr Zelenskiy said on Friday after a phone call with Secretary of State..




Reuters - Published