Summer Olympic Games
International multi-sport event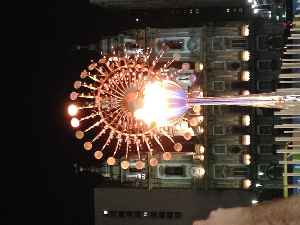 The Summer Olympic Games also known as the Games of the Olympiad, are a major international multi-sport event normally held once every four years. The Games were first held in 1896 in Athens, Greece, and were most recently held in 2016 in Rio de Janeiro, Brazil. The International Olympic Committee (IOC) organises the Games and oversees the host city's preparations. In each Olympic event, gold medals are awarded for first place, silver medals are awarded for second place, and bronze medals are awarded for third place; this tradition began in 1904. The Winter Olympic Games were created out of the success of the Summer Olympics.


Amy Tinkler on early retirement from gymnastics

Former British artistic gymnast Amy Tinkler has told ITV News that she is "lucky" that she retired at the time she did, and wishes she had done it "a lot sooner". The 2016 Olympic floor..
Credit: ODN Duration: 01:13
Published
You Might Like



Mo Farah to focus on 10,000m at Tokyo Olympics

Four-time Olympic champion Mo Farah confirms he will skip the 5,000m at the rescheduled Tokyo Games next summer to focus on the 10,000m.




BBC News - Published





Olympics: Super Saturday at London 2012 named greatest British summer Games moment

London 2012's Super Saturday - which included three golds in an astonishing 44 minutes - is named as Britain's greatest moment at a summer Olympics.




BBC News - Published





Tokyo 2020: 'Delaying the Olympics changed our careers'

For some, it means competing when they couldn't before. For others, it's a year too long to wait.




BBC News - Published





Dame Kelly Holmes: Cypriot radio, a lucky loo & pain - the inside story of 2004's double gold

How a Tina Turner classic, a lucky loo and a celebrity cashew nut carrier powered Dame Kelly Holmes to a historic double Olympic gold at Athens 2004.




BBC News - Published





Tokyo 2020: Olympics will be 'simplified' in 2021

Tokyo 2020 will be a "simplified" Olympics, according to the chief executive of the organising committee.




BBC News - Published





The trailblazing Olympic gold medallist still breaking boundaries in her 60s

Joan Benoit Samuelson was the first woman to win Olympic marathon gold and this Sunday would have seen her reach another landmark at the London Marathon.




BBC News - Published





London Marathon: Joan Benoit Samuelson on breaking boundaries

Joan Benoit Samuelson was the first woman to win Olympic marathon gold and this Sunday would have seen her reach another landmark at the London Marathon.




BBC News - Published





UK hires former Olympic chief to boost hospital protective kit provision

Britain has appointed the former Goldman Sachs investment banker who led the country's 2012 Olympic planning to organise the domestic manufacture of personal protective equipment (PPE) for health..




Reuters - Published





Coronavirus: 'I know what it's like to miss an Olympics'

Forty years before a pandemic dashed Alyson's dreams, Paula missed out on the Games due to politics.




BBC News - Published





Head of Japan junior coalition partner wants to consider more economic steps

The head of Japan's Komeito party, the junior partner in the coalition government, said he wants to consider additional economic steps after the imposition of a state of emergency and the postponement..




Reuters - Published





Tokyo Olympics: Fifa could move age limit for men's football tournament to 24

Fifa could raise the age limit for the men's football tournament at next summer's rearranged Olympics to 24.




BBC News - Published





Van Niekerk looks for positives in Tokyo postponement

Olympic 400m champion Wayde van Niekerk says that while the postponement of the 2020 Tokyo Games due to the coronavirus outbreak was a "downer" the delay will give him time to regain full fitness after..




Reuters - Published





Tokyo 2020 CEO: unclear who will pay extra costs for Olympics delay

Tokyo 2020 organizing committee chief executive Toshiro Muto said on Tuesday it is not clear who will pay the extra costs arising from the postponement of the Tokyo Olympics.




Reuters - Published





Tokyo 2020: Olympic Games postponed because of coronavirus

The Tokyo 2020 Olympic Games are postponed until next year because of the worldwide coronavirus pandemic.




BBC News - Published





Tokyo 2020: Olympic Games organisers 'agree postponement'

The organisers of the Tokyo 2020 Olympic Games, due to begin on 24 July, agree to a one-year postponement of the event because of the global coronavirus pandemic.




BBC News - Published





Decision to postpone Tokyo 2020 could be made on Tuesday

A decision to postpone this summer's Olympic Games in Tokyo, due to start on 24 July, may be made on Tuesday.




BBC News - Published





Tokyo 2020: Decision on delaying Olympics because of coronavirus could be made on Tuesday

A decision to postpone this summer's Olympic Games in Tokyo, due to start on 24 July, may be made on Tuesday, BBC Sport understands.




BBC News - Published





Tokyo 2020 Games delay looms after U.S. joins calls for postponement

U.S. Olympic organizers joined calls for the Tokyo 2020 Summer Games to be postponed due to the coronavirus pandemic, while the International Olympic Committee, according to member Dick Pound, has..




Reuters - Published





Britain urges definitive decision on Olympics soon

Britain wants the International Olympic Committee to make a definitive decision soon on whether the summer Olympics should go ahead, Prime Minister Boris Johnson's spokesman said.




Reuters - Published





Trump says he expects Japan's Abe to make 'proper decision' on Olympics

U.S. President Donald Trump on Monday said the United States would "be guided" by Japan's decision over whether to hold the Tokyo 2020 Olympics amid the global coronavirus outbreak as Canada, Australia..




Reuters - Published





China unlikely to follow Canada's Olympic withdrawal, says former official

The Chinese Olympic Committee is unlikely to follow the example of their Canadian counterparts and withdraw from this summer's Tokyo Olympics, a former high-ranking official was quoted as saying on..




Reuters - Published





Global Athlete group calls for Tokyo 2020 postponement

An athlete led movement fronted by British Olympic champion Callum Skinner calls for this summer's Olympics and Paralympics to be postponed.




BBC News - Published





USA Track & Field calls for Olympics delay

USA Track and Field calls for this summer's Olympics in Tokyo to be delayed because of the ongoing coronavirus situation.




BBC News - Published





Coronavirus: Tokyo 2020 Olympic organisers respond to frustrated athletes

Olympic organisers warn "no solution will be ideal" in preparing for Tokyo 2020 after being accused of putting athletes "in danger".




BBC News - Published





Interests of athletes paramount, Bach says after 'really great' Tokyo2020 call

Olympic athletes realize there is still four months to go before the Tokyo Games and preparations will be in line with protecting their health from the coronavirus, the International Olympic President..




Reuters - Published





Japan still planning 'complete' Tokyo Olympics

Japan's Olympic minister says the country is still planning for a "complete" hosting of the 2020 Tokyo Olympics and will be held on time with spectators in attendance.




BBC News - Published





'Supernatural' Semenya targets Olympic 200m

Two-time Olympic 800m champion Caster Semenya says she is "supernatural" as she confidently targets the 200m at Tokyo 2020.




BBC News - Published





Exclusive: Indonesia considers 2032 Olympics bid for new capital city with SoftBank's help

Indonesian President Joko Widodo is weighing an audacious 2032 Olympics bid centered on the country's not-yet-built new capital and is in early talks with SoftBank chief executive Masayoshi Son and..




Reuters - Published





David Rudisha: Olympic 800m champion on personal struggles, and Tokyo comeback

They said David Rudisha outshone Usain Bolt at London 2012. He won his second 800m Olympic title in 2016. The years since have not been easy.




BBC News - Published





Tokyo government works with Olympics organizers to ensure safe games

Tokyo Governor Yuriko Koike said on Thursday the metropolitan government was working with organizers to ensure a safe Summer Olympics amid the challenges of the coronavirus outbreak.




Reuters - Published




Japan committed to hosting Olympics on schedule but Xi visit delayed

Japan's Olympics minister signaled on Thursday the Summer Games would go ahead as planned from July even as the coronavirus outbreak spread to new parts of the country.




Reuters - Published




Japan coronavirus cases hit 1,000 mark as Tokyo insists Olympics on track

Japan's confirmed coronavirus infections rose above 1,000 on Wednesday, most from a quarantined cruise liner, as Olympics organizers dismissed speculation that the Tokyo Summer Games could be canceled.




Reuters - Published




Japanese coronavirus infections reach 1,000, Olympics preparations on track

The number of confirmed coronavirus infections in Japan reached the 1,000 mark on Wednesday, as the government reiterated that plans to host the Tokyo Summer Olympics in July remained on track.




Reuters - Published




Exclusive: Tokyo has no 'Plan B' for Games despite coronavirus

Tokyo has no Plan B for this year's Summer Olympics despite alarm over the spread of the coronavirus in Japan and elsewhere with under five months before the event, a senior official said on Friday.




Reuters - Published




Molly Renshaw: How one of Britain's best swimmers stays forever young and remains on track for Olympic Games redemption at Tokyo 2020

Molly Renshaw explains how shattered teenage Olympic dreams helped shape one of Britain's best swimmers and why dealing with longevity at 23 has kept her on track for Tokyo.




BBC News - Published





Japan's snow town turns into hotbed of coronavirus cases

Children played in the snow without masks on Wednesday but Japan's coldest prefecture has become a hotbed of coronavirus infections, shutting schools, raising fears about the Summer Olympics and..




Reuters - Published





Not over my backyard: Tokyo residents fight Olympic flight plans

As Tokyo prepares to greet overseas visitors to the Tokyo 2020 Olympic Games in July, some city residents are upset about the more than 100 low flying jetliners a day that will bring them to the city.




Reuters - Published





Japan urges firms to have staff work from home over coronavirus; soccer postponed

Japan urged businesses on Tuesday to have staff work from home to help prevent the spread of the coronavirus, and its top-flight soccer division announced it was postponing matches, just months before..




Reuters - Published




Trump considering travel to Tokyo for Summer Olympics

U.S. President Donald Trump said on Tuesday he is considering a visit to Japan this summer for the Olympic Games in Tokyo, a trip that would take him off the campaign trail as he seeks re-election.




Reuters - Published





Paris Grand Slam: Gemma Howell wins judo bronze medal

Gemma Howell wins bronze at the Paris Grand Slam as she continues to fight for a 2020 Tokyo Olympic spot.




BBC News - Published





Tokyo 2020: Olympic organisers 'seriously concerned' by coronavirus spread

Olympic organisers are "seriously concerned" about the spread of coronavirus and the impact it could have on the Tokyo Games.




BBC News - Published





Japan will make utmost efforts to keep virus from affecting Olympic Games: PM Abe

Japanese Prime Minister Shinzo Abe said on Monday that the government will keep in close touch with all relevant groups to ensure a virus outbreak does not have affect the Summer Olympics.




Reuters - Published





Olympics: Women's basketball qualifier moved from China to Serbia

A women's Olympic basketball qualifying tournament for this year's Tokyo Games has been moved from China to Serbia as a result of the coronavirus outbreak.




Reuters - Published




Women's Olympic qualifiers moved from Wuhan after virus outbreak

The Asian Football Confederation moves the women's Olympic football qualifiers from the central Chinese city of Wuhan after the spread of a new coronavirus.




BBC News - Published





In Olympics-heavy policy speech, Japan PM says Games mark new era for nation

Six months before the Tokyo Olympics open, the Games are already inescapable in Japan - including dominating Prime Minister Shinzo Abe's policy speech to parliament on Monday.




Reuters - Published