English Channel
Arm of the Atlantic Ocean that separates southern England from northern France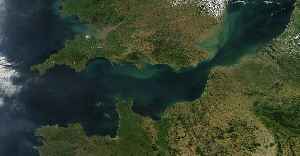 The English Channel, also called simply the Channel, is an arm of the Atlantic Ocean that separates Southern England from northern France and links to the southern part of the North Sea by the Strait of Dover at its northeastern end. It is the busiest shipping area in the world.


English Channel migrants 'forced onto boats' to make perilous sea crossing — UK border official

Dan O'Mahoney, charged with stopping the sea journeys from France to England, says many migrants are at the mercy of smugglers and unaware of their destination.View on euronews
Credit: euronews (in English) Duration: 01:47
Published
Nearly 1,500 migrants made journey to UK in small boats during August

More than 1,450 migrants arrived in the UK by small boats in August despite avow from Priti Patel to make the dangerous route 'unviable'. More suspectedmigrants were seen arriving in the Port of Dover..
Credit: PA - Press Association STUDIO Duration: 01:07
Published
How Britons see arrival of migrants crossing English Channel

As the UK tries to stop migrant arrivals across the English Channel, Al Jazeera asks residents on the coast if they think the situation is under control.
Credit: Al Jazeera STUDIO Duration: 02:50
Published
Endurance swimmer Chloe McCardel completes record-breaking Channel crossing

Endurance swimmer Chloe McCardel has completed a record-breaking crossing ofthe English Channel, landing in Calais, France, just before 7am on Sunday. The35-year-old Australian took 10 hours and 40..
Credit: PA - Press Association STUDIO Duration: 01:09
Published
Migrants attempt dangerous crossing in the English Channel

The UK and France are holding talks amid a series of migrant crossings overthe English Channel. Boris Johnson has suggested the Government will seek toreview the legal framework by which new arrivals..
Credit: PA - Press Association STUDIO Duration: 01:38
Published
Migrants detained in Dover after boat stopped in Channel

More migrants in dinghies have been picked up by UK Border Force officials and taken to Dover today. Over 4,000 people have successfully crossed the Channel from France in small boats so far this year...
Credit: ODN Duration: 00:58
Published
Boris Johnson: Legal framework needs to change to curb illegal immigration

Boris Johnson says he wants to work with the French to stop migrants crossingthe English Channel, and look at the means of changing existing laws toprevent people staying in the UK once they arrive by..
Credit: PA - Press Association STUDIO Duration: 01:25
Published
Boat carrying migrants to UK seen bailing out water

An inflatable dinghy carrying around 20 Syrian migrants has been met by BorderForce off the coast of Dover. The packed vessel had been making its way acrossthe English Channel on Monday morning, with..
Credit: PA - Press Association STUDIO Duration: 01:27
Published
Gove: 'Home sec is focused on protecting UK's borders'

Senior minister Michael Gove has said that Priti Patel is "absolutely focused" on making sure that the UK's borders are secure. It comes after a number of small boats carrying migrants across the..
Credit: ODN Duration: 00:23
Published
Sunak: 'We all want to see these crossings reduced'

Rishi Sunak has said that he "sympathises with people's frustrations" at seeing migrant boats crossing the English Channel. Report by Patelr. Like us on Facebook at http://www.facebook.com/itn..
Credit: ODN Duration: 00:25
Published
You Might Like



September is record month for migrant Channel crossings

The first 16 days of September saw 1,487 people cross the Channel, more than any other month.




BBC News - Published





Border Force tackle 12 migrant boat English Channel crossings

The Border Force dealt with vessels carrying 165 migrants trying to reach the UK on Monday.




BBC News - Published





More than 200 migrants picked up in English Channel

The French authorities stopped more than 100 people making the crossing, the Home Office says.




BBC News - Published

Also reported by •Independent


Far-right groups targeting hotels housing asylum seekers during coronavirus pandemic

Anger over rising English Channel crossings 'uniting different strands' of extremists




Independent - Published





Teen migrant dies 'trying to cross English Channel'

The body of the 16-year-old from Sudan was found on the English Channel coast at Sangatte.




BBC News - Published





Channel crossings: 16-year-old Sudanese boy washed up on French beach after drowning trying to reach UK

A 16-year-old Sudanese boy has drowned in the English Channel while trying to reach the UK.




Independent - Published





Endurance swimmer Chloe McCardel completes record-breaking English Channel crossing

Australian moves to second on list of most Channel swims, passing men's record of 34




Independent - Published





Channel crossings: No plans for Royal Navy to block migrants after UN warns ships could cause 'fatal incidents'

The Royal Navy has no current plans to deploy ships in the English Channel to stop migrant boat crossings, it has announced.




Independent - Published





Sussex earthquake: 3-magnitude tremor hits English channel

An 3.0-magnitude earthquake has struck the English Channel just off the Sussex coast.




Independent - Published





UK border: 13 boats carrying over 130 migrants intercepted on English Channel

The Home Office has said Border Force officials have intercepted 13 boats carrying more than 130 migrants arriving in the UK on Friday. A spokesperson for the department said Border Force was..




Independent - Published





Record migrant numbers cross English Channel in small boats

More than 200 migrants were stopped by French authorities, but 180 crossed to Kent on Sunday.




BBC News - Published





Record number of migrants reach UK on day Priti Patel announces new approach to deal with English Channel crossings

A new daily record has been set for the number of migrants to reach to the UK after crossing the English Channel, according to figures released this morning.




Independent - Published





English Channel search operation after migrant crossings

Several boats are spotted as the home secretary visits France for talks on tackling people smuggling.




BBC News - Published





Nigel Farage condemned for boat trip into English Channel to report migrant 'invasion'

Brexit Party leader has already been reprimanded for making trips to report on migrants during lockdown




Independent - Published





At least 140 migrants intercepted in English Channel amid bank holiday influx of boats

'Coronavirus has made a bad situation life-threateningly worse,' charity says about refugee camps




Independent - Published





Channel migrants: Two boats intercepted in English Channel

There were 29 people on board, the Home Office says.




BBC News - Published





Channel migrants: Border Force intercepts four boats

Border Force officials deal with a series of incidents in the English Channel.




BBC News - Published





Royal Navy monitoring 'unusually high levels of activity' by Russian warships in English Channel

Timing of movements seen as test of British military resilience in face of coronavirus outbreak




Independent - Published





Coronavirus: Nearly 100 migrants try to cross English Channel as UK lockdown intensifies

'The only way we're going to beat [coronavirus] is if we protect society as a whole,' campaigner warns




Independent - Published





Tracking European eels in the English Channel

A device used to monitor the migration of European eels washed up near Guernsey.




BBC News - Published





French coastguards rescue 31 migrants attempting Channel crossing

French coastguards rescued 31 migrants trying to cross the English Channel overnight after the engine of one small boat cut out and the other dinghy began to take in water, local authorities in France..




Reuters - Published





Child among 49 migrants rescued from boats crossing English Channel on Boxing Day

More than 120 migrants forced back to European mainland after boat crossings to UK in 2019




Independent - Published




Sarah Thomas: American swims English Channel four times

Sarah Thomas is the first person to swim the English Channel four times non-stop




BBC News - Published




Channel migrants: Two boats found after 86 attempted crossing

Two more boats are intercepted in the English Channel after nearly 100 people try to cross in a day.




BBC News - Published





Syrian lecturer completes English Channel swim

Zeina Alsharkas says she is "proud" to be the first Syrian woman to complete the crossing on her own.




BBC News - Published





Search for missing migrant who 'fell overboard' in English Channel abandoned

Rescue teams call off search for migrant reported missing after scouring busy shipping lanes for 24 hours




Independent - Published





Man crosses English Channel by flyboard

Frenchman Franky Zapata has become the first person to cross the English Channel on a flyboard.




BBC News - Published





Franky Zapata: Flyboarding Frenchman crosses English Channel

It was inventor Franky Zapata's second attempt to fly the 22 miles on his jet-powered craft.




BBC News - Published





Frenchman succeeds in bid to cross English Channel on a jet-powered hoverboard

French inventor Franky Zapata on Sunday succeeded in crossing the English Channel on a jet-powered hoverboard he designed, having abandoned a previous bid after failing to land on a refueling platform..




Reuters - Published

Also reported by •Independent


Imam jailed for helping refugees try to cross English Channel

Iranian man says he was 'ashamed' when he discovered boats were being used by traffickers




Independent - Published





France: Imam jailed over Channel migrant crossings

The Iranian national was found guilty of helping migrants cross the English Channel in dinghies.




BBC News - Published