Cornwall
County of England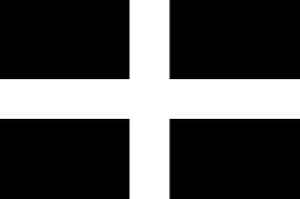 Cornwall is a ceremonial county in South West England, bordered to the north and west by the Celtic Sea, to the south by the English Channel, and to the east by Devon, the River Tamar forming the border between them. Cornwall is the westernmost part of the South West Peninsula of the island of Great Britain. The southwesternmost point is Land's End and the southernmost Lizard Point. Cornwall has a population of 568,210 and an area of 3,563 km2 (1,376 sq mi). The county has been administered since 2009 by the unitary authority, Cornwall Council. The ceremonial county of Cornwall also includes the Isles of Scilly, which are administered separately. The administrative centre of Cornwall is Truro, its only city.


Keir Starmer: Government must obtain coronavirus consense

Answering questions from people in Cornwall, Labour Leader Sir Keir Stamer says that the Government must get a general consensus from the public on the forward strategy in dealing with coronavirus..
Credit: PA - Press Association STUDIO Duration: 01:25
Published
You Might Like



Cornwall tourist chief condemns sign telling visitors to 'f**k off'

Officials expect 80,000 visitors to the county over the coming week




Independent - Published





Cornwall cyclist, 71, dies in heavy goods vehicle crash

A man dies after a crash with a heavy goods vehicle in St Erth, near Hayle, police say.




BBC News - Published





Cornwall flypast marks Dunkirk veteran's 100th birthday

A flypast, parade and a card from the Queen were all part of the celebrations for Eric Taylor.




BBC News - Published





Coronavirus: 'Armed officers' sent to check Cornwall holiday let

Shaun Pritchard says he has complained to the police watchdog about the "alarming" incident.




BBC News - Published





George Floyd: Sergeant 'shared altered image' of arrest

The Devon and Cornwall officer possibly faces criminal charges for sharing the image on WhatsApp, the IOPC says.




BBC News - Published





Coronavirus: Outbreak confirmed at Pengover House

Eleven people at Pengover House in Liskeard, Cornwall, have tested positive for coronavirus.




BBC News - Published





Window cleaner marks 49 years cleaning Cornish town's windows

Ralph Elcox, 73, has spent five decades cleaning windows in his home town of Camborne in Cornwall.




BBC News - Published





Man arrested over Penryn suspect bomb at Masonic lodge

A man was arrested on suspicion of attempted arson with intent to endanger life, in Cornwall.




BBC News - Published





Deer rescued from sea by fisherman off Cornwall

The animal found itself in tricky waters about a mile out from Porthleven in Cornwall.




BBC News - Published





Teenage girl among two dead after Cornwall sea rescues

The girl was trapped under a boat while a man died after being pulled out of the sea off Cornwall.




BBC News - Published





Police wake up caravan tourists flouting lockdown rules in Cornwall

'With engagement, explanation and education they moved on,' force says




Independent - Published





UK weather forecast: Hottest day of the year so far expected this week

Wednesday forecast to surpass the 26C recorded in Cornwall on Good Friday




Independent - Published





Coronavirus: Fifty million plastic pieces sifted from beach in lockdown

Artist Rob Arnold is spending his lockdown sifting 40 sacks of beach litter in Cornwall.




BBC News - Published





Coronavirus: Surrey to St Ives seaside day trip 'due to exam pressure'

The pair told police they felt their 265-mile drive from Surrey to Cornwall was essential.




BBC News - Published





Coronavirus: Fined Lyme Bay divers from Edinburgh and Cornwall

Helicopters, lifeboats and a warship searched for one of the divers after a Mayday call.




BBC News - Published





Coronavirus: Kent couple fined for Falmouth lockdown 'mini-break'

The Kent couple also had their car seized after they were found asleep in the vehicle in Cornwall.




BBC News - Published





Cornish dad bakes pasty the size of his newborn son

Tim Fuge, from Cornwall, says it was a struggle to find a baking tray for the 4,000-calorie pasty.




BBC News - Published





Coronavirus: Police warn people will be fined for travelling to beauty spots over Easter bank holiday

Devon and Cornwall officers among those imposing road checks to keep tourists away




Independent - Published





Coronavirus: 'I'm digging graves for people who are still living'

As local councils prepare for coronavirus deaths, a gravedigger in Cornwall has been asked by his local parish to dig extra graves.




BBC News - Published




Coronavirus: Holiday lets in Cornwall 'acting illegally'

A council has received complaints about some providers accepting guests during the lockdown.




BBC News - Published





Coronavirus: Four die at Royal Cornwall Hospital

The deaths - the first coronavirus-related deaths in Cornwall - are among 20 cases in the county.




BBC News - Published





Harry Billinge: Cornwall D-Day veteran appointed MBE

Harry Billinge, 94, raised more than £25,000 towards the cost of building a national memorial.




BBC News - Published





Cornwall cocaine driver hit 130mph on M5 in police chase

Darren McKie was being chased by a convoy of police cars and the force helicopter.




BBC News - Published





Live whale washes up on Cornwall beach

Animal was reportedly 'in death throes' when medics arrived




Independent - Published





Post-mortem to be held on beached whale

The 20m-long fin whale died hours after it was stranded on rocks in Cornwall on Friday.




BBC News - Published





Whale beached in Cornwall: Rescuers race to save the whale

It was spotted swimming around the coast earlier in the morning.




BBC News - Published





Storm Ciara: Cornwall lightning strikes damage houses

Rail services were also suspended after a series of lightning strikes across parts of the county.




BBC News - Published





Conifa World Football Cup: Jersey and Cornwall aiming to win 2020 title on debuts

BBC Sport profiles the two British teams aiming to win the Conifa World Football Cup this summer.




BBC News - Published





Marc Cole inquest: Police Taser use 'played part' in death

Marc Cole suffered deteriorating mental health before he was Tasered by police in Cornwall.




BBC News - Published





Royal Marine dies after training incident in Cornwall

The recruit got into difficulty during a training exercise on Tuesday.




BBC News - Published

Also reported by •Independent


Dolphin pod captured on video swimming alongside row boat in Cornwall

"We don't really see them that far up the river very often," rowing club spokesperson said




Independent - Published





'We had never seen anything like it': Rare albino pheasant caught on video in back garden

Brian Cave found unusual bird wandering around outside his home in Newquay, Cornwall




Independent - Published





Labradoodle puppy stolen at knifepoint

The six-month-old labradoodle called Waffle was taken after its owner was threatened in Cornwall.




BBC News - Published





Flood warnings across the country after heavy rain

Shops and homes in Hayle, Cornwall, have already been flooded.




BBC News - Published





Cornwall homeless woman: 'Why I lived in a cave'

Sue was so desperate for accommodation she resorted to a seaside cave for shelter.




BBC News - Published





General election 2019: Bad weather delays Isles of Scilly count

Strong gales are preventing ballot papers from being collected from the Isles of Scilly off Cornwall.




BBC News - Published





'Oldest pasty maker' to close Cornwall factory

Warrens said the decision could lead to "significant job losses".




BBC News - Published





Palm oil on Cornwall beaches sparks dog walker alert

A number of beaches in west Cornwall have been affected by the bright, oily substance.




BBC News - Published





Cornwall angler rescue: Man saved by walkers

The shouts of Sam Luntley were heard by a family walking on the cliffs at Porthcothan, Cornwall.




BBC News - Published





Eddystone Lighthouse: Google Doodle honours historic Cornwall structure

Pioneering building was first illuminated on this day in 1698




Independent - Published





Cornwall vicar resigns over affair with parishioner

Father Simon Bone writes to the Bishop of Truro to resign from his role in eight Cornish parishes.




BBC News - Published





Injured seal flown from Cornwall to Tynmouth Aquarium

The pup had to be flown from Cornwall to Tyneside due to a shortage of space at rescue centres.




BBC News - Published





UK weather: Motorists rescued from flooded roads as heavy rain brings travel disruption

More than 100 flood warnings issued across country from Cornwall to North Yorkshire




Independent - Published





Kayaker saves 'drowning' squirrel in Cornish river rescue

Tom Wildblood spotted the creature on the River Helford in Cornwall while out on his kayak.




BBC News - Published





Children and adults fall ill at Mullion Holiday Park

Mullion Holiday Park in Cornwall says 38 people, including 30 children, are unwell.




BBC News - Published





Scores of highly venomous Portuguese man-of-war 'jellyfish' wash up on beaches in Cornwall

Rising numbers of deadly sea creatures recorded around UK due to climate change and overfishing of predators




Independent - Published





The musicians helping to revive the Cornish language

Bands and singers in Cornwall are leading the fight to try and keep the Cornish language alive.




BBC News - Published





Overcoming loneliness in Penzance

Kelvin Lieu moved to Cornwall after his marriage ended and struggled to make new friends in an unknown area.




BBC News - Published





The Cornwall teenager with a two-hour bus commute

Every day 17-year-old Tegan has a two-hour bus commute through rural Cornwall to get to college.




BBC News - Published





Vanessa George: Paedophile nursery worker banned from Devon and Cornwall after release from prison

'Her release makes me sick,' says Plymouth MP Luke Pollard. 'She should be kept in jail'




Independent - Published