Cornwall
County of England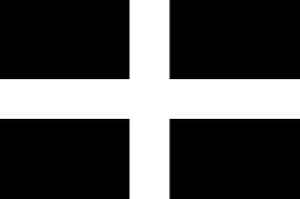 Cornwall is a county in South West England in the United Kingdom. The county is bordered to the north and west by the Celtic Sea, to the south by the English Channel, and to the east by the county of Devon, over the River Tamar which forms most of the border between them. Cornwall forms the westernmost part of the South West Peninsula of the island of Great Britain. The furthest southwestern point of Great Britain is Land's End; the southernmost point is Lizard Point. Cornwall has a population of 563,600 and covers an area of 3,563 km2 (1,376 sq mi). The county has been administered since 2009 by the unitary authority, Cornwall Council. The ceremonial county of Cornwall also includes the Isles of Scilly, which are administered separately. The administrative centre of Cornwall, and its only city, is Truro.


Cornwall MP ridiculed over knife GPS tweet
Scott Mann suggested all knives should be fitted with GPS trackers and put on a national database.
BBC News - Published
Fishermen airlifted to safety off Land's End
A helicopter was sent after a ship's engine failed in atrocious weather off the coast of Cornwall.
BBC News - Published
Britain's biggest bronze statue crosses land and sea to reach new home
The 7-metre high "Messenger" by sculptor Joseph Hillier features a crouching woman and was commissioned by the Theatre Royal Plymouth. Rough cut (no reporter narration).
Credit: Reuters Studio Duration: 00:46Published
Nurse from Cornwall told of own death in pension letter
The retired nurse was told his pensions had been cancelled after his "recent bereavement".
BBC News - Published
Axed Devon, Cornwall and Dorset police merger saw £380k 'wasted'
The planned merger of forces in Devon, Cornwall and Dorset was scrapped in October.
BBC News - Published
Search this site and the web:
You Might Like