Embassy of Ecuador, London
Diplomatic mission of Ecuador in London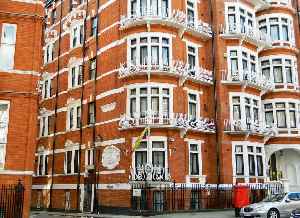 The Embassy of Ecuador in London is the diplomatic mission of Ecuador in the United Kingdom. It is headed by the ambassador of Ecuador to the United Kingdom. It is located in the Knightsbridge area of London, in the Royal Borough of Kensington and Chelsea. It is in an apartment building which also houses the Embassy of Colombia as well as a number of residential apartments, near Harrods, Hyde Park, and Hans Place, at 3 Hans Crescent at the intersection with Basil Street, and it is close to Knightsbridge Underground station.


Julian Assange Arrested: How, Why and When?
by Alice Monroe - After having been domiciled in London's Ecuadorian Embassy since June 2012, controversial WikiLeaks head Julian Assange has been removed from the building and subsequently..
One News Page Staff - Published
Is Julian Assange About to Be Expelled From London's Ecuadorian Embassy?
by Alice Monroe - Claims reverberate over whether or not the controversial WikiLeaks founder will be removed from his long-term domicileJulian Assange, the founder and main face of document-leaking..
One News Page Staff - Published
Search this site and the web:
You Might Like