Arabic
Afro-Asiatic language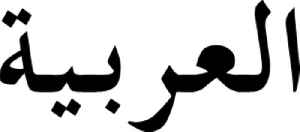 Arabic is a Semitic language that first emerged in the 1st to 4th centuries CE. It is now the lingua franca of the Arab world. It is named after the Arabs, a term initially used to describe peoples living in the area bounded by Mesopotamia in the east and the Anti-Lebanon mountains in the west, in Northwestern Arabia and in the Sinai Peninsula. The ISO assigns language codes to thirty varieties of Arabic, including its standard form, Modern Standard Arabic, which is modernized Classical Arabic. This distinction exists primarily among Western linguists; Arabic speakers themselves generally do not distinguish between Modern Standard Arabic and Classical Arabic, but rather refer to both as al-ʻArabīyat ul-fuṣḥá.


Kurdish families stuck in crowded schools after fleeing north Syria conflict
Two weeks ago, 13-year-old Leith Ahmed was busy studying English and Arabic at school in northeastern Syria when a sudden Turkish cross-border attack forced him and his family to run for their lives.
Reuters - Published
Syria 'double tap' air strike: Who's to blame?
An attack kills 39 people in Syria - Russia says it wasn't involved. BBC News Arabic investigates.
BBC News - Published
Russia, Turkey agree to joint patrols on Syria border
Russian and Turkish leaders on Tuesday agreed to terms that would allow Ankara's military operations in Syria to continue as a U.S.-brokered cease-fire is set to expire. Zachary Goelman reports.
Credit: Reuters Studio Duration: 02:52Published
Reforms fail to please Lebanon's protesters
Lebanon approved an emergency reform package in response to protests over dire economic conditions, but the moves did not persuade demonstrators to leave the streets or investors to halt a plunge in..
Credit: Reuters Studio Duration: 01:15Published
Lebanon's Hariri agrees to reforms amid protests
After days of nationwide protests, Lebanese Prime Minister Saad al-Hariri and his government partners on Sunday agreed on a package of reforms to ease an economic crisis. Eve Johnson reports.
Credit: Reuters Studio Duration: 01:25Published
'Until our last breath': on the streets with Lebanon's protesters
Dany Mortada has spent the last four days on the streets of Beirut, part of anti-government protests amid an economic crisis. David Doyle reports.
Credit: Reuters Studio Duration: 02:23Published
Iraq protests toll climbs to at least 45 killed
Iraqi police opened fire on protesters in central Baghdad on Friday, as hundreds gathered to demonstrate against the government. Gracie Jerome reports.
Credit: Reuters Studio Duration: 01:54Published
Women's soccer league kicks off in post-Bashir Sudan
Sudan has launched a women's soccer league, a move that reflects the new transitional government's aspirations for the country and allows female players to push for wider acceptance. Francesca Lynagh..
Credit: Reuters Studio Duration: 01:41Published
Yemen's Houthis unilaterally release hundreds of detainees
Yemen's Iran-aligned Houthi group on Monday released hundreds of Yemeni prisoners in a unilateral move the United Nations hoped would help revive a stalled peace process. Ciara Lee reports
Credit: Reuters Studio Duration: 01:12Published
Young artists are splashing color back onto Mosul
A group of students and artists are breathing new life onto the walls of shelled buildings around the Iraqi city of Mosul through painting. Maha Albadrawi reports.
Credit: Reuters Studio Duration: 01:42Published
Evangelicals harvest land in settlements Israel hopes to annex
U.S. evangelicals have been a core support base for President Donald Trump since the 2016 election. Many are also staunch supporters of Israel, seeing a biblical connection with the Jewish people and..
Credit: Reuters Studio Duration: 01:59Published
Palestinians vow to keep Jordan Valley land
Palestinians vow to defy Benjamin Netanyahu's plan to annex the Jordan Valley, saying the land isn't his to hold on to. The Israeli prime minister made the pledge ahead of next week's election. Lucy..
Credit: Reuters Studio Duration: 01:41Published
Palestinians face conflict in cave dwelling
Palestinian families living in hillside caves in the West Bank complain of difficult living conditions at the hands of Jewish settlers and Israeli regulations. They say it's a choice of a cave or a..
Credit: Reuters Studio Duration: 01:53Published
Iran seizes foreign oil tanker smuggling fuel in Gulf: state media
Iranian forces seized a foreign oil tanker in the Gulf that was smuggling fuel to Arab states and has detained seven crewmen, Iran's state media reported on Sunday.
Reuters - Published
Sign of the times: China's capital orders Arabic, Muslim symbols taken down
Authorities in the Chinese capital have ordered halal restaurants and food stalls to remove Arabic script and symbols associated with Islam from their signs, part of an expanding national effort to..
Reuters - Published
Talking about sex no longer so taboo in the Arab world
Discussing sex has long been socially awkward in the Arab world, but there are signs that attitudes are changing.
BBC News - Published
Man Booker International Prize: Jokha Alharthi is first Arabic winner
Omani author Jokha Alharthi takes the £50,000 prize for her novel Celestial Bodies.
BBC News - Published
Former TV news anchor set to become first Druze woman in Israel's parliament
With Israel's election just over a month away, a Druze former television news anchor is poised to become the first woman from her Arabic-speaking minority to serve in the Israeli parliament.
Reuters - Published
You Might Like