Arabic
Afro-Asiatic language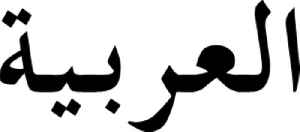 Arabic is a Semitic language that first emerged in the 1st to 4th centuries CE. It is now the lingua franca of the Arab world. It is named after the Arabs, a term initially used to describe peoples living in the area bounded by Mesopotamia in the east and the Anti-Lebanon mountains in the west, in Northwestern Arabia and in the Sinai Peninsula. The ISO assigns language codes to thirty varieties of Arabic, including its standard form, Modern Standard Arabic, also referred to as Literary Arabic, which is modernized Classical Arabic. This distinction exists primarily among Western linguists; Arabic speakers themselves generally do not distinguish between Modern Standard Arabic and Classical Arabic, but rather refer to both as al-ʿarabiyyatu l-fuṣḥā or simply al-fuṣḥā (اَلْفُصْحَىٰ).


Having fled bombing, Syrian children learn to read in tent schools
Syrian teacher Ahmad al Hilal listens to his young pupils sitting on a mat reciting the Arabic alphabet in a makeshift school in a tent on the outskirts of a sprawling refugee camp city along the..
Reuters - Published
Exclusive: 'I'm happy he did it' - in Beirut, wife of fugitive Ghosn slams Japanese justice
Carlos and Carole Ghosn, the former first couple of carmaker Nissan, are united again in Beirut. They hold hands in the street and whisper together in a mix of Arabic and French. They kiss.
Reuters - Published
Banks in Lebanon are vandalised as economy freefalls
UN official blames politicians for "dangerous chaos" in Lebanon as Beirut banks are vandalised. Adam Reed reports.
Credit: Reuters Studio Duration: 01:32Published
Thousands of Syrians opt to learn Russian at school
Increasing numbers of Syrian students are learning Russian as a foreign language in public schools, a move that reflects the extent to which Syrian-Russian relations have grown since the war started in..
Credit: Reuters Studio Duration: 01:18Published
'Palace of the Nation': Qasr Al Watan attracts visitors to Abu Dhabi
One of the UAE's latest cultural landmarks, Qasr Al Watan, is a place that translates from Arabic to mean, the 'Palace of the Nation'.View on euronews
Credit: euronews (in English) Duration: 12:00Published
Top Iraq cleric fears worse bloodshed is ahead for U.S.-Iran conflict
Iraq's top Shi'ite Muslim cleric on Friday condemned mutual U.S. and Iranian attacks on Iraqi soil and warned of deteriorating security in the country and wider region as a result of Washington's..
Credit: Reuters Studio Duration: 01:19Published
Over 230,000 people flee Idlib during Russian-backed offensive - UN
The United Nations said 235,000 civilians had fled their homes in rebel-held northwestern Syria during a Russian-backed campaign of air strikes and shelling this month. Yahaira Jacquez reports.
Credit: Reuters Studio Duration: 01:53Published
'Ring of Fire' eclipse enthralls skywatchers in Middle East, Asia
A rare annular eclipse drew crowds astronomers, tourists, and devotees to witness the solar phenomenon across a broad swath of the globe. Zachary Goelman reports.
Credit: Reuters Studio Duration: 02:06Published
Dozens injured in Beirut protests
Tear gas engulfed central Beirut as security forces chased protesters near Lebanon's parliament on Sunday in a second night of street clashes that wounded dozens of people.
Credit: Reuters Studio Duration: 01:40Published
Algeria declares former PM winner of presidential election
Former Prime Minister Abdelmadjid Tebboune was announced as Algeria's new president on Friday, after a vote the authorities hope will end months of turmoil and protests. Emer McCarthy reports.
Credit: Reuters Studio Duration: 01:16Published
Pope gifts relic of Jesus' manger to Bethlehem
A fragment of wood reputed to be from the manger where Jesus was laid after his humble birth arrived in Bethlehem on Saturday as a gift from the Pope, kicking off Christmas celebrations. Conway G...
Credit: Reuters Studio Duration: 01:13Published
Death toll rises in Iraq bloodshed, mourners bury dead
Iraq's death toll surpassed 400 on Friday, as mourners held funerals to bury their dead after weeks of anti-government protests. Lauren Anthony reports.
Credit: Reuters Studio Duration: 01:48Published
Dozens of anti-government protesters killed across Iraq
Iraqi security forces shot dead at least 45 protesters on Thursday after demonstrators stormed and torched an Iranian consulate overnight, in what could mark a turning point in the uprising against the..
Credit: Reuters Studio Duration: 01:48Published
Iraqi forces kill several protesters after Iranian consulate torched
Iraqi security forces shot dead 16 protesters in the southern city of Nassiriya on Thursday, medical sources said, and authorities imposed a curfew in Najaf after demonstrators burned its Iranian..
Credit: Reuters Studio Duration: 01:47Published
Slain Iraq protesters inspire "wall of wishes"
Just off Baghdad's Tahrir Square, ground zero for the anti-government protest movement despite the deaths of hundreds of demonstrators in a government crackdown, protesters have set up a "wall of..
Credit: Reuters - Politics Duration: 01:38Published
There's unfinished business in the birthplace of Sudan's revolution
People in Sudan's Atbara, a colonial-era railway hub, support the national government in the capital some 220 miles to the south, but say some of the main grievances which drove their uprising - poor..
Credit: Reuters Studio Duration: 01:41Published
Sultan Qaboos bin Said Al Said of Oman?
He was the Arab world's longest serving ruler, but what was he like as a leader?
BBC News - Published
Southwest can be sued for bumping passenger who spoke Arabic: U.S. judge
A federal judge on Thursday rejected Southwest Airlines Co's bid to dismiss a discrimination lawsuit by an American of Iraqi descent who was removed from a 2016 flight after another passenger heard him..
Reuters - Published
Messiah: Netflix trailer 'reveals spoiler' to Muslim viewers
The main twist in the upcoming show, Messiah, was obvious to many Muslim and Arabic-speaking fans.
BBC News - Published
Kurdish families stuck in crowded schools after fleeing north Syria conflict
Two weeks ago, 13-year-old Leith Ahmed was busy studying English and Arabic at school in northeastern Syria when a sudden Turkish cross-border attack forced him and his family to run for their lives.
Reuters - Published
Syria 'double tap' air strike: Who's to blame?
An attack kills 39 people in Syria - Russia says it wasn't involved. BBC News Arabic investigates.
BBC News - Published
Iran seizes foreign oil tanker smuggling fuel in Gulf: state media
Iranian forces seized a foreign oil tanker in the Gulf that was smuggling fuel to Arab states and has detained seven crewmen, Iran's state media reported on Sunday.
Reuters - Published
Sign of the times: China's capital orders Arabic, Muslim symbols taken down
Authorities in the Chinese capital have ordered halal restaurants and food stalls to remove Arabic script and symbols associated with Islam from their signs, part of an expanding national effort to..
Reuters - Published
Talking about sex no longer so taboo in the Arab world
Discussing sex has long been socially awkward in the Arab world, but there are signs that attitudes are changing.
BBC News - Published
You Might Like