Arabic
Semitic language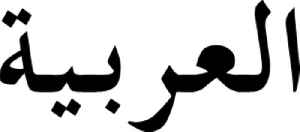 Arabic is a Semitic language that first emerged in the 1st to 4th centuries CE. It is now the lingua franca of the Arab world. It is named after the Arabs, a term initially used to describe peoples living in the area bounded by Mesopotamia in the east and the Anti-Lebanon mountains in the west, in Northwestern Arabia and in the Sinai Peninsula. The ISO assigns language codes to thirty varieties of Arabic, including its standard form, Modern Standard Arabic, also referred to as Literary Arabic, which is modernized Classical Arabic. This distinction exists primarily among Western linguists; Arabic speakers themselves generally do not distinguish between Modern Standard Arabic and Classical Arabic, but rather refer to both as al-ʿarabiyyatu l-fuṣḥā or simply al-fuṣḥā (اَلْفُصْحَىٰ).


You Might Like
Ukraine may grant visa-free access to citizens of China, Australia, Arab states to boost tourism
Ukraine is considering cancelling its visa requirement for tourists from China, Australia, New Zealand and Arab states in order to attract more visitors once lockdowns ease and bring more money into..
Reuters - Published
Libyan truce would aid war on coronavirus, say western, Arab nations
Western and Arab countries in a statement on Tuesday urged Libya's warring factions to stop fighting to allow the country's authorities to respond to the threat posed by the coronavirus.
Reuters - Published
Israeli Arab party backs Netanyahu's rival Gantz
The main rival to Prime Minister Benjamin Netanyahu won support from Israel's Arab party on Sunday to form a government, potentially undermining Netanyahu's plan to stay in power atop a proposed unity..
Reuters - Published
Manchester Arena attack brother created 'slaughter' email address
The name of Hashem Abedi's account translates from Arabic as "to slaughter we have come", a court hears.
BBC News - Published
Having fled bombing, Syrian children learn to read in tent schools
Syrian teacher Ahmad al Hilal listens to his young pupils sitting on a mat reciting the Arabic alphabet in a makeshift school in a tent on the outskirts of a sprawling refugee camp city along the..
Reuters - Published
Exclusive: 'I'm happy he did it' - in Beirut, wife of fugitive Ghosn slams Japanese justice
Carlos and Carole Ghosn, the former first couple of carmaker Nissan, are united again in Beirut. They hold hands in the street and whisper together in a mix of Arabic and French. They kiss.
Reuters - Published
Sultan Qaboos bin Said Al Said of Oman?
He was the Arab world's longest serving ruler, but what was he like as a leader?
BBC News - Published
Southwest can be sued for bumping passenger who spoke Arabic: U.S. judge
A federal judge on Thursday rejected Southwest Airlines Co's bid to dismiss a discrimination lawsuit by an American of Iraqi descent who was removed from a 2016 flight after another passenger heard him..
Reuters - Published
Messiah: Netflix trailer 'reveals spoiler' to Muslim viewers
The main twist in the upcoming show, Messiah, was obvious to many Muslim and Arabic-speaking fans.
BBC News - Published
Kurdish families stuck in crowded schools after fleeing north Syria conflict
Two weeks ago, 13-year-old Leith Ahmed was busy studying English and Arabic at school in northeastern Syria when a sudden Turkish cross-border attack forced him and his family to run for their lives.
Reuters - Published
Syria 'double tap' air strike: Who's to blame?
An attack kills 39 people in Syria - Russia says it wasn't involved. BBC News Arabic investigates.
BBC News - Published
Iran seizes foreign oil tanker smuggling fuel in Gulf: state media
Iranian forces seized a foreign oil tanker in the Gulf that was smuggling fuel to Arab states and has detained seven crewmen, Iran's state media reported on Sunday.
Reuters - Published
Sign of the times: China's capital orders Arabic, Muslim symbols taken down
Authorities in the Chinese capital have ordered halal restaurants and food stalls to remove Arabic script and symbols associated with Islam from their signs, part of an expanding national effort to..
Reuters - Published