Sikhs
Members of the Sikh religion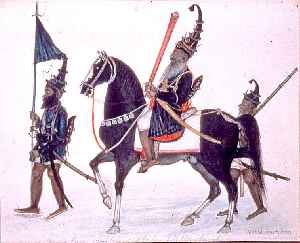 Sikhs
are people associated with Sikhism, a monotheistic religion that originated in the 15th century in the Punjab region of the Indian subcontinent, based on the revelation of Guru Nanak. The term
Sikh
has its origin in the word
śiṣya
(शिष्य), meaning 'disciple' or 'student'. According to Article I of the
Sikh Rehat Maryada
, a Sikh is:
Any human being who faithfully believes in One Immortal Being; eleven gurus, from Guru Nanak to Guru Granth Sahib; the teachings of the 6 Gurus, 15 bhagats, 11 bhatts, 4 Gursikhs and the baptism bequeathed by the tenth Guru.
SAD quits NDA over farm Bills

The Shiromani Akali Dal (SAD) ended its alliance with the BJP over disagreement with the contentious new agriculture Bills. Party president Sukhbir Singh Badal announced the end of the long-term..
Credit: ANI Duration: 01:25
Published
Communal harmony still prevails in J-K's Mattan village

The symbol of communal harmony between different sects is still alive in South Kashmir's Mattan village. In the three localities of Seer Hamdan, Srigufwara, and Mattan village of Anantnag district,..
Credit: ANI Duration: 05:06
Published
'In Imran Khan's Naya Pakistan, you may not return home': India at UNHRC

India accused Pakistan of spreading 'imposturous political propaganda'. India exercised Right of Reply at the 45th Session of Human Rights Council. "Yet again, though we are not surprised, Pakistan has..
Credit: HT Digital Content Duration: 03:12
Published
'Not the NDA of old': Will Sukhbir Badal's SAD snap BJP ties? | On The Record

Amid massive uproar by opposition members, the Rajya Sabha on September 20 passed the Farmer's Produce Trade and Commerce (Promotion and Facilitation) Bill, 2020, and the Farmers (Empowerment and..
Credit: HT Digital Content Duration: 09:57
Published
Sikhs protest outside Pakistan Embassy over 'forced conversion of Sikh girls'

Members of Sikh community staged protest outside Pakistan Embassy in New Delhi against 'abduction and forced conversion Sikh girls in Pakistan'. Delhi Sikh Gurdwara Management Committee (DSGMC)..
Credit: ANI Duration: 01:41
Published
Sikh families from Afghanistan relocated in Delhi gurudwaras

Around 138 Sikh families from Afghanistan have been relocated in Delhi. They are currently staying in Gurudwaras that are run by Delhi Sikh Gurdwara Management Committee."It's been 16 days here. I lost..
Credit: ANI Duration: 01:51
Published
A Sikh from Kashmir Valley becomes music session overnight

A Sikh from South Kashmir has become an overnight music sensation in the valley. The 28-year-old drew public attention through his effortless singing in Kashmiri language. Harkishan Singh Sanam holds a..
Credit: ANI Duration: 04:06
Published
Watch: Two Madhya Pradesh cops drag Sikh by hair, suspended

Two police personnel were suspended on dragging a sikh by hair in Madhya Pradesh. The suspended cops included an assistant sub-inspector and a head constable. Video of the incident has gone viral on..
Credit: HT Digital Content Duration: 03:01
Published
You Might Like



Sikh pilgrims in deadly Pakistan train crash

At least 19 die as an express train hits a van carrying the pilgrims near the city of Lahore.




BBC News - Published





Members of Islamic State-Haqqani network arrested over Kabul attacks

Afghan security forces arrested eight members of a network grouping Islamic State and Haqqani militants responsible for bloody attacks in the capital including on Sikh worshippers, the country's..




Reuters - Published





Coronavirus: Berkshire pensioner helping Sikhs in isolation

Rajinder Singh is helping the local Sikh community keep fit and healthy while temples are closed.




BBC News - Published





Gunmen in Afghanistan kill 25 in raid on Sikh complex

Unidentified gunmen and suicide bombers raided a Sikh religious complex in the Afghan capital of Kabul on Wednesday, killing 25 people before security forces killed all of the attackers, the government..




Reuters - Published




Afghan gunmen storm Sikh temple in Kabul

An unknown number of people are reportedly inside the temple as security forces battle the attackers.




BBC News - Published





Delhi riots: The Sikh father and son who saved Muslims

Mohinder and Inderjeet Singh risked their own lives to protect people they didn't even know.




BBC News - Published





A gay man's struggle for acceptance in the Sikh community

Kuljit Bhogul says coming out was a "massive deviation" from traditional Punjabi family values.




BBC News - Published





Explainer: What does passage of India's controversial citizenship bill mean?

India's parliament on Wednesday passed a contentious bill that will allow citizenship for persecuted Hindus, Sikhs, Buddhists, Jains, Parsis and Christians who fled Muslim-majority Pakistan, Bangladesh..




Reuters - Published




Sikh couple win 'heritage' adoption battle

Sandeep and Reena Mander have won nearly £120,000 in damages from their Berkshire council.




BBC News - Published





Tory MP candidate apologises for telling Sikh rival he is 'talking through his turban'

A former Tory minister has apologised after he was accuse of telling his Sikh rival he was "talking through his turban" during an election debate.




Independent - Published





India, Pakistan contacts at 'zero' despite border cooperation

Contacts between India and Pakistan are "zero", Pakistan's foreign minister said, even as a border crossing opened on Saturday for Indian pilgrims to visit a Sikh temple in one of the most significant..




Reuters - Published





Kartarpur corridor: India pilgrims in historic visit to Pakistan temple

The Kartarpur corridor leads from the Indian border straight to a holy Sikh temple in Pakistan.




BBC News - Published





India and Pakistan to open Kartarpur corridor to Sikh temple

In a rare instance of co-operation, Pakistan and India are set to inaugurate a new border crossing point.




BBC News - Published





Sikh couple 'barred from adopting due to heritage'

Sandeep and Reena Mander say they were told that white parents would be given priority.




BBC News - Published





India, Pakistan sign pact on cross-border temple visits

India and Pakistan signed an agreement on Thursday allowing Indian pilgrims to cross the border to a Sikh shrine in Pakistan, rare cooperation between the nuclear-armed rivals at a time of tension and..




Reuters - Published





Kartarpur corridor: India and Pakistan sign deal on Sikh temple project

The new border entry point will allow Indian Sikh pilgrims visa-free access to a shrine in Pakistan.




BBC News - Published





Jagmeet Singh: 'Cut your turban off,' voter tells NDP leader

"Canadians look like all sorts of people," the Sikh politician responds politely.




BBC News - Published





Sikh leader in Kashmir raps India's revoking of region's autonomy

India's move to revoke the autonomy of Kashmir has increased anti-India sentiment in the Himalayan region and will backfire, said the president of the largest Sikh group in Jammu and Kashmir state.




Reuters - Published