Deontay Wilder
American boxer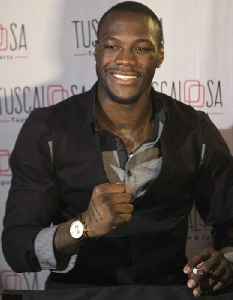 Deontay Leshun Wilder is an American professional boxer. He held the WBC heavyweight title from 2015 to 2020, and in doing so became the first American world heavyweight champion in nine years, which was the longest period of time in boxing history without an American heavyweight champion. As of February 2020, he is ranked as the world's second-best active heavyweight by BoxRec, third by the Transnational Boxing Rankings Board, and fourth by The Ring magazine.


Dillian Whyte focused on getting job done against Povetkin

Dillian Whyte says that he is focused on getting the job done in hiscalculated gamble to face Alexander Povetkin while on the brink of a long-awaited world heavyweight title shot. The 32-year-old has..
Credit: PA - Press Association STUDIO Duration: 00:33
Published
You Might Like



'Cancel Fury-Wilder III if it is delayed again' - Hearn says Whyte deserves title shot instead

Eddie Hearn says Tyson Fury-Deontay Wilder III should be cancelled if it's delayed and Dillian Whyte given a world-title shot next, plus more in this week's Fight Talk.




BBC News - Published





Fight Talk: Tyson Fury, Deontay Wilder, Saul 'Canelo' Alvarez, Eddie Hearn, Dana White

Tyson Fury v Deontay Wilder III could take place in Australia on Boxing Day, who should Saul 'Canelo' Alvarez fight next, plus more in this week's Fight Talk.




BBC News - Published





Mayweather rematch 'inevitable' says McGregor

Conor McGregor says he will win the "inevitable" rematch with Floyd Mayweather, Tyson Fury won't give Deontay Wilder step-aside money & fans welcome Eddie Hearn's garden party, plus more in this week's..




BBC News - Published





Fight Talk: Floyd Mayweather, Conor McGregor, Mike Tyson, Evander Holyfield, Daniel Dubois

Floyd Mayweather says he's "finished with boxing", 1990s heavyweights call out Mike Tyson, and could Daniel Dubois beat Deontay Wilder? It's Fight Talk.




BBC News - Published





'Biggest fights a year away - and Wilder-Fury III faces key hurdles'

BBC Radio 5 Live's Steve Bunce expects a wait for big fights, while Bob Arum outlines issues for Tyson Fury's third bout with Deontay Wilder.




BBC News - Published





Fury-Wilder 3 possible for October - Warren

British world heavyweight champion Tyson Fury could fight American Deontay Wilder for a third time in October, says promoter Frank Warren.




BBC News - Published





Tyson Fury v Deontay Wilder: Third fight possible for October - Frank Warren

British world heavyweight champion Tyson Fury could fight American Deontay Wilder for a third time in October, says promoter Frank Warren.




BBC News - Published





A fourth Fury v Wilder? What about Joshua? Your questions answered...

How good are the current heavyweights? Which belt means most? Mike Costello and Steve Bunce have the answers.




BBC News - Published





Tyson Fury v Deontay Wilder III 'before Olympics, July', says promoter Bob Arum

Deontay Wilder will fight Britain's WBC heavyweight world champion Tyson Fury for a third time this summer, according to promoter Bob Arum.




BBC News - Published





Wilder says he will 'rise like a phoenix from the ashes'

Former world heavyweight champion Deontay Wilder says he will "rise like a phoenix from the ashes and regain the title".




BBC News - Published





Fury's promoter Warren 'disappointed' at prospect of Wilder rematch

Tyson Fury's promoter Frank Warren says he would be "disappointed" if Deontay Wilder exercised his option for a world heavyweight title rematch.




BBC News - Published




Wilder blames elaborate ring-walk costume for Fury defeat

Deontay Wilder blames his elaborate ring-walk costume for his WBC heavyweight title defeat by Tyson Fury.




BBC News - Published





Tyson Fury v Anthony Joshua - biggest fight in British history - Mike Costello

In the 5 Live Boxing with Costello and Bunce podcast, Mike and Steve discuss what's next for Tyson Fury following his victory over Deontay Wilder in Las Vegas.




BBC News - Published





Tyson Fury: 'Maverick Fury can do no wrong but Anthony Joshua fight will seal immortality'

After his seventh-round defeat of Deontay Wilder, a unique place in sporting history awaits Tyson Fury if he secures a unification fight against Anthony Joshua.




BBC News - Published





Tyson Fury on his heavyweight title win over Deontay Wilder: 'Not bad for an old fat guy who can't punch'

Watch the best moments from Tyson Fury's post-fight news conference following his WBC heavyweight title win over Deontay Wilder in Las Vegas.




BBC News - Published





'There's a fella across the pond who might want a tickle' - Fury says Joshua bout will 'complete' career

Tyson Fury says his career would be "completed" if he faces Anthony Joshua after becoming a two-time world heavyweight champion with a stunning win over Deontay Wilder.




BBC News - Published





'Living legend' Fury shines bright - but did he lick Wilder's blood? How social media reacted

Tyson Fury powered up the Las Vegas lights with a brutal display of boxing - this is how social media and the boxing world reacted.




BBC News - Published




'He is a warrior and I'll be waiting' - champion Fury expects third Wilder fight

Tyson Fury expects "warrior" Deontay Wilder to request a third fight the Briton took his WBC heavyweight title in Las Vegas.




BBC News - Published





Tyson Fury beats Deontay Wilder in world title fight in Las Vegas

Tyson Fury wins the WBC world heavyweight title after producing a sensational performance against Deontay Wilder.




BBC News - Published




Wilder v Fury II weigh-in: 'The atmosphere & buzz is phenomenal'

BBC Sport speaks to boxing fans in Las Vegas at the weigh-in ahead of the eagerly anticipated rematch between Deontay Wilder and Tyson Fury.




BBC News - Published





Big hitting, big money, big hype - all you need to know about Wilder v Fury

As Tyson Fury prepares for his rematch with Deontay Wilder, BBC Sport takes you through all you need to know.




BBC News - Published





Deontay Wilder v Tyson Fury II: Fight preview and all you need to know

As Tyson Fury prepares for his rematch with Deontay Wilder, BBC Sport takes you through all you need to know.




BBC News - Published





Wilder v Fury II: 'He's cut no corners' - inside Team Fury

BBC Sport meets the team behind Tyson Fury, including new trainer SugarHill Steward, Andy Lee and cutman Jacob 'Stitch' Duran, before Saturday's WBC world heavyweight title fight with Deontay Wilder.




BBC News - Published





Deontay Wilder v Tyson Fury II: No face-off at weigh-in

Deontay Wilder and Tyson Fury will not face off at Friday's weigh-in as organisers of their rematch move to prevent any possible on-stage clash.




BBC News - Published




'Never bet against a puncher' - Wilder v Fury II predictions

Ten former world champions make their predictions for Tyson Fury's rematch with Deontay Wilder. Tweet us yours via #bbcboxing.




BBC News - Published





Wilder v Fury II news conference: Deontay Wilder and Tyson Fury face off

Deontay Wilder and Tyson Fury face off in their news conference in Las Vegas before Saturday's WBC world heavyweight title fight.




BBC News - Published





Deontay Wilder v Tyson Fury II: 'I rehabilitated Fury's career,' says Wilder

Deontay Wilder tells Tyson Fury he "rehabilitated" him from being "on coke and as big as a house" as the pair relentlessly traded insults during a packed final news conference for Saturday's Las Vegas..




BBC News - Published




Wilder v Fury II: Deontay Wilder says rematch with Tyson Fury could be 'bigger' than Mayweather v Pacquiao

Deontay Wilder says his team believe that his rematch with Tyson Fury could be "bigger, if not better" than Mayweather v Pacquiao, because of the interest and ticket sales generated so far.




BBC News - Published





'My moment in time has come' - Wilder vows to knock out Fury and surpass Ali

Deontay Wilder eyes a landmark victory over Tyson Fury as the Briton thrills fans with an open-top arrival at the MGM Grand in Las Vegas.




BBC News - Published





Wilder v Fury II - who wins?

Will Tyson Fury beat Deontay Wilder and become a two-time world champion? Plus a look at why Manny Pacquiao v Conor McGregor is edging closer and more in this week's Fight Talk.




BBC News - Published





Why Wilder and Fury are boxing's ultimate showmen

Before Tyson Fury's rematch with Deontay Wilder in Las Vegas on Saturday, BBC Sport explores why the two heavyweights are the ultimate boxing showmen.




BBC News - Published





Wilder points win in Las Vegas is impossible – Fury

Tyson Fury says Deontay Wilder cannot win on points when the pair meet for the world heavyweight title in Las Vegas on Saturday.




BBC News - Published




Agreement for third Wilder-Fury fight in contract - Warren

An agreement is already in place for a third fight between Tyson Fury and American Deontay Wilder, according to the Briton's promoter Frank Warren.




BBC News - Published





Tyson Fury v Deontay Wilder: A knockdown, a fightback, a heated corner and a rematch

Tyson Fury hit the canvas, Deontay Wilder celebrated and ringside arguments broke out in three minutes boxing will never forget.




BBC News - Published





I need to knock out Wilder to be certain of win, says Fury

Tyson Fury says he will have to knock out Deontay Wilder in their rematch to avoid a repeat of the judging controversy of their first fight.




BBC News - Published





Wilder v Fury II: Briton says he needs to knock out American to guarantee victory

Tyson Fury says he will have to knock out Deontay Wilder in their rematch to avoid a repeat of the judging controversy of their first fight.




BBC News - Published





Wilder v Fury II: Tyson Fury will be worried by first-fight knockdowns, says Deontay Wilder

Deontay Wilder believes Tyson Fury is scared and will be having sleepless nights before their world heavyweight title rematch later this month.




BBC News - Published





The guys pimping rides for Michael Jordan, Deontay Wilder and Odell Beckham Jr

From vintage cars to $500,000 Lamborghinis, meet the guys who customise cars for the likes of WBC heavyweight champion Deontay Wilder and NFL star Odell Beckham Jr.




BBC News - Published





Wilder v Fury II: Briton has made mistake with training changes - Wilder

Deontay Wilder says Tyson Fury has made a mistake in making changes to his training setup going into their rematch.




BBC News - Published





'Nobody can match my heart' - Fury warns Wilder

Britain's Tyson Fury says he respects Deontay Wilder's knockout record, but insists no boxer can match his own "heart and determination".




BBC News - Published





Wilder v Fury II: Nobody can match my heart and determination - Fury

Britain's Tyson Fury says he respects Deontay Wilder's knockout record, but insists no boxer can match his own "heart and determination".




BBC News - Published





Wilder v Fury II: Tyson Fury fears he will not get a points decision in the United States

Tyson Fury fears he will not get a judges' decision in his rematch with Deontay Wilder and that was why he dropped trainer Ben Davison.




BBC News - Published




Fighter of the decade: Costello & Bunce choose from iconic boxing names

Anthony Joshua, Tyson Fury and Deontay Wilder have done big things, but who gets chosen as fighter of the decade?




BBC News - Published





Boxing review of 2019: Joshua, Ruiz, Wilder, Inoue and Taylor light up year

Fighter of the year, round of the year and contest of the year are all up for debate as Mike Costello and Steve Bunce discuss 2019.




BBC News - Published





Fury welcomes Joshua sparring offer before Wilder rematch

Tyson Fury says he would "love" to spar with fellow Briton Anthony Joshua in the build-up to his rematch with Deontay Wilder.




BBC News - Published





Anthony Joshua: Tyson Fury or Deontay Wilder bout still potentially two years away

Any meeting between Anthony Joshua and Deontay Wilder or Tyson Fury could still be more than two years away, fear the 5 Live Boxing team.




BBC News - Published