Gulf of Mexico
An Atlantic Ocean basin extending into southern North America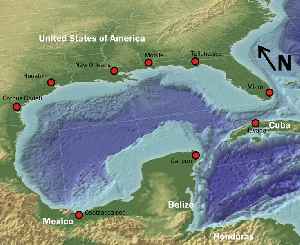 The Gulf of Mexico is an ocean basin and a marginal sea of the Atlantic Ocean, largely surrounded by the North American continent. It is bounded on the northeast, north and northwest by the Gulf Coast of the United States, on the southwest and south by Mexico, and on the southeast by Cuba. The US states of Texas, Louisiana, Mississippi, Alabama, and Florida border the Gulf on the north, which are often referred to as the "Third Coast", in comparison with the U.S. Atlantic and Pacific coasts.


Storm Cristobal makes landfall in Louisiana

Tropical Storm Cristobal brought heavy rains to the Southeastern United States over the weekend before making landfall in Louisiana late on Sunday. Gloria Tso reports.
Credit: Reuters Studio Duration: 01:18
Published
Dolphins In The Louisiana Bayou Keep Dying

Barataria Bay is a marshy jewel in the heart of the vast Louisiana bayou. Its unparalleled natural ecosystem was once a hideout for smugglers and malcontents like Jean Lafitte, who ruled the labyrinth..
Credit: Wochit News Duration: 00:34
Published
Warm Oceans, Calm Breezes Add Up To An Early Hurricane Season

The Atlantic hurricane officially began on Monday, and the very next day, Tropical Storm Cristobal spun up in the Gulf of Mexico. Forecasts called for this to be a busy season, and according to Gizmodo..
Credit: Wochit News Duration: 00:40
Published
You Might Like



U.S. warns of pirates in southern Gulf of Mexico

The U.S. government on Wednesday issued a warning about the threat posed by pirates to boats and oil installations in the southern Gulf of Mexico, in the latest sign of concern about ongoing security..




Reuters - Published





Storm Cristobal slows advance, dropping heavy rains on Louisiana

Tropical Storm Cristobal on Sunday slowed its advance through the Gulf of Mexico, bringing a coastal storm surge, high winds and rain to southeast Louisiana, where it is expected make landfall later..




Reuters - Published





Energy firms pare 34% of U.S. Gulf of Mexico oil, 32% of gas: offshore regulator

Oil and gas producers operating in the U.S. Gulf of Mexico have pared 34% of offshore oil and 32% of natural gas output ahead of Tropical Storm Cristobal, offshore regulator Bureau of Safety and..




Reuters - Published





Oil workers, Louisiana residents flee ahead of Storm Cristobal

Tropical Storm Cristobal on Saturday dumped rain from Louisiana to the Florida peninsula as it moved through the U.S. Gulf of Mexico, prompting evacuations of several southeast Louisiana towns and..




Reuters - Published




Energy firms shut 33% of offshore oil output ahead of Storm Cristobal

Oil and gas producers operating in the U.S. Gulf of Mexico have pared 33% of offshore oil and 31% of natural gas output ahead of Tropical Storm Cristobal, offshore regulator Bureau of Safety and..




Reuters - Published





Oil refineries, offshore drillers face hurricane challenges amid pandemic

As oil and gas companies began shutting offshore production before the first tropical storm of the season in the U.S. Gulf of Mexico, experts said restarting wells and refineries will take longer and..




Reuters - Published





U.S. drilling industry says offshore ban would crush jobs, government revenues

A U.S. ban on new offshore drilling in the Gulf of Mexico, which presidential hopeful Joe Biden promised to enact if elected, would lead to hundreds of thousands of job losses and billions in lost..




Reuters - Published





NHC: 20% chance of cyclone for system extending across Florida

A broad trough of low pressure extending across Florida and the adjacent Atlantic and Gulf of Mexico waters has a 20% chance of becoming a cyclone in the next 48 hours, the U.S. National Hurricane..




Reuters - Published





No eyes? No problem. Marine creature expands boundaries of vision

A cousin of the starfish that resides in the coral reefs of the Caribbean and Gulf of Mexico lacks eyes, but can still see, according to scientists who studied this creature that expands the boundaries..




Reuters - Published





Hernan Cortes: Conquistador anchors found off Mexico Gulf Coast

They may have belonged to fleet led by Hernán Cortés, who conquered the Aztec empire.




BBC News - Published





Italian ship attacked by pirates in Mexico, two crew hurt

Pirates attacked an Italy-flagged offshore supply vessel in the southern Gulf of Mexico, injuring two crew members, the Mexican Navy said on Tuesday, in the latest outbreak of robbery and piracy to hit..




Reuters - Published





U.S. Coast Guard hunts man who went overboard from cruise ship

The U.S. Coast Guard was searching early on Friday for a 26-year-old man who went overboard from a Carnival Cruise ship about 47 miles (76 km) out in the Gulf of Mexico, near the port of Galveston in..




Reuters - Published





TC Energy shuts oil line as flooding disrupts U.S. Gulf terminals: traders

TC Energy Corp's Marketlink oil pipeline from Cushing, Oklahoma, to Nederland, Texas, was shut as flooding disrupted operations at U.S. Gulf Coast terminals, traders familiar with the matter said on..




Reuters - Published





Britain's move to join U.S. Gulf mission frustrates European plans

Britain's decision to join a U.S.-led naval mission in the Gulf has delayed European efforts to set up a maritime force to ensure safe shipping in the Strait of Hormuz separate from American patrols,..




Reuters - Published





BHP halts plan to evacuate Gulf of Mexico oil platforms as storm-threat lessens

BHP on Saturday canceled a plan to evacuate some workers from two Gulf of Mexico oil platforms as Hurricane Dorian's latest track lessened the threat to its oil production facilities.




Reuters - Published




BP evacuates non-essential staff from four Gulf of Mexico oil platforms

BP on Friday evacuated non-essential staff from its four operated offshore oil production platforms in the U.S. Gulf of Mexico, joining several other firms taking similar steps.




Reuters - Published




Chevron, BHP evacuate workers from Gulf of Mexico due to hurricane

Chevron Corp and BHP Group said on Friday they are evacuating non-essential workers from four oil production platforms in the U.S. Gulf of Mexico due to the threat from Hurricane Dorian.




Reuters - Published




FM says Norway deliberating response to U.S.' Gulf naval mission plan

Norway's foreign minister said on Thursday it was deliberating how to respond to a U.S proposal on forming an international mission to safeguard shipping in the Gulf.




Reuters - Published





U.S. and UK presence in Gulf brings insecurity: Iran Revolutionary Guards navy chief

The presence of America and Britain in the Gulf region brings insecurity, the head of the Iranian Revolutionary Guards navy, Alireza Tangsiri, was reported as saying by the ILNA news agency.




Reuters - Published




'A strait for a strait': Iran demands access to Gibraltar waters after UK joins US maritime force in Gulf

Britain had indicated it would join European force in fractious Gulf waters, but now joins US operation




Independent - Published





UK joins United States for maritime security mission in Gulf

Britain on Monday joined the United States in a maritime security mission in the Gulf to protect merchant vessels traveling through the Strait of Hormuz after Iran seized a British-flagged vessel.




Reuters - Published




Britain joins US naval mission to protect international shipping in Gulf amid escalating security crisis with Iran

Whitehall officials insist mission will transition to European command in time




Independent - Published





Iran seizes Iraqi oil tanker smuggling fuel in Gulf: TV

Iranian Revolutionary Guards seized an Iraqi oil tanker in the Gulf which they said was smuggling fuel and detained seven crewmen, Iran's state media reported on Sunday, in a show of power amid..




Reuters - Published




U.S. 'very confident' it can build maritime initiative in Gulf: Pompeo

U.S. Secretary of State Mike Pompeo said on Sunday that he was "very confident" the United States would be able to build a maritime coalition in the Gulf, despite a lukewarm response from European and..




Reuters - Published





Britain tells Iran: there will be no tanker swap

Britain on Thursday ruled out exchanging an Iranian tanker detained by Gibraltar for a British-flagged tanker seized by Iran in the Gulf.




Reuters - Published





U.S. sees European maritime security effort in Gulf as 'complementary'

The United States believes a proposed European initiative to bolster maritime security in the Gulf would complement ongoing U.S. efforts there instead of being a "stand-alone" operation, the top U.S...




Reuters - Published





Britain calls ship seizure 'hostile act' as Iran releases video of capture

Britain on Saturday denounced Iran's seizure of a British-flagged oil tanker in the Gulf as a "hostile act" and rejected Tehran's explanation that it seized the vessel because it had been involved in..




Reuters - Published




US to send troops to Saudi Arabia as tensions with Iran grow

The deployment of soldiers and fighter jets comes amid heightened tensions with Iran in the Gulf.




BBC News - Published





UK operator of seized Stena Impero says vessel in compliance with regulations

The British operator of an oil tanker seized by armed guards in the Gulf said the vessel, the Stena Impero, was in full compliance with all navigation and international regulations.




Reuters - Published




Iranian forces say they seized British-flagged oil tanker in Gulf

Iran's Revolutionary Guards said on Friday they had captured a British-flagged oil tanker in the Gulf after Britain seized an Iranian vessel this month, ratcheting up tension along a vital..




Reuters - Published




UK Chamber of Shipping calls for more security in the Gulf

Further protection must be provided for merchant vessels after a British flagged tanker was seized by the Iranian Revolutionary Guards in the Strait of Hormuz, the head of the UK Chamber of Shipping..




Reuters - Published




Trump says U.S. Navy 'destroyed' Iranian drone in Gulf

President Donald Trump said on Thursday that a U.S. Navy ship had "destroyed" an Iranian drone in the Strait of Hormuz after the aircraft threatened the ship, in the latest incident to stir tensions in..




Reuters - Published