Nottinghamshire
County of England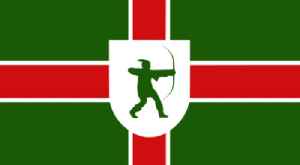 Nottinghamshire is a county in the East Midlands region of England, bordering South Yorkshire to the north-west, Lincolnshire to the east, Leicestershire to the south, and Derbyshire to the west. The traditional county town is Nottingham, though the county council is based at County Hall in West Bridgford in the borough of Rushcliffe, at a site facing Nottingham over the River Trent.


Government announce £2bn for cycling infrastructure

Prime Minister Boris Johnson has visited a bicycle shop and cycling club in Nottinghamshire today to coincide with the announcement of a £2bn cycling infrastructure programme - launched as part of the..
Credit: ODN Duration: 02:29
Published
You Might Like



Coronavirus card payments: Bakery manager sacked for accepting cash

Megan Metcalfe says she used her own card to help elderly customers at the Nottinghamshire bakery.




BBC News - Published





Jordan Sinnott: Men jailed over footballer's killing

The three men attacked Jordan Sinnott and his friends on a night out in Nottinghamshire in January.




BBC News - Published





Cat reunited with Nottinghamshire owner after six years

Owner Zoe Foster said Gizmo had been taken in by someone else eight miles away.




BBC News - Published





Bouncy castles stolen in 2017 found by Nottinghamshire victims

The victims of the thefts tracked down the stolen bouncy castles online and hired them.




BBC News - Published





Dashcam footage shows killer on Nottinghamshire rampage

Gavin Collins is seen driving at high speed before he killed Terry Radford by reversing into him.




BBC News - Published





'Mating midge' swarms invade Nottinghamshire villages

One academic suggests lack of human activity near waterways during lockdown has led to the problem.




BBC News - Published





Coronavirus: Nottinghamshire boy gets fire engine birthday surprise

When Henry - who is being treated for cancer - could not go to visit a fire station, it went to him.




BBC News - Published





Langar estate fire: 'Unidentified chemicals' in smoke

Clouds of fumes from the blaze were seen over large parts of Nottinghamshire and Leicestershire.




BBC News - Published





Large fire at Nottinghamshire airfield industrial estate

Residents are warned to shut windows as a huge cloud of smoke rises from the site of the blaze.




BBC News - Published





Coronavirus: Nottinghamshire teenager runs 140 miles for NHS

Maddie Wall, 13, says the people who work for the NHS are the true heroes.




BBC News - Published





Nottinghamshire surgeon lost 11kg in Covid-19 fight

Dr Irfan Akhtar spent 10 days in intensive care at King's Mill Hospital.




BBC News - Published





Nottinghamshire villagers rally to widow's replace stolen stag memorial

Dorothy Pinkett was "devastated" when the metal stag - a tribute to her late husband - was taken.




BBC News - Published





Coronavirus: Nine die at Nottinghamshire care home

The manager of the dementia care home says 16 other residents are showing symptoms of Covid-19.




BBC News - Published





Help the Hungry: Food banks move towards home deliveries amid struggle to keep doors open

'You just have to find a different way of doing things,' says food bank manager in Nottinghamshire – as new poll reveals scale of UK hunger crisis




Independent - Published





Air ambulance night flights in Lincolnshire and Nottinghamshire cut

The Lincolnshire and Nottinghamshire Air Ambulance said its medics were also needed in hospitals.




BBC News - Published





Coronavirus: Nottinghamshire landlady's 'regret' over 'lock-in'

Mandy Mallinson denies it was a "lock-in", but admits regulars dropped by for her husband's birthday.




BBC News - Published





Coronavirus: Nottinghamshire 'lock-in' pub closed under new laws

The Blue Bell in Sutton-in-Ashfield has also had its stock removed after the licensee served drinks.




BBC News - Published





Ban for Nottinghamshire teacher who gave girl £40 birthday cash

Former head of music Karl Huber gave the girl his phone number, a panel hears.




BBC News - Published





Nottinghamshire teacher banned after vagina comment

Joshua Brandon Lewis also fired a staple gun at pupils and made them fall off chairs.




BBC News - Published





Nottinghamshire driver jailed for killing RAC worker fixing van

Gary Kupinskyj "perhaps zoned out" before he crashed into his victim, the judge sentencing him said.




BBC News - Published





Stuart Broad: Nottinghamshire extend England bowler's contract

England's second all-time leading wicket taker Stuart Broad signs a new two-year contract with Nottinghamshire.




BBC News - Published





Jordan Sinnott death: Matlock Town holds minute's applause

Matlock Town player Jordan Sinnott was found with a fractured skull in Nottinghamshire last week.




BBC News - Published





Review called into Nottinghamshire children's home abuse

The review was prompted by a call to investigate former council bosses for failing to protect victims.




BBC News - Published





Nottinghamshire runner is fastest under-18 in the world

Amy Hunt is the fastest under-18 woman in the world and hopes 2020 will bring even more success.




BBC News - Published





Cat that fled on way to France found months later in Nottinghamshire

Tootsies escaped from his owners' car as they made their way to start a new life in France.




BBC News - Published





Worker dies after being trapped under digger in Lincoln

The 23-year-old, from Nottinghamshire, was pronounced dead at a building site in Lincoln.




BBC News - Published





Girl, 10, dies after being hit by ambulance in Nottinghamshire

A 10-year-old girl has died after being hit by an ambulance in Nottinghamshire.




Independent - Published





Walking Dead actress who suffered years of abuse at children's homes says care system 'still not fit for purpose'

'If we continue to privatise children's homes or any aspect of care of other people and we monetise it, it becomes a very dangerous game,' says Samantha Morton, who grew up in Nottinghamshire care..




Independent - Published





Newark charity shop 'unsafe' as car crashes into it

The driver ran away from the scene of crash at the RSPCA charity shop in Nottinghamshire.




BBC News - Published





Infected toes and Brexit blues: how Anna Soubry hopes to win three-way fight in bellwether Broxtowe

'Workington man' has been named the symbol of a must-win constituency at the election, but there are many key battlegrounds. The Independent visits a Nottinghamshire swing where both Tories and Labour..




Independent - Published





Amber Peat: No charges over hanged girl's death

Amber Peat, 13, was found dead in a Nottinghamshire park three days after she vanished from home.




BBC News - Published





Bird of prey attacks 'mesmerising' murmuration

Footage captured at a nature reserve in Nottinghamshire shows starlings avoiding a predator.




BBC News - Published





Southwell Minster scanned using 3D technology

The 12th Century Southwell Minster in Nottinghamshire is famous for its "pepper pot towers".




BBC News - Published





Nottinghamshire couple kept ex living in garden shed

Victim Chris Chapman says "nobody should go through anything like I've been through".




BBC News - Published





Peter Moores: Nottinghamshire coach to stay on despite winless season

Peter Moores is to stay on as Notts head coach, despite the club's winless Championship season which saw them relegated.




BBC News - Published





James and the giant pumpkin patch in Nottinghamshire

How a 13-year-old started one of the UK's biggest pick-your-own pumpkin farms.




BBC News - Published





Hedgehog set alight in Nottinghamshire put down

The animal has to be put down after being subjected to a "horrific and callous" attack.




BBC News - Published





Emus halt traffic in Nottinghamshire village

One of the emus appears to be quite calm as it strolls near a major road.




BBC News - Published





Pupil with 'too short' trousers taken out of class in Nottinghamshire

The girl's father said the school's decision was "a gross overreaction".




BBC News - Published





Homemade recycling centre built for Nottinghamshire village

A couple are encouraging neighbours to drop off items which are not usually recyclable.




BBC News - Published





T20 Blast: Moeen Ali hits 85 off 46 balls in Worcestershire's win over Birmingham

Moeen Ali and Alex Hales lead Worcestershire and Nottinghamshire to victories while Kent miss out on topping the South Group.




BBC News - Published





West Bridgford Model Car Club marks milestone

A Nottinghamshire club marks its 30th anniversary by aiming to recruit young men and women.




BBC News - Published





Hundreds of Nottinghamshire children abused by predatory carers over decades, report finds

More than 350 victims told inquiry of rapes, sexual assaults and voyeurism that took place between 1960s and 1990s




Independent - Published





Councils pay millions to child sexual abuse victims

Nottinghamshire council's leader said it had "acted swiftly and appropriately" to listen to victims.




BBC News - Published





Man filmed attacking horse in playing field in Nottinghamshire

The RSPCA confirmed it was investigating the footage of the attack, filmed in Nottinghamshire.




BBC News - Published





County Championship: Davies and Bess lead Somerset recovery against Notts

Steven Davies and Dom Bess put on 128 as Somerset make 326 all out on the opening day against Nottinghamshire.




BBC News - Published





County Championship: Essex take charge as Nottinghamshire slump again with bat

Essex maintain their title chase at Trent Bridge as bottom side Nottinghamshire's batting collapses again.




BBC News - Published





Collingham fire: Fatal blaze 'caused by electrical fault'

Justine Collison and her two children died in a fire at their home in Nottinghamshire in December.




BBC News - Published





'Shooting' in suburban street caught on CCTV

Police are investigating after shotgun was apparently fired in the street in Arnold, Nottinghamshire.




BBC News - Published





Arrests over car fires at HMP Nottingham and Lowdham Grange

Several cars were destroyed at HMP Nottingham and HMP Lowdham Grange in Nottinghamshire.




BBC News - Published