William Shakespeare
16th and 17th-century English playwright and poet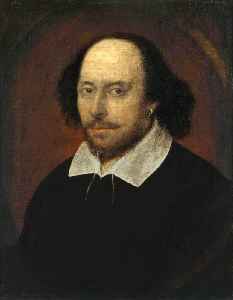 William Shakespeare was an English poet, playwright, and actor, widely regarded as the greatest writer in the English language and the world's greatest dramatist. He is often called England's national poet and the "Bard of Avon". His extant works, including collaborations, consist of some 39 plays, 154 sonnets, two long narrative poems, and a few other verses, some of uncertain authorship. His plays have been translated into every major living language and are performed more often than those of any other playwright.


Events 250 years after Stratford-upon-Avon Shakespeare festival
Garrick's Jubilee established Stratford's Shakespeare tourism industry, the birthplace trust says.
BBC News - Published
Franco Zeffirelli, Italian film and opera director, dies at 96
Franco Zeffirelli, who directed the world's greatest opera singers and brought Shakespeare to the cinema-going masses, has died. He was 96.
Reuters - Published
Fan frenzy as Timothee Chalamet, Lily-Rose Depp premiere 'The King' in Venice
Young stars sent fans wild as they arrived on the red carpet at the Venice Film Festival for the premiere of their new movie 'The King'. Rough cut (no reporter narration).
Credit: Reuters Studio Duration: 01:27Published
"It was swords, it was medieval" Chalamet on "The King"
Timothee Chalamet dons armor for mediaeval coming-of-age tale "The King." Rough Cut (no reporter narration).
Credit: Reuters Studio Duration: 01:23Published
Joel Edgerton, Timothee Chalamet and Lily-Rose Depp in Venice ahead of 'The King' premiere
Stars arrive at Venice before the premiere of the film based on William Shakespeare's Henriad. Rough cut (no reporter narration).
Credit: Reuters Studio Duration: 01:14Published
Eric Cantona steals show with Shakespeare at Champions League draw
French legend Cantona quoted from Shakespeare's King Lear in speech that left soccer stars in the audience visibly baffled.
Credit: euronews (in English) Duration: 00:57Published
William Shakespeare's London home 'identified by historian'
A historian believes he has located where Shakespeare lived when he wrote Romeo and Juliet.
BBC News - Published
Shakespeare's birthplace mirrors a scepter'd isle riven by Brexit discontent
In William Shakespeare's ancient birthplace, discontent over Brexit runs even deeper than three years ago when this "scepter'd isle" shocked the world by voting to leave the European Union.
Reuters - Published
Prince Charles unveils Shakespeare statue, banters with Cubans
Prince Charles on Monday unveiled a statue of English playwright William Shakespeare in the heart of Havana's restored colonial center, as part of the first official visit ever by a British royal to..
Reuters - Published
Search this site and the web:
You Might Like