Delhi
Metropolitan City and Union Territory of India
---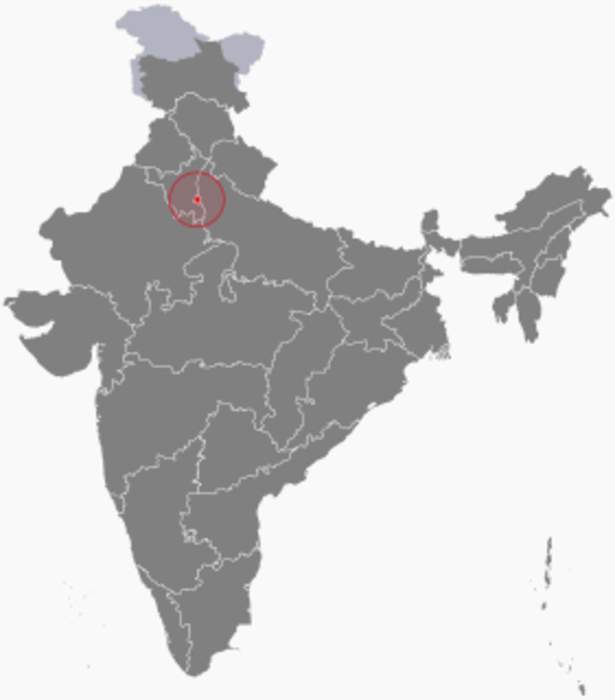 Delhi, officially the National Capital Territory (NCT) of Delhi, is a city and a union territory of India containing New Delhi, the capital of India. Located on the Yamuna river, Delhi is bordered by the state of Haryana on three sides and by Uttar Pradesh to the east. The NCT covers an area of 1,484 square kilometres (573 sq mi). According to the 2011 census, Delhi's city proper population was over 11 million, while the NCT's population was about 16.8 million. Delhi's urban agglomeration, which includes the satellite cities of Ghaziabad, Faridabad, Gurgaon and Noida in an area known as the National Capital Region (NCR), has an estimated population of over 28 million, making it the largest metropolitan area in India and the second-largest in the world. Recent estimates of the metropolitan economy of its urban area have ranked Delhi either the most or second-most productive city of India. Delhi is the second-wealthiest city in India, and is home to 18 billionaires and 23,000 millionaires. Delhi ranks fifth among the Indian states and union territories in human development index. Delhi has the second-highest GDP per capita in India. Delhi is of great historical significance as an important commercial, transport, and cultural hub, as well as the political centre of India.

National Investigation Agency said that "Ghee" is a code word for explosives and the word "khidmat" apparently indicated the..

Former Punjab CM Captain Amarinder Singh will be meeting Union Home Minister Amit Shah in the capital today. This will be Singh's..

Former Prime Minister of India Dr Manmohan Singh was hospitalised this evening after he complained of fever and weakness. He was..