Delhi
Megacity and union territory of India, containing the national capital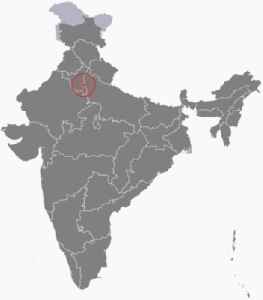 Delhi, officially the National Capital Territory of Delhi (NCT), is a city and a union territory of India containing New Delhi, the capital of India. It is bordered by the state of Haryana on three sides and by Uttar Pradesh to the east. The NCT covers an area of 1,484 square kilometres (573 sq mi). According to the 2011 census, Delhi's city proper population was over 11 million, the second-highest in India after Mumbai, while the whole NCT's population was about 16.8 million. Delhi's urban area is now considered to extend beyond the NCT boundaries, and include the neighbouring satellite cities of Ghaziabad, Faridabad, Gurgaon and Noida in an area called the National Capital Region (NCR) and had an estimated 2016 population of over 26 million people, making it the world's second-largest urban area according to the United Nations. Recent estimates of the metro economy of its urban area have ranked Delhi either the most or second-most productive metro area of India. Delhi is the second-wealthiest city in India after Mumbai and is home to 18 billionaires and 23,000 millionaires. Delhi ranks fifth among the Indian states and union territories in human development index. Delhi has the second-highest GDP per capita in India. Delhi is of great historical significance as an important commercial, transport, and cultural hub, as well as the political centre of India.


Devotees flock to Delhi's Bankhandi Mahadev Temple on 1st Monday of 'Sawan' month

Prayers were offered at Bankhandi Mahadev Temple in Delhi's Chandni Chowk on the first Monday of 'sawan' month. Precautionary measures are being taken by temple authorities in view of COVID spread...
Credit: ANI Duration: 01:05
Published
India Now Has The Third Highest Number Of COVID-19 Cases In The World

India just moved up a step on a list no country wants to be on. According to Business Insider, India on Sunday surpassed Russia in its number of new novel coronavirus COVID-19 cases. India's total..
Credit: Wochit News Duration: 00:34
Published
CM Shivraj Chouhan wishes Ram Vilas Paswan on his birthday

Madhya Pradesh Chief Minister Shivraj Singh Chouhan met Union Minister of Consumer Affairs, Ram Vilas Paswan at the latter's residence in Delhi on July 05. Ramvilas Paswan's son Lok Janshakti Party..
Credit: ANI Duration: 02:12
Published
Delhi likely to receive heavy rain on July 7-8: IMD

Indian Meteorological Department, Senior Scientist, Rajendra Kumar Jenamani on July 05 said that Delhi received good rainfall today and this spell will remain for few days. On July 7-8 Delhi may..
Credit: ANI Duration: 01:36
Published
Amit Shah, Rajnath Singh, Harsh Vardhan visit DRDO-built COVID Hospital in Delhi

Union Home Minister Amit Shah visited DRDO-built Sardar Vallabh Bhai Patel COVID Hospital in Delhi Cantonment on July 05. Defence Minister Rajnath Singh and Health Minister Dr Harsh Vardhan also..
Credit: ANI Duration: 02:50
Published
PM Modi calls on President Kovind, briefs him on national, international issues

Prime Minister Narendra Modi called on President Ram Nath Kovind in Delhi on June 05. He briefed President Kovind on the issues of national and international importance. The meeting took place at..
Credit: ANI Duration: 01:10
Published
G Kishan Reddy, CM Kejriwal visits DRDO-built COVID Hospital in Delhi

Union Minister G Kishan Reddy visited DRDO-built COVID Hospital near Air Force Station in Delhi on July 05. CM Arvind Kejriwal also visited the COVID hospital. Speaking on it, CM Kejriwal said, "For..
Credit: ANI Duration: 02:27
Published
Have experience of several months in handling COVID patients: ITBP DG SS Deswal

Indo-Tibetan Border Police (ITBP) is the nodal agency to operate the 10,000 bedded Sardar Patel COVID Care Centre and Hospital at Radha Soami Beas in Chattarpur. At the inaugural ceremony, DG of ITBP,..
Credit: ANI Duration: 01:47
Published
Rain, thunderstorm bring respite for Delhiites

Rain lashed out in parts of Delhi on July 05 early morning. Lightning and thunderstorm were also observed which brought a change in weather. It has brought a much-needed relief from the heatwave..
Credit: ANI Duration: 01:10
Published
Plasma donors in Delhi step up to help positive patients

Amid tensions of Corona virus all over the country, people are making efforts to rid off it, therefore Plasma Bank has been set up at the Institute of Liver and Biliary Sciences (ILBS) in New Delhi...
Credit: ANI Duration: 02:38
Published
Delhi's Jama Masjid, Fatehpuri Mosque reopens for public

Amid COVID-19 pandemic, Delhi's famous Jama Masjid reopened their doors for devotees on July 04. The mosque will remain open from 9 am to 10 pm while following social distancing norms. Fatehpuri mosque..
Credit: ANI Duration: 01:48
Published
Watch: Drunken cop driver runs car over woman in Delhi

In disturbing incident in Delhi, a car ran over a woman near Chilla Village in Delhi on July 03. It is reported that the accused cop was under the influence of alcohol at the time of incident. He has..
Credit: ANI Duration: 01:22
Published
Asadha Poornima: India is proud of being 'land of origin of Dhamma', says President Kovind

President Ram Nath Kovind on July 04 addressed the nation on the occasion of Asadha Poornima in Delhi. He said, "India is proud of being the land of the origin of the Dhamma. It was from India that it..
Credit: ANI Duration: 01:40
Published
Fake salt manufacturing racket busted in Delhi

Delhi Police busted a fake salt manufacturing racket. Police have recovered over 3,000 kg of fake salt and a manufacturing machine from their possession. The police team conducted a raid at a shop and..
Credit: ANI Duration: 01:04
Published
Delhi will definitely receive rainfall on July 4: IMD scientist

India Meteorological Department's senior scientist, RK Jenamani on the weather conditions in Gujarat and Delhi. Jenamani said, "Gujarat will receive very heavy rainfall from July 04 and 05. Delhi will..
Credit: ANI Duration: 02:37
Published
Kejriwal hands over Rs 1 crore compensation cheque to family of doctor who died of COVID

Delhi Chief Minister Arvind Kejriwal on July 03 met the family of LNJP Hospital's Dr. Aseem Gupta who died due to COVID-19. The CM handed over a compensation amount of Rs 1 crore to his family during..
Credit: ANI Duration: 01:45
Published
You Might Like



India locusts: Swarm sweeps into Delhi suburb Gurgaon

Parts of Delhi are placed on alert and residents are forced to close windows and doors.




BBC News - Published





Coronavirus: Delhi struggles to cope with Covid-19 surge

As cases soar in India's capital, its chief minister warns of health care shortages and more deaths.




BBC News - Published





Delhi's local health minister in hospital as infections surge in India

The health minister in Delhi's state government checked into hospital with high fever and was being tested for coronavirus on Tuesday as India reported more than 10,500 new infections that are..




Reuters - Published





Delhi to use 500 railway coaches as hospital facilities to fight coronavirus

India's federal government said on Sunday it will provide New Delhi's city authorities with 500 railway coaches that will be equipped to care for coronavirus patients, after a surge in the number of..




Reuters - Published





Coronavirus: India to use 500 train carriages as wards in Delhi

New emergency plans are announced in Delhi to cope with a surge in Covid-19 cases.




BBC News - Published





Delhi coronavirus cases set to explode, hospitals running out of beds

Delhi's infections of coronavirus will climb to more than half a million by the end of July and it does not have the hospital capacity to handle such an outbreak, the city state's deputy chief minister..




Reuters - Published





India government leaders row over hospital beds as coronavirus infections surge

Indian federal authorities on Monday struck down an order by the Delhi city government to reserve hospital beds for residents as the country reported a record number of coronavirus infections in a..




Reuters - Published





India coronavirus: Patients stranded as Delhi struggles with Covid

The Indian capital has seen a surge of infections and its healthcare system is struggling to cope.




BBC News - Published





Delhi reserves hospital beds for residents as virus cases surge

The city of New Delhi on Sunday ordered many of its hospital beds to be reserved solely for residents of the Indian capital, as the number of COVID-19 infections continued to surge.




Reuters - Published





India heatwave: Delhi temperature hits 47C as north India reels

Delhi saw temperatures hit 47C, the highest in decades for this time of year.




BBC News - Published





Coronavirus: Can India replace China as world's factory?

Delhi is keen to exploit any shift in global investment flows prompted by the coronavirus crisis.




BBC News - Published





India should talk to Taliban if Delhi feels it will bolster peace push: Pakistan's U.S. envoy

India should speak with Taliban militants if it feels that it will help the peace process, Pakistan's envoy to Washington said on Saturday, after a series of attacks in Afghanistan raised questions..




Reuters - Published





India mounts huge airlift to return stranded citizens home

Doctors in hazmat suits ran temperature checks on passengers at Delhi airport and bags were disinfected as the first group of Indians returned home on special flights from Singapore and the Gulf on..




Reuters - Published





As Delhi families bury coronavirus victims, a gravedigger watches on

Belonging to the third generation in a family of Indian cemetery workers, Mohammad Shameem had little other choice in life than to dig graves.




Reuters - Published





India's coronavirus infections jump past 50,000, fueled by Mumbai, Delhi

Coronavirus cases in India rose past 50,000, the health ministry said on Thursday, with the pace of new infections showing no signs of abating despite a strict weeks-long lockdown in the world's..




Reuters - Published





India's Delhi imposes 70% 'corona tax' on alcohol to deter large crowds

Officials in India's capital imposed a special tax of 70% on retail liquor purchases from Tuesday, to deter large gatherings at stores as authorities ease a six-week lockdown imposed to slow the spread..




Reuters - Published





India coronavirus: Delhi shuts some liquor shops due to crowds

States have been pushing for liquor shops to reopen as excise duty on alcohol is a major source of income.




BBC News - Published





Coronavirus: Treating Delhi's dogs and cats in the pandemic

Jai Prakash, a veterinary worker, obtained a movement pass so he can continue to treat pets and strays.




BBC News - Published





Coronavirus: Smog pollution in Delhi vanishes

The Indian capital is one of the most polluted cities but in lockdown the skies are strikingly clear.




BBC News - Published





Fear, despair and rescue by police motorbike: Diary of British mother in India captures roller coaster of coronavirus travel lockdown

Samantha Smith spent three weeks trapped in northern city of Rishikesh – before dramatic dash to one-off flight from Delhi




Independent - Published





State minister says India set to extend nationwide lockdown to tackle coronavirus

The chief minister of Delhi state said on Saturday that Indian Prime Minister Narendra Modi has decided to extend a nationwide lockdown to curb the spread of the coronavirus, but the federal government..




Reuters - Published




Coronavirus: India to extend nationwide lockdown, state minister says

Delhi's chief minister says Narendra Modi has agreed to extend the measure, due to end on Tuesday.




BBC News - Published





India decides to extend nationwide coronavirus lockdown - state chief minister

Indian Prime Minister Narendra Modi has decided to extend a nationwide lockdown to tackle the spread of the coronavirus, the Delhi state's chief minister said on Saturday, without saying how long the..




Reuters - Published





India considers narrowing lockdown to coronavirus hotspots

India is considering plans to seal off coronavirus hotspots in Delhi, Mumbai and parts of the south while easing curbs elsewhere as a way out of a three-week lockdown that has caused deep economic..




Reuters - Published





Infection rate steepens as India searches for 9,000 exposed to Delhi cluster

India reported its biggest single day increase in coronavirus cases as officials on Thursday raced to track down some 9,000 people exposed to the country's biggest infection cluster during a Muslim..




Reuters - Published





'Some of us will die': India's homeless stranded by coronavirus lockdown

In a densely packed neighborhood of Delhi, hundreds of homeless people queued up this week as volunteers doled out rice and peas from a vat in the back of a van.




Reuters - Published





Racing to stop coronavirus, India scours mosques to trace contacts with Delhi gathering

As coronavirus cases rose across densely-populated South Asia, authorities scoured mosques in northern India on Wednesday trying to trace people who attended the gathering of a Muslim group in New..




Reuters - Published




Prime Minister Modi tells Indians to save themselves from coronavirus as Delhi locks down

Streets were deserted in the Indian capital on Monday and office buildings shuttered as a lockdown to halt the spread of the coronavirus began and Prime Minister Narendra Modi urged people to stay at..




Reuters - Published





Delhi Nirbhaya rape death penalty: How the case galvanised India

Four convicts in the Delhi bus rape case have been hanged, ending a seven-year legal battle.




BBC News - Published





India executes four men convicted in 2012 Delhi gang rape, murder case

India executed four men on Friday convicted for the gang rape and murder of a woman on a New Delhi bus in December 2012, in a case that shamed and outraged a nation with one of the world's worst..




Reuters - Published




Four men executed for Delhi bus rape and murder

The rape and murder of a student in Delhi made global headlines in 2012. Four men have been executed for the crime




BBC News - Published





In Indian capital, riots deepen a Hindu-Muslim divide

For years, Hindus and Muslims lived and worked peacefully together in Yamuna Vihar, a densely populated Delhi district.




Reuters - Published





Delhi riots: 'No-one who saw the photo thought I would survive'

A photo of Mohammad Zubair being beaten by a Hindu mob became the defining image of riots in Delhi.




BBC News - Published





Delhi riots: The Sikh father and son who saved Muslims

Mohinder and Inderjeet Singh risked their own lives to protect people they didn't even know.




BBC News - Published





India shuts Delhi schools, imposes new travel restrictions over coronavirus

India shut all primary schools in the capital New Delhi until the end of March on Thursday and imposed new restrictions on travel from Italy and South Korea as part of efforts to fight the spread of..




Reuters - Published





Delhi riots: Toddler separated in violence reunited with family

The three-year-old was separated when violence broke out in India's capital on 24 February.




BBC News - Published





Delhi call-centre owner in custody after BBC exposé

BBC Panorama broadcast footage from inside a scam call centre - now its owner is in police custody.




BBC News - Published





Delhi's displaced scrape a living after deadly riots

Mohammed Anees fled his home in northeastern New Delhi last week as Hindu-Muslim clashes erupted in his area, escaping with his family of four to a relative's home. He had only a few hundred rupees in..




Reuters - Published





Delhi riots: 'My brother died after police beating'

Naeem says his brother died after he was beaten by Delhi police. Video of the incident went viral.




BBC News - Published





Delhi endures tense night amid false rumours of violence

Police put out statements calling for calm and saying WhatsApp reports of violence were not true.




BBC News - Published





Delhi riots: Muslim women recall horror of Molotov cocktails and arson

Religious violence in the Indian capital has left thousands staring at a bleak future.




BBC News - Published





A small Delhi hospital overwhelmed by wave of violence

As deadly violence erupted in the northeast of New Delhi this week, with armed mobs rampaging the streets, a small hospital located in a densely packed Muslim neighborhood found itself at the epicenter..




Reuters - Published




Indian police arrest over 500 for Delhi sectarian violence

Indian police have arrested 514 people for deadly Hindu-Muslim violence that broke out in the capital, the government said, as it faced mounting international criticism for failing to protect minority..




Reuters - Published





The 'hero cop' who braved a Delhi mob to save lives

Neeraj Jadaun is being hailed as a hero after he braved rioting mobs to save families.




BBC News - Published





A Delhi neighborhood divided by a highway and now hatred

The Hindu area of Bhajanpura and Muslim quarter of Chand Bagh face each other across a wide thoroughfare running through the northeastern part of India's capital, New Delhi.




Reuters - Published




Delhi riots: Anger as judge critical of violence removed

Delhi high court judge S Muralidhar castigated police over the violence which left more than 30 dead.




BBC News - Published





India's Modi appeals for calm as riot toll in capital rises to 24

Indian Prime Minister Narendra Modi appealed for peace in Delhi on Wednesday after days of Hindu-Muslim clashes over a disputed new citizenship law sparked some of the worst sectarian violence seen in..




Reuters - Published





'Delhi mobs set fire to my house and shop'

Bhura Khan was forced to flee as mobs burned down his house amid communal violence in India's capital.




BBC News - Published