New York City
Largest city in the United States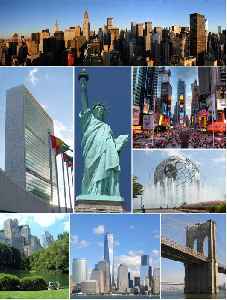 New York City (NYC), often called New York (NY), is the most populous city in the United States. With an estimated 2019 population of 8,336,817 distributed over about 302.6 square miles (784 km2), New York is also the most densely populated major city in the United States. Located at the southern tip of the U.S. state of New York, the city is the center of the New York metropolitan area, the largest metropolitan area in the world by urban landmass. With almost 20 million people in its metropolitan statistical area and approximately 23 million in its combined statistical area, it is one of the world's most populous megacities. New York City has been described as the cultural, financial, and media capital of the world, significantly influencing commerce, entertainment, research, technology, education, politics, tourism, art, fashion, and sports. Home to the headquarters of the United Nations, New York is an important center for international diplomacy.


Has De Blasio Made New York Unlivable?

New York City is one of the most exciting and resilient cities on the world. However, the coronavirus, economic downturn, and race riots have reduced residents quality of life. New York's energy and..
Credit: Wochit News Duration: 01:11
Published
How Michael Cohen Might Have Gotten Himself Sent Back To Prison

Former fixer and personal attorney to President Donald Trump, Michael Cohen has been photographed most likely breaking his terms of parole. According to Business Insider, Cohen and his wife were..
Credit: Wochit News Duration: 00:38
Published
'Boycott China': Indian Americans, Taiwanese Americans, Tibetans take to Times Square to denounce China

Indian Americans have called for 'Boycott China', a protest demonstration against China at the iconic Times Square in New York. This protest comes in the aftermath of the deadly border clash in the..
Credit: ANI Duration: 02:55
Published
De Blasio: AOC "Just Wrong"

Alexandria Ocasio-Cortez is in a war of words with NY Mayor Bill de Blasio and it looks like she's losing... badly. De Blasio called her "just wrong" when she accused him of fudging his $1 billion..
Credit: Wochit News Duration: 00:44
Published
Ghislaine Maxwell, Jeffrey Epstein's Former 'Confidante,' Arrested on S*x Abuse Charges

Maxwell was arrested by the FBI in New Hampshire on Thursday. According to court documents, she's been charged by New York federal prosecutors with six counts.
Credit: Cover Video STUDIO Duration: 01:27
Published
Court Gives Publisher Of Tell-All Book By President Trump's Niece The Go Ahead...For Now

The tell-all book that President Trump and his brother, Robert Trump have been trying to block is closer to being published. On Wednesday, a New York court lifted the temporary restraining order..
Credit: Wochit News Duration: 00:30
Published
Donald Trump Calls Black Lives Matter Mural a 'Symbol of Hate'

On Wednesday, President Donald Trump denounced New York City Mayor Bill de Blasio's recent support of the Black Lives Matter (BLM) movement.
Credit: Cover Video STUDIO Duration: 01:13
Published
U.S. coronavirus cases hit new record

[NFA] As the United States reported its biggest one-day spike since the start of the pandemic, New York City Mayor Bill de Blasio said he was not going ahead with a plan to allow indoor restaurant..
Credit: Reuters Studio Duration: 02:29
Published
'It is a lifelong trauma' - New York doctors on coronavirus frontline

Dr. Arabia Mollette of Brookdale University Hospital Medical Center, Dr. Jennifer Haythe of Columbia University Medical Center and Dr. Allon Mordel, medical director at K Health, share what they've..
Credit: Reuters Studio Duration: 02:15
Published
CVS To Sell Makeup For Men

CVS will soon start stocking Stryx, a makeup brand geared towards men. Business Insider reports that Stryx will be sold at 2,000 of its retail locations. The Stryx brand was founded in New York by..
Credit: Wochit News Duration: 00:27
Published
Ladakh stand-off: Tibetan groups in US hold protests infront of Chinese Consulate to show solidarity with India

The Regional Tibetan Youth Congress in New York and New Jersey held protests in front of Chinese Consulates in respective cities to show solidarity with India over the recent Chinese military intrusion..
Credit: ANI Duration: 01:21
Published
Will offices be the same? The Empire State Building offers clues

New York City's famed Empire State Building symbolizes the challenges many commercial spaces face as the U.S. tries to reopen and get back to business. Lisa Bernhard produced this report.
Credit: Reuters Studio Duration: 03:05
Published
Judge Denies Trump's Family A Lawsuit Against Niece's Book

President Donald Trump's niece plans to publish a tell-all book, revealing private information about her family. While the Trump family tried to deter her book, a New York judge dismissed their..
Credit: Wochit News Duration: 00:32
Published
Jennifer Lopez invites New York nurse to party with her

Jennifer Lopez has offered to play host to a New York nurse at one of her future concerts as a thank you for her hard work during the coronavirus pandemic.
Credit: Cover Video STUDIO Duration: 00:53
Published
Reduced voting sites, heated races in NY and KY

New York, Kentucky were among the six states holding primaries Tuesday, with heated, key races and fewer polling sites due to social distancing restrictions. Lisa Bernhard has more.
Credit: Reuters Studio Duration: 02:20
Published
Trump Lost $1-Billion During Pandemic

Donald Trump is worth an estimated $2.1 billion. Business Insider reports he is the first billionaire in history to serve as president of the United States. The president's fortune has taken a roughly..
Credit: Wochit News Duration: 00:33
Published
Joel Schumacher, director of 'Lost Boys' and Batman Films, dead at 80

Schumacher died in NYC after battling cancer for a year. He transitioned from costume designing to directing for film in the 1980s.
Credit: Cover Video STUDIO Duration: 01:02
Published
New York reopens, other states spike and global cases hit 'grim record'

New York City entered Phase 2 of reopening on Monday while at least 12 other states saw record COVID-19 spikes - and the World Health Organization reported a record number of new daily cases. Lisa..
Credit: Reuters - Politics Duration: 03:00
Published
NY police officer suspended over apparent chokehold

A New York police officer was suspended on Sunday after a video posted online appeared to show him rendering a Black man unconscious in a chokehold during an arrest, a few days after city council..
Credit: Reuters Studio Duration: 02:04
Published
Trump opposed to removing Roosevelt statue in NYC

[NFA] U.S. President Donald Trump said on Monday he opposed removing the towering statue of Theodore Roosevelt from outside New York City's American Museum of Natural History. Colette Luke has more.
Credit: Reuters - Politics Duration: 02:06
Published
135 Former SDNY Prosecutors Decry Ousting Of US Attorney Geoffrey Berman

135 former New York prosecutors rose up on Sunday in a letter of protest, to defend former US Attorney Geoffrey Berman. Berman was fired as the US Attorney for the Southern District of New York on..
Credit: Wochit News Duration: 00:34
Published
Starbucks Shutting Hundreds Of Cafes, Opening Pickup-only Stores

Irene Jiang / Business Insider Starbucks opened its first-ever Starbucks Pickup store in November, a pickup-only location that lets customers order ahead through the chain's mobile app and pick up..
Credit: Wochit News Duration: 00:33
Published
You Might Like



Met Gala challenge paper dress goes viral

Fashion student Karina Bondareva recreated the dress worn by Cardi B at last year's Met Gala in New York.




BBC News - Published





Jamaal Bowman: Political newcomer shakes up NY 'status quo'

Former Bronx teacher Jamaal Bowman's victory would be a major blow to establishment Democrats.




BBC News - Published





New York City and Berlin marathons cancelled because of coronavirus pandemic

The New York City and Berlin marathons have been cancelled because of the global coronavirus pandemic.




BBC News - Published





Theodore Roosevelt statue to be removed by New York museum

The statue depicts the ex-president on horseback flanked by a Native American man and an African man.




BBC News - Published





New York City declares Juneteenth an official holiday

It comes as millions of Americans plan to celebrate the holiday commemorating the end of US slavery.




BBC News - Published





Artists paint New York shops boarded up after looting to raise hope

Boarded-up shops, a depressing sight for New Yorkers after looters infiltrated anti-racism marches in the city's trendiest neighborhoods, are being transformed into canvases of hope with paintbrushes..




Reuters - Published





New York City to enter phase two of reopening on June 22: mayor

New York City will begin phase two of reopening on Monday, Mayor Bill de Blasio said on Thursday, citing continued improvements in coronavirus data.




Reuters - Published





Mothers as 'trauma surgeons:' the anguish of raising black boys in America

Raising black boys in America involves "constant mental anguish," Danielle Pattillo, a special education teacher in New York City and mother to two sons, ages 14 and 22, said.




Reuters - Published




'I cannot wait to return to New York' - Williams intends to play at US Open

Serena Williams intends to play at the behind-closed-doors US Open in August, where she will bid for a record-equalling 24th Grand Slam.




BBC News - Published





New York has lowest U.S. coronavirus infection rate, Cuomo says

New York, once the U.S. epicenter of coronavirus infections, now has the country's lowest rate of virus spread as the state's death toll and number of people hospitalized with COVID-19 continue to..




Reuters - Published





New York Governor Cuomo says COVID-19 deaths, hospitalizations decline further

New York, once the U.S. epicenter of coronavirus infections, now has the country's lowest rate of virus spread as the state's death toll and number of people hospitalized with COVID-19 continue to..




Reuters - Published





Cinnamon rolls to the rescue in New York's COVID-19 lockdown

When coronavirus locked down New York, opera singer Claire Kuttler turned to her favorite pastime, baking. 




Reuters - Published





New York again reports lowest number of coronavirus deaths since outbreak started

New York on Tuesday again reported its lowest number of coronavirus hospitalizations and deaths since the start of the outbreak, New York Governor Andrew Cuomo told reporters in Albany on Tuesday.




Reuters - Published





NYPD rules out criminality by Shake Shack after officers fall ill

New York's police department said on Tuesday it found no criminal behavior by staff of burger chain Shake Shack, after three officers complained of feeling ill and their union said their shakes may..




Reuters - Published




'Our Supreme Court did something': Iconic New York bar celebrates transgender ruling

A diverse crowd of New Yorkers wearing masks and waving the rainbow pride flag gathered on Monday at the Stonewall Inn, an iconic gay bar in Manhattan, to celebrate the Supreme Court's ruling making..




Reuters - Published




Three New York police ill after suspected contamination of drinks

Three New York City police officers fell ill and were hospitalized on Monday after drinking beverages at a fast-food outlet that a police association said were believed to have been contaminated with..




Reuters - Published




Some scold, others cheerlead: U.S. states tackle reopening differently

The two most populous U.S. states took markedly different approaches to reopening on Monday with New York scolding local governments for not enforcing social distancing and California encouraging..




Reuters - Published





After crowded NY bar scenes, Cuomo urges tighter enforcement of coronavirus rules

Scenes of merrymakers gathering outside bars prompted the governor of New York, the state hardest hit along with New Jersey by the coronavirus pandemic, to urge local officials and businesses on Monday..




Reuters - Published





New York to allow gatherings of up to 25 people: Cuomo

Gatherings of up to 25 people will be permitted in parts of New York that have entered the third phase of the state's reopening plan, up from a previous limit of 10, New York Governor Andrew Cuomo said..




Reuters - Published





Williams would 'love to play' in US Open - coach Mouratoglou

Six-time US Open champion Serena Williams 'would love to play' in New York, says her coach Patrick Mouratoglou.




BBC News - Published





Coronavirus: Coming to terms with months on the front line

As restrictions in New York are eased, a paramedic reflects on the pandemic and its impact on his life.




BBC News - Published





New York City oversight bill to force police to detail surveillance tools

New York City politicians are expected to vote next week to force the largest police force in the United States to divulge the surveillance technology it uses, one of many reforms of law enforcement..




Reuters - Published




New York judge dismisses much of ex-TCW manager's sexual harassment lawsuit

A New York state judge dismissed a substantial portion of Sara Tirschwell's sexual harassment lawsuit against her former employer, asset manager TCW Group Inc.




Reuters - Published





New York's Cuomo defends Columbus statues for symbolism to Italian Americans

New York should keep statues honoring Christopher Columbus even though the brutalization of the West Indies inhabitants he encountered on his voyages to the New World is inexcusable, Governor Andrew..




Reuters - Published





Are you an anarchist? Lawyers say New York police grilled protesters' politics

"Are you with anarchist groups?" was one typical question. "Are you in antifa?" was another.




Reuters - Published




New York charges Endo with insurance fraud over opioid claims

New York state filed civil charges on Wednesday accusing Endo International Plc of insurance fraud for misrepresenting the safety and efficacy of its opioid drugs.




Reuters - Published





New Yorkers adopt pets to deal with coronavirus stress

When the coronavirus pandemic shut down New York City nearly three months ago, Jocelyn Tsai rushed to fill out an online application to foster a dog from the Animal Care Centers of NYC.




Reuters - Published





Saks shields flagship New York store with razor wire, security dogs from looters

Razor wire, boarded up windows, security guards and dogs. That was the scene on Monday at the iconic Saks Fifth Avenue flagship store in Manhattan.




Reuters - Published





Bernie Sanders endorses U.S. Rep. Engel's challenger in New York primary

U.S. Senator Bernie Sanders on Tuesday boosted the election prospects of relatively-unknown challenger Jamaal Bowman to 16-term incumbent Democratic Representative Eliot Engel in November's elections,..




Reuters - Published





NYC police officer who shoved protester charged with assault

A New York City police officer who shoved a demonstrator to the ground during a protest against police brutality has been criminally charged over his alleged conduct, the Brooklyn district attorney's..




Reuters - Published





Hard hit New York City begins reopening as coronavirus infection rate plummets

Exactly 100 days after the first coronavirus case was confirmed in New York City, some workers began returning to jobs on Monday at the start of reopening from a citywide shutdown to battle the..




Reuters - Published




U.S. prosecutors say Britain's Prince Andrew not cooperating in Epstein probe

U.S. prosecutors have accused Britain's Prince Andrew of failing to cooperate with multiple requests they made to interview him about his contacts with the late financier Jeffrey Epstein, who died last..




Reuters - Published




Cuomo says New York set to overhaul criminal justice practices following protests

After days of protests over racial injustice triggered by the Minneapolis police killing of George Floyd, New York Governor Andrew Cuomo on Monday said state lawmakers were set to enact a criminal..




Reuters - Published





Jeffrey Epstein: US prosecutors 'officially request Prince Andrew be made available for questioning'

Move comes after New York attorney said Duke of York was not cooperating with probe




Independent - Published





Emboldened protesters march again, demanding police reforms after Floyd killing

A relaxed confidence infused a new round of street protests in New York and other major cities on Sunday, a day after some of the largest demonstrations since the killing of George Floyd in Minneapolis..




Reuters - Published




New York City mayor ends 8 p.m. curfew a day early

New York City Mayor Bill de Blasio ended a nightly curfew on Sunday, a day earlier than he had planned.




Reuters - Published




Buffalo police officers quit unit to protest colleagues' suspension - officials

All 57 members of a police tactical unit in Buffalo have resigned from that team to protest the suspension of two colleagues who were filmed shoving a 75-year-old man to the ground, officials of the..




Reuters - Published




New York officials defend curfew, subway safety ahead of Monday reopening

Mayor Bill de Blasio on Friday said New York is on track to reopen on Monday from the coronavirus lockdown that turned the most populous U.S. city into a virtual ghost town, restarting work at 32,000..




Reuters - Published




Children speak up at George Floyd memorial amid their parents' hopes and fears

At a New York City memorial for George Floyd on Thursday, Corte Ellis held a sign he had made using a piece of cardboard from a broken-down box. The 10-year-old had written some of Floyd's final words:..




Reuters - Published