Skegness
Seaside town and civil parish in Lincolnshire, England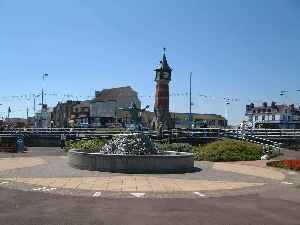 Skegness is a seaside town and civil parish in the East Lindsey district of Lincolnshire, England, on the Lincolnshire coast of the North Sea, 43 miles (69 km) east of Lincoln. In the 2011 census Skegness civil parish had a population of 19,579.


You Might Like
Coronavirus: Photographs capture 100 days of Skegness in lockdown
The typically busy resort was "eerily quiet" at the start of the pandemic.
BBC News - Published
Toxic Derbyshire quarry pool 'like Skegness in peak summer'
Repeated warnings for people to avoid the water, which is similar to bleach, have been ignored.
BBC News - Published
Skegness woman jailed for boiling water attacks on husband
Susan Coulson threw boiling water over her husband on two occasions.
BBC News - Published
Skegness pole dancing scaffolder scales new heights
World champion Justin Judge, from Skegness, says he "takes a bit of stick" at work.
BBC News - Published
Skegness paralysed diver swims with Nudge the leopard shark
Dan Metcalfe-Hall, paralysed in a motorbike crash, is promoting diving for all at Skegness Aquarium.
BBC News - Published
Arrest after Lincolnshire shopping centre evacuated
Emergency services were called to the centre in Skegness after shoppers reported breathing problems.
BBC News - Published
Lottery winner 'won't swap' Skegness caravan holiday
Vicky Mitchell, who is guaranteed £10,000 a month for 30 years, still plans to holiday in Skegness.
BBC News - Published
Banksy teased by Skegness gnome street artist
Numerous pictures have appeared in Skegness, including one which says "better than Banksy".
BBC News - Published