National Rugby League
Australasian rugby league football competition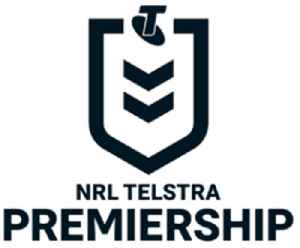 The National Rugby League (NRL) is a league of professional men's rugby league teams in Australia. Run by the Australian Rugby League Commission, the NRL's main competition is known as the Telstra Premiership due to sponsorship from Telstra and is contested by sixteen teams, fifteen of which are based in Australia with one based in New Zealand. It is the most viewed and attended rugby league club competition in the world.


Justin Holbrook: Gold Coast Titans name St Helens head coach as new boss
Justin Holbrook will leave Super League leaders St Helens at the end of the season to take charge of NRL side Gold Coast.
BBC News - Published
Justin Holbrook: St Helens head coach set to leave Super League leaders for Gold Coast
St Helens head coach Justin Holbrook is expected to be named the new coach of the Gold Coast Titans in Australia's NRL within the next 24 hours.
BBC News - Published
George Williams: Canberra Raiders confirm signing of Wigan stand-off
Wigan and England stand-off George Williams is to join National Rugby League side Canberra Raiders at the end of the season.
BBC News - Published
George Burgess: England and South Sydney prop given nine-game gouge ban
England prop George Burgess receives a nine-game ban from the NRL for an eye gouge offence while playing for South Sydney.
BBC News - Published
Rhyse Martin: Canterbury-Bankstown Bulldogs back-rower joins Leeds Rhinos
Back-rower Rhyse Martin leaves NRL side Canterbury Bulldogs to join relegation-threatened Super League side Leeds Rhinos.
BBC News - Published
Kallum Watkins: Leeds Rhinos captain to join Australian NRL side Gold Coast Titans
Leeds Rhinos captain Kallum Watkins is to leave the Super League club to join Australian NRL side Gold Coast Titans on 1 July.
BBC News - Published
NRL player May banned after arrest over sex tape
The National Rugby League bans Penrith Panthers utility Tyrone May after he is charged by police for his part in a leaked sex tape.
BBC News - Published
Morris hat-trick helps Roosters beat Wigan in World Club Challenge
NRL champions Sydney Roosters beat Wigan Warriors 20-8 at the DW Stadium to win their fourth World Club Challenge title.
BBC News - Published
'Where we see violence against women we'll act in the strongest terms' - Barba banned by NRL
Australia's NRL deregisters Ben Barba over an alleged "physical altercation" with his partner.
BBC News - Published
You Might Like