Hillary Clinton
67th U.S. Secretary of State, former New York senator and First Lady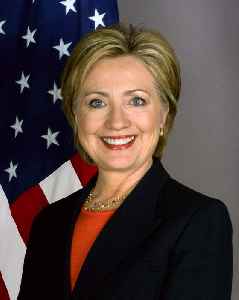 Hillary Diane Rodham Clinton is an American politician, diplomat, lawyer, writer, and public speaker who served as the 67th United States secretary of state from 2009 to 2013, as a United States senator from New York from 2001 to 2009, and as First Lady of the United States from 1993 to 2001. Clinton became the first woman to be nominated for president of the United States by a major political party when she won the Democratic Party nomination in 2016. She was the first woman to win the popular vote in an American presidential election, which she lost to Donald Trump.


Mourners pay respects to Ginsburg at U.S. Supreme Court

[NFA] Mourners quietly filed past the late Supreme Court Justice Ruth Bader Ginsburg's flag-draped coffin outside the white marble court building on Wednesday as the United States began three days of..
Credit: Reuters - Politics Duration: 01:53
Published
Hillary Clinton Set to Launch 'You and Me Both' Podcast | THR News

iHeartRadio is sharing new details about its upcoming podcast with Hillary Clinton.
Credit: The Hollywood Reporter Duration: 01:15
Published
Trump ally offered to arrange Assange pardon -lawyer

[NFA] A lawyer for Julian Assange told a London court on Friday that she was present when an ally of U.S. President Donald Trump offered to arrange a pardon for the WikiLeaks founder in return for..
Credit: Reuters - Politics Duration: 02:15
Published
Foreign hackers targeting Biden, Trump: Microsoft

Hackers linked to Russia, China, and Iran are trying to spy on people tied to both U.S. President Donald Trump and Democratic challenger Joe Biden, Microsoft Corp said on Thursday. Gloria Tso reports
Credit: Reuters - Politics Duration: 02:04
Published
Why Is Biden's Lead Slipping?

Joe Biden's poll numbers are slipping. The former Vice President is currently leading Pres. Donald Trump in the polls. He led by double digits over the summer. Now, his lead has dropped to low single..
Credit: Wochit News Duration: 00:49
Published
DIssident Disses Obama At RNC, Even Though Obama Brought Him To The US

Chen Guangcheng is a Chinese human rights activist known for his work fighting against state-sponsored forced abortions. Harassed for years by authorities, he fled to the US Embassy in Beijing in April..
Credit: Wochit News Duration: 00:38
Published
Hillary Clinton Warns Joe Biden

Hillary Clinton has a bit of advice for Joe Biden come November 3rd... "Don't even think about conceding if the election is at all close," she says. Joe Biden should not concede because many believe..
Credit: Wochit News Duration: 00:33
Published
Kamala Harris accepts VP nod, making history

U.S. Senator Kamala Harris accepted the Democratic nomination for vice president on Wednesday, in a night that also saw speeches from political powerhouses Hillary Clinton, the 2016 Democratic..
Credit: Reuters Studio Duration: 02:34
Published
Hillary Clinton urges voters to prevent Trump from 'stealing way to victory'

Hillary Clinton has called on Democrat voters to turn out in "overwhelming"numbers for the November election, to ensure Donald Trump does not "sneak orsteal his way to victory". Addressing the..
Credit: PA - Press Association STUDIO Duration: 01:58
Published
Clinton: This isn't a 'woulda, coulda, shoulda' election

2016 Democratic presidential candidate Hillary Clinton on Wednesday urged Americans to vote in droves this November and said, "Don't forget, Joe and Kamala can win by three million votes, and still..
Credit: Reuters Studio Duration: 02:27
Published
Russia used Manafort, WikiLeaks to help Trump: Senate report

[NFA] Russia used Republican political operative Paul Manafort, the WikiLeaks website and others to try to influence the 2016 U.S. presidential election to help now-U.S. President Donald Trump's..
Credit: Reuters - Politics Duration: 02:05
Published
Harris an elusive election target for Trump

[NFA] Republican President Donald Trump's verbal attacks on a woman of color could further undermine his efforts to win female voters, and polls suggest the California Democrat and vice presidential..
Credit: Reuters - Politics Duration: 02:25
Published
N. Ireland peacemaker Hume is laid to rest

Northern Ireland peacemaker John Hume was remembered for his unshakable commitment to non-violence at a small funeral on Wednesday. Joe Davies reports.
Credit: Reuters - Politics Duration: 01:19
Published
You Might Like



How Michelle Obama and Hillary Clinton films can 'inspire' young women

Both former first ladies Michelle Obama and Hillary Clinton have documentaries out about their lives.




BBC News - Published





Ex-White House hopeful Gabbard drops defamation suit against Hillary Clinton

Tulsi Gabbard, a U.S. congresswoman from Hawaii, dropped a lawsuit against the Democratic Party's former presidential nominee Hillary Clinton for defamation on Wednesday, according to a court filing.




Reuters - Published





Biden, seeking support of women, wins Hillary Clinton's endorsement

Presumptive Democratic presidential nominee Joe Biden won the endorsement on Tuesday of Hillary Clinton for the office she fell short of winning in 2016 in her bid to become the first woman elected as..




Reuters - Published





Hillary Clinton endorses Joe Biden's presidential bid

Former U.S. presidential candidate Hillary Clinton endorsed fellow Democrat Joe Biden's campaign for the office she once sought on Tuesday.




Reuters - Published




After U.S., Taliban deal, Clinton warns Afghan peace push must include government, women

Former U.S. Secretary of State Hillary Clinton warned on Tuesday that a U.S.-led push to end the 18-year war in Afghanistan needed to include the country's government and women if it is to succeed..




Reuters - Published





UK court told Assange tried to call White House, Hillary Clinton over data dump

Julian Assange tried to contact Hillary Clinton and the White House when he realised that unredacted U.S. diplomatic cables given to WikiLeaks were about to be dumped on the internet, his lawyer told..




Reuters - Published




Congresswoman Rashida Tlaib regrets booing Hillary Clinton

Rashida Tlaib said she let frustration over comments made by Ms Clinton "get the best of her".




BBC News - Published





Democratic White House contender Gabbard sues Hillary Clinton for 'Russian asset' comment

Democratic presidential candidate Tulsi Gabbard sued Hillary Clinton for defamation on Wednesday, seeking at least $50 million in damages for harming her reputation by suggesting last year that one of..




Reuters - Published





'Nobody likes him' - Hillary Clinton bashes Bernie Sanders

Hillary Clinton criticized the campaign of her former Democratic presidential rival Bernie Sanders in a new documentary in which she says he was an ineffective U.S. senator who accomplished little..




Reuters - Published




U.S. inquiry into FBI, Clinton spurred by Republicans ends without results: Washington Post

A U.S. Justice Department inquiry into Republican allegations of misconduct at the department and the FBI, including its handling of investigations related to 2016 Democratic presidential candidate..




Reuters - Published





Hillary Clinton becomes chancellor of Belfast's Queen's University

She is first woman to be appointed in role, which will last five years




Independent - Published





Hillary Clinton appointed chancellor of Queen's University, Belfast

The former US presidential candidate takes up five-year role with Queen's University, Belfast.




BBC News - Published





Democratic debate highlights: Freeloading billionaires and Clinton's legacy

The fifth presidential debate featured sharp exchanges on Wednesday over U.S. Senator Elizabeth Warren's proposed wealth tax and which of the Democratic contenders is best prepared to lead.




Reuters - Published




Jury in trial of Trump adviser Stone ends first day of deliberations without verdict

The jury in the criminal trial of U.S. President Donald Trump's adviser Roger Stone ended its first day of deliberations on Thursday without reaching a verdict on whether he lied to Congress about his..




Reuters - Published




Jury begins considering verdict in trial of Trump adviser Roger Stone

The federal jury in the criminal trial of U.S. President Donald Trump's adviser Roger Stone began deliberations on Thursday into whether he lied to Congress about his efforts to learn more about when..




Reuters - Published




Roger Stone trial closes with dueling versions of motives in 2016 Trump campaign

Prosecutors delivered closing arguments in the trial of U.S. President Donald Trump's adviser Roger Stone on Wednesday, saying the Republican operative lied to Congress about his efforts to keep..




Reuters - Published




Hillary Clinton 'under enormous pressure' to run in 2020

The former Democratic nominee refuses to rule it out, telling the BBC: "Never say never."




BBC News - Published





Trump campaign wanted updates on 2016 WikiLeaks releases on Clinton: ex-aide testifies

President Donald Trump's 2016 campaign was keen to keep abreast of the release of emails potentially damaging to Democratic candidate Hillary Clinton, reaching all the way to Trump, the Republican's..




Reuters - Published




'Shameful' of UK not to publish report on Russian meddling, says Hillary Clinton

Former U.S. Secretary of State Hillary Clinton criticized as "shameful" British Prime Minister Boris Johnson's decision not to publish a parliamentary report on Russian meddling in UK politics until..




Reuters - Published




Hillary Clinton says government 'shameful' for delaying release of secret Russia report until after election

'People who are about to vote in a month or so deserve to know what is in [the] report,' says former US presidential election candidate




Independent - Published





Clinton: 'Every UK voter deserves to see Russia report'

Hillary Clinton says she's "dumbfounded" that a report on Russian influence in the UK has not been released.




BBC News - Published





'Prepare to die' Trump adviser Stone texted witness, trial jury hears

Prosecutors on Thursday unveiled threatening text messages by U.S. President Donald Trump's adviser Roger Stone to radio host Randy Credico in which Stone urged Credico not to testify about their..




Reuters - Published





U.S. Representative Cummings eulogized by Hillary Clinton

Former Democratic presidential candidate Hillary Clinton on Friday praised the late Elijah Cummings, a leading force in the impeachment inquiry of President Donald Trump, as someone who "stood against..




Reuters - Published




Obama, Clintons, Pelosi to speak at late congressman Cummings' funeral

Former U.S. presidents Barack Obama and Bill Clinton, along with former presidential candidate and Senator Hillary Clinton, are among a who's-who list of the Democratic Party slated to speak on Friday..




Reuters - Published




Clinton email probe finds no deliberate mishandling of classified information

A U.S. State Department investigation of Hillary Clinton's use of a private email server while she was secretary of state has found no evidence of deliberate mishandling of classified information by..




Reuters - Published





Hillary Clinton: Russia 'grooming' US third-party candidate

Hawaii congresswoman Tulsi Gabbard accuses Mrs Clinton of a campaign to "destroy my reputation".




BBC News - Published





After years searching, I found my sister next door

Hillary and Dawn were strangers who shared a driveway - until Hillary made a life-altering discovery.




BBC News - Published





A computer server haunted Clinton in 2016. Now it may be Trump's turn

As a presidential candidate, Donald Trump repeatedly attacked his Democratic adversary Hillary Clinton in 2016 over her use of a private computer server for official emails when she was U.S. secretary..




Reuters - Published




In New Mexico rally, Trump vows to flip state won by Clinton in 2016

President Donald Trump vowed at a rally in New Mexico on Monday to win the longtime Democratic stronghold state in the November 2020 U.S. election.




Reuters - Published




Netflix to produce series inspired by Hillary Clinton's presidential run

The series is based on Chasing Hillary, journalist Amy Chzozick's memoir of the 2016 election.




BBC News - Published





Overstock shares surge after CEO Patrick Byrne quits

Overstock.com's stock surged 5% on Thursday after Chief Executive Officer Patrick Byrne resigned following his claim of being involved in a Federal Bureau of Investigation probe into Russia and former..




Reuters - Published




Overstock.com CEO Patrick Byrne resigns after revealing involvement in FBI-Russia probe

Overstock.com Inc Chief Executive Officer Patrick Byrne resigned on Thursday, a week after saying he was involved in a Federal Bureau of Investigation probe into Russia and former U.S. presidential..




Reuters - Published





Chelsea Clinton gives birth to third child

Chelsea Clinton, the daughter of former U.S. President Bill Clinton and former U.S. Secretary of State Hillary Clinton, gave birth to her third child on Monday morning, she said on Twitter.




Reuters - Published





Bernie Sanders Launches 2020 Presidential Bid

by Simon Baxendale - While the US General Election of 2016 was notable in many ways, the lead-up was just as dramatic. For the Democratic Party, Hillary Clinton managed to knock out all of her rival..




One News Page Staff - Published