Hillary Clinton
67th United States secretary of state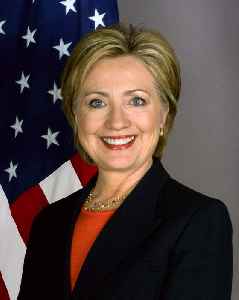 Hillary Diane Rodham Clinton is an American politician, diplomat, lawyer, writer, and public speaker. She was first lady of the United States from 1993 to 2001, a United States senator from New York from 2001 to 2009, and the 67th United States secretary of state from 2009 to 2013. Clinton was the Democratic Party nominee for president of the United States in the 2016 election. She is the first woman to receive the presidential nomination of a major U.S. political party.


Chelsea Clinton gives birth to third child
Chelsea Clinton, the daughter of former U.S. President Bill Clinton and former U.S. Secretary of State Hillary Clinton, gave birth to her third child on Monday morning, she said on Twitter.
Reuters - Published
Leader of armed group at U.S. border boasted of assassination training: FBI
The leader of an armed group that is stopping undocumented migrants who cross into the United States from Mexico had boasted about training to assassinate former President Barack Obama and Hillary..
Reuters - Published
Kamala Harris seeks campaign jolt in Iowa
During a five-day bus tour across Iowa last week, 2020 White House contender Kamala Harris finally seemed to hit her stride. A Monmouth University poll released August 8 showed Harris third in the..
Credit: Reuters Studio Duration: 01:00Published
Spy chief Coats is stepping down: Trump
President Donald Trump said on Sunday the nation's top intelligence official, Dan Coats, would leave his post next month and that he would nominate Republican congressman John Ratcliffe to replace him...
Credit: Reuters Studio Duration: 01:10Published
Joe Biden Running For President
In a crowded field of almost two dozen contenders, former Vice President Joe Biden has claimed the mantle as its most anti-Trump candidate. He's made rejection of the 45th president the core part of..
Credit: Wochit News Duration: 00:32Published
Anthony Weiner Kicked To The Curb, Moves Out Of Huma Abedin's NYC Apartment
Extra! TV reports Huma Abedin and Anthony Weiner are still headed for divorce. The disgraced politician and convicted sex offender was spotted moving his belongings out of Huma's NYC apartment over..
Credit: Wochit News Duration: 00:39Published
Tom Steyer Joins The 2020 Democratic Race
Billionaire Tom Steyer joined the 2020 Democratic race, making the ballot more crowded. According to Business Insider, Sreyer promised to spend $100 million in his campaign. The amount exceeds the..
Credit: Wochit News Duration: 00:32Published
Trump Criticizes FBI Deputy Director Andrew McCabe
President Donald Trump retweeted 24 tweets within one hour, 11 from an account called Judicial Watch. According to Business Insider, Trump quote-tweeted two of his retweets. In one of them he called..
Credit: Wochit News Duration: 00:32Published
How Trump Mocked Russia's Poll Interference
President Donald Trump sunk to a new low when it comes to his long-held skepticism that Russia actively interfered in the 2016 election to help him and hurt Hillary Clinton. In Japan at the G20, Trump..
Credit: Wochit News Duration: 00:40Published
Trump to Putin: 'Don't meddle'
President Donald Trump on Friday sardonically asked his Russian counterpart to please not meddle in U.S. elections, appearing to make light of a scandal that led to an investigation of his campaign's..
Credit: Reuters Studio Duration: 01:44Published
Sanders Gets Nasty When Asked If He Will Concede Nomination
Bernie Sanders wants everyone to know that he intends to be the Democratic Nominee for President of the United States. In an interview with MSNBC on Wednesday he did not commit to conceding the primary..
Credit: Wochit News Duration: 00:52Published
Hillary Clinton rules out 2020 presidential run
The former secretary of state and 2016 candidate says she will not stand again against Donald Trump.
BBC News - Published
Ex-lawyer Cohen assails 'conman' Trump, gives no direct evidence of collusion
U.S. President Donald Trump's former personal lawyer Michael Cohen accused him of breaking the law while in office and said for the first time that Trump knew in advance about a WikiLeaks dump of..
Reuters - Published
Cohen accuses Trump over WikiLeaks, Moscow project, hush payments
Michael Cohen, the former "fixer" and personal lawyer for U.S. President Donald Trump, will testify on Wednesday that Trump knew ahead of time about a leak of emails that would hurt his Democratic..
Reuters - Published
Bernie Sanders Launches 2020 Presidential Bid
by Simon Baxendale - While the US General Election of 2016 was notable in many ways, the lead-up was just as dramatic. For the Democratic Party, Hillary Clinton managed to knock out all of her rival..
One News Page Staff - Published
Also reported by •Reuters
You Might Like