U.S. Securities and Exchange Commission
Government agency overseeing stock exchanges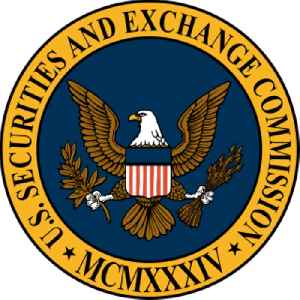 The U.S. Securities and Exchange Commission (SEC) is an independent agency of the United States federal government. The SEC holds primary responsibility for enforcing the federal securities laws, proposing securities rules, and regulating the securities industry, which is the nation's stock and options exchanges, and other activities and organizations, including the electronic securities markets in the United States.


Stock rally takes a pause as new COVID-19 cases spike

The Dow and S&P 500 snapped three-day winning streaks as a surge in new coronavirus cases in several states gave investors a reason to pause. Conway G. Gittens has the wrap.
Credit: Reuters Studio Duration: 01:47
Published
You Might Like



Trump to nominate lawyer Crenshaw to fill SEC Democratic commissioner slot

The White House announced on Thursday that President Donald Trump intends to nominate Caroline Crenshaw to fill a Democratic vacancy at the U.S. Securities and Exchange Commission (SEC).




Reuters - Published




U.S. SEC charges two companies, CEO over misleading COVID-19 claims

The U.S. Securities and Exchange Commission said on Thursday it has charged two companies and a chief executive officer with making misleading claims related to COVID-19, the disease caused by the..




Reuters - Published





U.S. SEC settles with two traders over EDGAR filing system hack

The U.S. securities regulator on Thursday said it had settled with two traders who allegedly made money trading on material nonpublic information stolen through a hack into the agency's EDGAR..




Reuters - Published




At least two suspected coronavirus cases among SEC's Washington staff - filing

The U.S. Securities and Exchange Commission has had two suspected coronavirus cases among staff at its Washington headquarters, an official said in a court document requesting leniency on delivering..




Reuters - Published




SEC orders Wells Fargo pay $35 million for recommendations of high-risk products

The U.S. Securities and Exchange Commission said on Thursday it ordered Wells Fargo & Co to pay $35 million to settle charges it failed to adequately supervise investment advisers who were recommending..




Reuters - Published





U.S. SEC out for justice over Steven Seagal's cryptocurrency marketing

Steven Seagal, the star of action movies including "Above the Law" and "Out for Justice," has agreed to pay $314,000 to resolve charges of "unlawfully touting" a cryptocurrency offering, the U.S...




Reuters - Published





Nike faces SEC probe over illicit payment claim: Bloomberg

A lawyer for Michael Avenatti told a jury that Nike Inc was being probed by the U.S. Securities and Exchange Commission (SEC) over claims that it made illicit payments to elite youth basketball..




Reuters - Published





BMW says being investigated by U.S. SEC

German automaker BMW AG said on Monday it was being investigated by the U.S. Securities and Exchange Commission following a report of a probe related to the company's sales practices.




Reuters - Published





Exclusive: White House expected to nominate SEC lawyer for Democratic commissioner seat - sources

The White House is expected to nominate Caroline Crenshaw, a Democratic attorney at the U.S. Securities and Exchange Commission, to fill an SEC seat being vacated next year by Democratic Commissioner..




Reuters - Published





Broker group warns of investor risks posed by U.S. direct share-listing proposal

The U.S. Securities and Exchange Commission risks weakening investor protections if it allows companies to raise money in the public market through a direct listing without the support of underwriting..




Reuters - Published





Cboe exchange files to list new short volatility ETF

Cboe BZX Exchange has sought permission from the Securities and Exchange Commission to list shares of an exchange traded fund that would let investors bet against stock market gyrations, according to a..




Reuters - Published





U.S. SEC chair says agency will not impose 'caps' on whistleblower awards

The U.S. Securities and Exchange Commission will not introduce "caps" on awards to whistleblowers who come forward with key information on fraud and other violations, the head of the agency told..




Reuters - Published





Ex-U.S. congressman, son and associate settle insider trading case with SEC

Former U.S. Representative Chris Collins of New York, his son and an associate settled insider trading charges with the Securities and Exchange Commission, the agency said in a statement on Monday.




Reuters - Published





Bankrupt PG&E to take $4.9 billion more charge on wildfire victim claims

PG&E Corp said https://www.sec.gov/ix?doc=/Archives/edgar/data/75488/000095015719001393/form8-k.htm on Monday it would take a pretax charge of $4.9 billion in the current quarter related to the..




Reuters - Published





WeWork faces U.S. SEC inquiry over possible rule violations: Bloomberg

WeWork is facing scrutiny from the U.S. Securities and Exchange Commission (SEC) over whether it violated financial rules in the run-up to its canceled initial public offering, Bloomberg reported on..




Reuters - Published





Factbox: How the SEC is making life easier for corporate America

Under the Trump administration, the Securities and Exchange Commission (SEC) has taken more than two dozen measures - including trimming rules - that make life easier for corporate America, according..




Reuters - Published




U.S. Supreme Court to review SEC's power to recover ill-gotten gains

The U.S. Supreme Court on Friday agreed to hear a challenge to the ability of the Securities and Exchange Commission to recover ill-gotten profits obtained through misconduct in a case from California..




Reuters - Published





Barclays pays $6.3 million to settle U.S. SEC's Asia-Pacific hiring probe

Barclays has agreed to pay about $6.3 million to settle U.S. charges it violated a federal anti-bribery law by hiring family and friends of foreign officials in the Asia-Pacific region to help win or..




Reuters - Published





Quad/Graphics pays $9.9 million to settle U.S. bribery, sanctions charges

Quad/Graphics Inc, a Wisconsin marketing and printing services company, will pay $9.9 million to settle U.S. Securities and Exchange Commission charges it conducted bribery schemes in Peru and China..




Reuters - Published




SEC adopts new rules to level playing field for ETF providers

The Securities and Exchange Commission on Thursday said it would adopt a new rule to modernize how exchange-traded funds (ETFs) are brought to the market and their regulation.




Reuters - Published





SEC adopts new rules on exchange traded funds

The Securities and Exchange Commission on Thursday said it would adopt a new rule to modernize how exchange-traded funds (ETFs) are brought to the market and their regulation.




Reuters - Published





Nissan, Ghosn settle U.S. SEC claims over undisclosed compensation

Nissan Motor Co and its former Chief Executive Carlos Ghosn have agreed to settle claims from the U.S. Securities and Exchange Commision over false financial disclosures related to Ghosn's..




Reuters - Published




Carlos Ghosn reached civil settlement with U.S.'s SEC: lawyers

Former Nissan Chairman Carlos Ghosn has reached a civil settlement with the U.S. Securities and Exchange Commission to resolve its investigation of alleged violations of U.S. securities laws, Ghosn's..




Reuters - Published





Seven U.S. states, District of Columbia sue to block SEC rule change

Seven U.S. states and the District of Columbia on Monday sued to block rules adopted by the Securities and Exchange Commission (SEC) that would allow brokers to recommend products that benefit them as..




Reuters - Published





U.S. judge urges VW, SEC to resolve civil Dieselgate suit

A federal judge in California on Friday urged the U.S. Securities and Exchange Commission and Volkswagen AG to resolve a civil suit stemming from its Dieselgate emissions scandal.




Reuters - Published





Exclusive: Democrats consider a lawyer and a law professor for commissioner seat at SEC - sources

Democrats are considering an attorney and a law professor to replace Democratic Commissioner Robert Jackson when he steps down from the U.S. Securities and Exchange Commission (SEC), expected in coming..




Reuters - Published





Microsoft settles U.S. charges it violated anti-bribery law, accepts criminal fine: SEC

Microsoft Corp agreed to pay more than $25 million, including an $8.75 million criminal fine imposed on its Microsoft Hungary unit, to settle U.S. charges it violated a federal anti-bribery law, the..




Reuters - Published





Exclusive: SEC probes Siemens, GE, Philips in alleged China medical equipment scheme

The U.S. Securities and Exchange Commission is investigating Siemens AG, Philips NV and General Electric Co for allegedly using local middlemen to negotiate bribes with Chinese government and hospital..




Reuters - Published