Swindon
Town in Wiltshire, England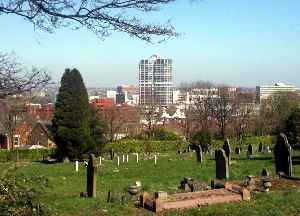 Swindon is a large town in the ceremonial county of Wiltshire, South West England, between Bristol, 35 miles to the west, and Reading, the same distance to the east; the town is 71 miles (114 km) west of London. At the 2011 census, it had a population of 182,441. The Town Development Act 1952 led to a major increase in its population.


Swindon family claim Linden Homes withheld 'unsafe roof report'
More than 400 different faults have been identified at the house, which is only two years old.
BBC News - Published
Swindon 'ram-death victim let out blood-curdling scream'
Dario Carboni is accused of deliberately running over Kenneth Kiley after the pair had a crash.
BBC News - Published
Swindon Honda closure 'a body blow', says Unite
Honda said "no viable alternative" to the Swindon plant closure had been found during consultation.
BBC News - Published
Swindon runner creates a graffiti gallery from his routes
Jimmy Dickinson takes pictures of the town's graffiti when as a distraction from the chore of running.
BBC News - Published
Notts County relegated from EFL for first time in their 157-year history
Notts County drop out of the English Football League for the first time in their history after their final-day defeat at Swindon.
BBC News - Published
Swindon politicians confident about future despite Honda closure
The Japanese carmaker has confirmed it will close its Swindon plant in 2021.
BBC News - Published
County lines drug dealer ordered to pay back £94k
Reuben Rose supplied heroin, crack cocaine and cannabis to people in Swindon.
BBC News - Published
Honda workers join protest march against Swindon car factory closure
Union officials will go to Japan to 'press' company bosses over jobs losses, says Unite chief Len McCluskey
Independent - Published
Honda workers march to save Swindon car plant
Hundreds of staff from the Swindon plant take part in a protest against the planned closure of the factory.
BBC News - Published
Honda: Workers to march against plant closure in Swindon
Car giant's decision will lead to thousands of job losses
Independent - Published
Honda set to close UK car plant
The carmaker is set to announce the closure of its Swindon plant in 2022, jeopardising 3,500 jobs, sources say.
BBC News - Published
You Might Like