Leicestershire
County of England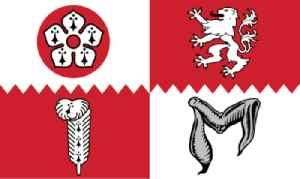 Leicestershire is a landlocked county in the English Midlands, being within the East Midlands. The county borders Nottinghamshire to the north, Lincolnshire to the north-east, Rutland to the east, Northamptonshire to the south-east, Warwickshire to the south-west, Staffordshire to the west, and Derbyshire to the north-west. The border with most of Warwickshire is Watling Street, the modern A5 road.


Minister denies looming national lockdown

Health minister Ed Argar has defended the use of local lockdowns to prevent the spread of coronavirus, explaining how restrictions in Leicestershire lead to a declining infection rate. Mr Argar..
Credit: ODN Duration: 01:02
Published
PM urges pupils return to school after face coverings U-turn

Prime Minister Boris Johnson visits Castle Rock High in Coalville,Leicestershire. He discusses the Government's U-turn on face coverings inschools and urges pupils to return.
Credit: PA - Press Association STUDIO Duration: 00:38
Published
PM explains schools face masks U-turn

Prime Minister Boris Johnson defends the government's U-turn on wearing face masks in schools in England, during a visit to Castle Rock High School in Coalville, Leicestershire. Pupils will no longer..
Credit: ODN Duration: 01:13
Published
You Might Like



'I love playing cricket - even with kids in the street' - ex-Leics captain Cosgrove

Aussie batsman Mark Cosgrove recalls a different use for ice baths, fantastic times at Leicestershire and the need to love your job.




BBC News - Published





Leicestershire verges: Blue hearts to boost wildlife

Blue hearts will help explain why some grassed areas have been left to grow, say Leicestershire County Council.




BBC News - Published





Photographer recreates ancestor's 1860s Leicestershire snaps

His relative is thought to have captured some of the first landscape photographs of Leicestershire.




BBC News - Published





Kidnap charge after injured woman found on A6 in Leicestershire

Chay Bowskill, 19, and Rocco Sansome, 18, are due to appear at Leicester Magistrates' Court later.




BBC News - Published





Northants, Leicestershire & Sussex into T20 Blast quarter-finals

Northants, Leicestershire and Sussex secure the last three T20 Blast quarter-final places in the final round of group games.




BBC News - Published





Coronavirus: Parents asked to wear masks on school run

The measure has been introduced in Leicestershire as infection rates in one area tripled in a week.




BBC News - Published





Diana Rigg miniature rail scene 'was thought risqué'

Volunteers have recalled the day the Game of Thrones actress was tied to a Leicestershire railway.




BBC News - Published





Coronavirus: Assaults on police officers rise in lockdown

Leicestershire's Chief Constable highlighted a "particularly distasteful trend" of spitting.




BBC News - Published





Man arrested after narrow boat stolen in Leicestershire

Police officers for the landlocked Leicestershire force said the pursuit was a "career first".




BBC News - Published





Family's appeal against Leicestershire double murderer's release rejected

"In our view this was the system just going through the motions," says a victim's brother.




BBC News - Published




Leicestershire librarian 'feels sorry' for PM over book backdrop

The carefully selected books were seen behind Boris Johnson during his visit to a school this week.




BBC News - Published





Coronavirus: 'Late' U-turn on school face masks frustrates teachers

Schools in Leicester and Leicestershire are the first to put coronavirus precautions to the test.




BBC News - Published





Coronavirus: Parents' fears as first schools in England to reopen

Schools in Leicester and Leicestershire are among the first in England to reopen.




BBC News - Published





Round-up: Bob Willis Trophy provides late drama

Leicestershire smash 150 off 15.4 overs to win with eight balls to spare, while Derbyshire also start with a dramatic late Bob Willis Trophy win.




BBC News - Published





Lockdown restrictions lifted in parts of Leicestershire from this weekend

Areas outside city boundary and borough of Oadby and Wigston to align with rest of England




Independent - Published





Three men and teenager questioned over suspected terror plot

A teenager and two men were held in London, while another man was arrested in Leicestershire.




BBC News - Published





Leicester lockdown: City deserted as Leicestershire reopens

Leicestershire Police's Chief Constable said it was a "huge challenge" policing different rules.




BBC News - Published





Coronavirus: Leicestershire artist paints portraits for 'NHS heroes'

Lisa Timmerman says she decided to paint 20 to reflect the year 2020 of the coronavirus pandemic.




BBC News - Published





Langar estate fire: 'Unidentified chemicals' in smoke

Clouds of fumes from the blaze were seen over large parts of Nottinghamshire and Leicestershire.




BBC News - Published





Leicestershire gardener surrounded by 1,400 plants in home

Joe Bagley has to keep his clothes in the loft because he has no room for a wardrobe.




BBC News - Published





Coronavirus: Leicestershire care home workers face 'insulting' pay cuts

Nearly 100 staff are facing cuts while "putting their lives on the line", a trade union says.




BBC News - Published





Coronavirus: Leicestershire laughter yoga helping to cheer self-isolated

Sharon De Caesteker has moved the weekly sessions online, so the group can still meet.




BBC News - Published





'Fake officer' stabs man in his 80s with screwdriver during series of burglaries

Three such burglaries take place in Leicestershire within two hours




Independent - Published





Therapy dog stolen from girl with autism found dead

Lottie, a three-year-old Dalmatian, was taken from a home in Leicestershire before Christmas.




BBC News - Published




Leicestershire plumbing firm staff bragged about overcharging

Seven men are sentenced after the company charged elderly customers up to 10 times the correct amount.




BBC News - Published





Lead-theft Leicestershire church roof torn off in storm

The Grade I listed church lost repairs put in place after lead thieves wrecked the original roof.




BBC News - Published





Leicestershire maths teacher is UK beatbox finalist

Giles Urwin - who is known as Guuru - says a lot of the competitors are half his age.




BBC News - Published





Leicestershire D-Day veteran, 98, awarded Legion d'Honneur

Albert Evans' granddaughter says they had to persuade him to accept France's highest honour.




BBC News - Published




History of Thomas Cook to be preserved in Leicestershire

Posters, travel guides, staff uniforms and board games and among the thousands of travel souvenirs.




BBC News - Published





Amazon warehouse one of Europe's 'most high-tech buildings'

Robots and people work alongside each other in the internet-giant's latest warehouse in Leicestershire.




BBC News - Published





Ashby-de-la-Zouch cat trapped in home after owner dies

Noel was left behind after two other cats were rescued from a house in Leicestershire.




BBC News - Published





Murder investigation after man dies during burglary in Leicestershire

Victim in his 60s was attacked after confronting intruder




Independent - Published





Leicestershire motorcyclist blinded by egg thrown from car

The man, 31, had surgery after the Wigston attack but the sight in one eye could not be saved.




BBC News - Published





Tennis player marks 90th birthday on the court

Pat Stephenson, from Leicestershire, is planning on marking her 90th birthday on the tennis court.




BBC News - Published





Human bones found on site of former care home in Leicestershire

Remains discovered by workers demolishing building in Melton Mowbray




Independent - Published





Hinckley stabbing: Teenager found dead in street

A 17-year-old boy is arrested by police in Leicestershire on suspicion of murder.




BBC News - Published





UK weather: Leicestershire flooding captured in drone footage

Pictures include shots of cars in a village that became almost totally submerged.




BBC News - Published





Leicestershire school ditches bright furniture to improve behaviour

Teachers believe the new decor, which is like "grandma's living room", will improve behaviour.




BBC News - Published





Racially abused Leicestershire footballer banned for six matches

Linford Harris was found guilty of violent conduct after reacting to abuse from a spectator.




BBC News - Published





Four-year-old Leicestershire boy completes 50th Parkrun

Caleb Bishop, who has run 5km every weekend since his fourth birthday, was presented with a cake.




BBC News - Published





T20 Blast: Sussex Sharks unbeaten run goes as Worcestershire and Leicestershire also win

Sussex Sharks lose their unbeaten run in this season's T20 Blast while Worcestershire and Leicestershire pick up crucial wins.




BBC News - Published





Amazon parcel 'thrown through upstairs window' in Leicestershire

A woman finds a package on her bedroom floor after it had apparently been thrown through a window.




BBC News - Published





Leicestershire mum 'didn't have cancer enough' to receive benefits

Katie Larn had undergone chemotherapy before applying for Personal Independence Payments.




BBC News - Published





Leics' Ackermann takes 7-18 in world record T20 display

Colin Ackermann sets a new T20 world record with bowling figures of 7-18 in Leicestershire's win against Birmingham Bears.




BBC News - Published





T20 Blast: Leicestershire's Colin Ackermann takes 7-18 to claim record bowling figures

Colin Ackermann sets a new T20 world record with bowling figures of 7-18 in Leicestershire's win against Birmingham Bears.




BBC News - Published





Theme park closes water play area after children 'violently sick'

Part of Twinlakes attraction in Leicestershire shut as Public Health England investigates




Independent - Published





Rare Star Wars toy found in Coalville loft sells for £2,100

The Tie Bomber spacecraft toy was discovered in a loft in Coalville, Leicestershire.




BBC News - Published





Drone footage captures driver stuck in flood water

The driver had to get out and push after getting stuck on a flooded road in Leicestershire.




BBC News - Published





Leicestershire Police detective 'identified by fingerprints'

An inquest opens into the sudden death of Det Ch Insp Rob Widdowson in Leicestershire.




BBC News - Published