South Korea
Country in East Asia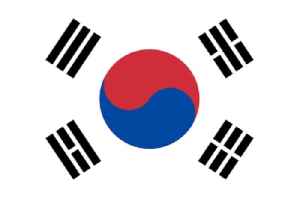 South Korea, officially the Republic of Korea, is a country in East Asia, constituting the southern part of the Korean Peninsula and sharing a land border with North Korea.


South Koreans suffer under soaring property prices

Middle-class South Koreans are being squeezed out of Seoul, where affordable housing has run dry. That's despite multiple measures by President Moon Jae-in's government aimed at tamping down property..
Credit: Reuters Studio Duration: 02:45
Published
Flash floods, mudslides kill 13 people in South Korea

Days of heavy rain trigger floods and mudslides, leaving 13 people dead and forcing more than 1,000 from their homes.
Credit: Al Jazeera STUDIO Duration: 01:49
Published
Torrential rain causes flooding and landslides in South Korea, leaving 6 dead

At least six people died and eight others are missing after heavy rainfall pounded much of South Korea over the weekend.View on euronews
Credit: euronews (in English) Duration: 00:50
Published
South Korea floods leave 13 dead

South Korea's longest spell of monsoon rain in seven years has caused flooding that has forced more than 1,000 people to leave their homes. Joe Davies reports.
Credit: Reuters Studio Duration: 00:54
Published
Covid update: Ayodhya priest worried; South Korea on India, vaccines; gym rules

From another Ayodhya priest testing positive days ahead of Prime Minister Narendra Modi's visit, to the government issuing guidelines for gymnasiums and yoga centres ahead of their reopening from..
Credit: HT Digital Content Duration: 02:46
Published
NEP 2020: S Korea thinking to establish Korean language institute in Delhi, says Envoy

Republic of Korea's Ambassador to India, Shin Bong-kil, on August 03 stated that the South Korean government is thinking to establish Korean language institute in Delhi. His statement comes after..
Credit: ANI Duration: 02:29
Published
World Heritage Festival: South Korea's centuries-old tradition

The World Heritage Festival in Andong is famous but sparsely attended; this year's organisers hope to change that.
Credit: Al Jazeera STUDIO Duration: 02:07
Published
Watch: Women sanitation workers signal their arrival by blowing whistle to collect waste

Baikunthpur Municipality in Korea have started to use whistles as an alternative to knocking on doors to alert the neighbourhood to bring out their garbage. According to a sanitation worker, whistling..
Credit: ANI Duration: 01:51
Published
Samsung rolls off UV Sterilizer with wireless charging in India

South Korean tech giant Samsung has rolled off a new UV Sterilizer with Wireless Charging that can be used to disinfect Galaxy smartphone, Galaxy Buds, and Smart Watches. Priced at Rs 3,599 the UV..
Credit: ANI Duration: 01:09
Published
Sensex cracks by 335 points but pharma stocks outperform

Equity benchmark indices swung nearly 1 per cent lower during the afternoon session on July 30 ahead of the expiry day of monthly futures and options contracts. At the closing bell, the BSE S and P..
Credit: ANI Duration: 01:29
Published
North Korean Reports First Possible Covid-19 Case

The first publicly reported suspected case of Covid-19 within North Korea's borders has been reported. North Korean leader Kim Jong Un called an emergency meeting Saturday after the infection was..
Credit: Wochit News Duration: 00:37
Published
No beer or chicken but South Korean fans are back at the ball game

Korean baseball fans are in allowed in stadiums for the first time this year.
Credit: Reuters - Sports Duration: 03:18
Published
N. Korea 'emergency' over suspected COVID-19 case

A border city in North Korea has been locked down after a person suspected to have the new coronavirus was reported to have returned from South Korea in what, if confirmed, would be the first case..
Credit: Reuters Studio Duration: 00:59
Published
Coronavirus: Kim Jong-un Declares State of Emergency

North Korea has declared a state of emergency after Kim Jong-un chaired an emergency politburo meeting about a suspected case of Covid-19. State media said the person defected to South Korea three..
Credit: ODN Duration: 01:49
Published
North Korea places border city in lockdown over fears of first Covid-19 patient

North Korean leader Kim Jong Un has placed a city near the border with SouthKorea under lockdown over concerns the country has its first coronavirus case,state media reported. The measure was taken on..
Credit: PA - Press Association STUDIO Duration: 00:42
Published
Chinese giant panda gives birth in South Korean zoo

A Chinese giant panda at South Korea's Everland amusement park has given birth to a cub, the zoo said on Wednesday, the first baby panda born in the country and a rare event for an endangered..
Credit: Reuters Studio Duration: 01:00
Published
SpaceX launches satellite, breaks turnaround time

SpaceX launched South Korean communications satellite ANASIS-II aboard the Falcon 9 booster that lifted astronauts Doug Hurley and Bob Behnken on their mission to the International Space Station.
Credit: Reuters Studio Duration: 00:52
Published
Samsung launches range of SSDs in India

South Korean tech giant Samsung has launched a new range of storage devices such as Portable SSD T7 and the internal 870 QVO SSD. The 870 QVO SSD comes with a capacity of up to 8TB and is priced at Rs..
Credit: ANI Duration: 01:10
Published
Coal plant taints South Korea's green pledge

Before the first coal plant was built in the Indonesian coastal village of Suralaya, 59-year-old fisherman Ramidin would paddle just off the beach to catch fish. Now, a South Korean company is..
Credit: Reuters Studio Duration: 02:40
Published
You Might Like



Coronavirus: Asymptomatic cases 'carry same amount of virus'

But the South Korean study couldn't say how much this group actually passed coronavirus on.




BBC News - Published





South Korea battles deadly floods and landslides

At least 15 people are killed and more than 1,500 displaced after 42 days of continuous rain.




BBC News - Published





Coronavirus: South Korean Shincheonji sect leader arrested

Lee Man-hee, who leads the Shincheonji Church of Jesus, is accused of obstructing contact tracers.




BBC News - Published





Harry Harris: US envoy to South Korea shaves off controversial moustache

Harry Harris removes his facial hair, which reminded some South Koreans of colonial rule.




BBC News - Published





Coronavirus: Swimming defector was not infected, says S Korea

The suspected patient crawled through a drain then swam to North Korea, the South says.




BBC News - Published





The children of Korean War prisoners who never came home

South Korea largely forgot its prisoners of war. Now their children are fighting for recognition.




BBC News - Published





North Korea on alert over 'first suspected coronavirus case'

State media say a defector who returned from South Korea has Covid-19 symptoms.




BBC News - Published





Dog meat: Koreans are divided over the issue

Eating dog meat has become controversial within South Korea as growing numbers own dogs as pets.




BBC News - Published





Coronavirus: South Korea in recession as exports at 57-year low

It joins a growing list of trade-reliant countries that have seen their economies slump.




BBC News - Published





Adoptee Kara Bos's search for her roots in South Korea

Kara Bos was adopted as a baby from South Korea by a US couple. But her birth father is standing in the way of her discovering her roots.




BBC News - Published





South Korea rejects US extradition request over child abuse website

A Seoul court says the man behind a massive child sexual abuse website could help future investigations.




BBC News - Published





Choi Suk-hyeon: South Korean triathlete kills herself 'after abuse'

The young triathlete took her own life after lodging complaints over alleged abuse from coaching staff.




BBC News - Published





North Korea: Balloons and speakers raise Korean border tensions

Propaganda balloons have become a symbol of a worsening relationship between North and South Korea.




BBC News - Published





Coronavirus: South Korea confirms second wave of infections

The country was praised for its handling of the virus, but now cases are back on the rise.




BBC News - Published





Vietnam in talks to ease entry for visitors from China, South Korea, Japan

Vietnam is holding talks aimed at easing the entry of citizens from China, South Korea and Japan into the country after restrictions on foreign visitors amid the coronavirus pandemic, the Ministry of..




Reuters - Published





South Korea's nuclear envoy visits U.S. as tensions flare with North Korea

South Korea's chief nuclear negotiator will hold talks with officials in Washington on Thursday amid flaring tensions with North Korea after Pyongyang blew up an inter-Korean liaison office and..




Reuters - Published




Defectors prepare packages to send to North Korea despite growing tensions

A North Korean defector-led group on Thursday prepared hundreds of plastic bottles stuffed with rice which they plan to float into North Korea, despite a legal challenge from South Korean authorities..




Reuters - Published




South Korea's Moon faces crisis in peace bid with North but has few options

South Korea's President Moon Jae-in faces the biggest crisis yet in his bid to foster reconciliation with North Korea, as it lashes out with the destruction of a joint office and rolls back agreements,..




Reuters - Published





North Korea rejects South's offer of envoys, vows to redeploy border troops

North Korea said on Wednesday it had rejected a South Korean offer to send special envoys to ease escalating tension over defiance by North Korean defectors and stalled reconciliation efforts, and it..




Reuters - Published




South Korean unification minister offers to step down, Yonhap says

South Korean Unification Minister Kim Yeon-chul, who oversees engagement with North Korea, offered on Tuesday to step down, saying he takes responsibility for a worsening in ties between the..




Reuters - Published




South Korea says will no longer accept unreasonable behavior by North Korea

South Korea's presidential Blue House said on Wednesday that recent North Korean criticism of President Moon Jae-in was senseless and that it will no longer accept unreasonable behavior by the North.




Reuters - Published




Timeline: From historic summit to building destruction, North Korea unsettles U.S.

North Korea on Tuesday blew up a building set up in 2018 in a border town as a joint liaison office to foster better ties with South Korea, the latest in a series of actions by Pyongyang that have..




Reuters - Published




U.S. urges North Korea to 'refrain from further counterproductive actions'

The United States responded to North Korea's blowing up of a joint liaison office with South Korea on Tuesday by saying it fully supports Seoul's efforts on inter-Korean relations and urging Pyongyang..




Reuters - Published




North Korea destroys inter-Korean liaison office in 'terrific explosion'

North Korea on Tuesday blew up a building set up in 2018 in a border town as a joint liaison office to foster better ties with South Korea after threatening action if North Korean defectors went ahead..




Reuters - Published




U.S. says in 'close coordination' with South Korea after North Korea destroys liaison office

The U.S. government is in "close coordination" with South Korea after North Korea destroyed an inter-Korean liaison office on Tuesday, a senior Trump administration official said.




Reuters - Published




South Korea vows to respond sternly if North keeps raising tensions

South Korea's presidential office said on Tuesday it will respond sternly if North Korea continues to raise tensions after destroying a joint liaison office that was a symbol of inter-Korean..




Reuters - Published




North Korea blows up liaison office on its side of border with South

North Korea blew up and destroyed an inter-Korean liaison office in its border city of Kaesong on Tuesday, South Korea said, after Pyongyang threatened to take action if defector groups push ahead with..




Reuters - Published




North Korean army 'fully ready' for action over South Korean propaganda leaflets: KCNA

North Korea's army is ready to take action if defector groups push ahead with their campaign to send propaganda leaflets into North Korea, state media said on Tuesday, in the latest warning of..




Reuters - Published




'Black Lives Matter' banner removed at U.S. embassy in South Korea after Trump displeased: sources

A large "Black Lives Matter" banner draped on the outside of the U.S. embassy in Seoul was removed on Monday after President Donald Trump expressed his displeasure about it, two people familiar..




Reuters - Published





South Korea may face a new coronavirus wave without tough social distancing measures: expert

South Korea will face another wave of coronavirus infections, with as many as 800 new cases a day by July, if the government does not introduce stricter social distancing guidelines, a prominent..




Reuters - Published




South Korea's Moon urges North to keep peace deals, return to talks

South Korea's President Moon Jae-in urged North Korea on Monday to refrain from raising tension and return to dialogue, after threats trumpeted by state media in Pyongyang to cut ties and take military..




Reuters - Published