Grenfell Tower
Residential tower in London known for the 14 June 2017 fire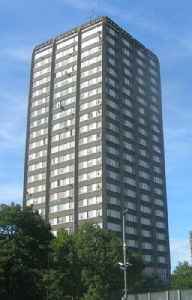 Grenfell Tower was a derelict 24-storey residential tower block in North Kensington in London, England, the remains of which are still standing following a severe fire in June 2017. The tower was completed in 1974, as part of the first phase of the Lancaster West Estate. The tower was named after Grenfell Road, which ran to the south of the building; the road itself was named after Field Marshal Lord Grenfell, a senior British Army officer.


Grenfell fire: Health officials 'showed troubling lack of urgency' over health risks from chemicals, say MPs
Environmental group says delays in health testing after 'Grenfell cough' contribute to sense authorities are complacent
Independent - Published
Australian state pledges $420 million to fix fire-prone building cladding
Australia's second most populous state Victoria pledged on Tuesday to spend A$600 million ($422 million) replacing flammable building cladding in the wake of London's fatal 2017 Grenfell Tower blaze.
Reuters - Published
Grenfell fire victims remembered with moving ceremony on second anniversary
The victims of the Grenfell Tower fire have been remembered during a moving ceremony on the second anniversary of the tragedy.
Credit: PA - Press Association STUDIO Duration: 01:09Published
Grenfell Tower turns green to commemorate victims of fire
Grenfell Tower was illuminated with green light early on Friday to pay tribute to the victims of the fire that engulfed the tower block on June 14, 2017.
Credit: Reuters Studio Duration: 00:40Published
Number 10 turns green two years on from Grenfell fire
Downing Street has been lit up green to commemorate those who died in the Grenfell disaster two years ago.
Credit: PA - Press Association STUDIO Duration: 00:17Published
Grenfell anniversary: Next PM must be on right side of history, say campaigners
Grenfell Tower campaigners have urged the next prime minister to be "on the right side of history" ahead of the two-year anniversary of the fire.
Credit: PA - Press Association STUDIO Duration: 01:06Published
U.S. Companies Sued Over London's Grenfell Tower Fire
Defects in products made by U.S. companies ignited and fueled the catastrophic 2017 Grenfell Tower fire in London that killed 72 people, according to a lawsuit filed in Philadelphia on behalf of..
Credit: Wochit News Duration: 00:42Published
Grenfell Tower victims file lawsuit against US companies
Attorney Jeffrey Goodman announces a lawsuit filed by survivors and relatives of the victims of London's deadly Grenfell Tower inferno in 2017 against three U.S. companies they blame for the fire...
Credit: Reuters Studio Duration: 01:38Published
Search this site and the web:
You Might Like