New England
Region in the northeastern United States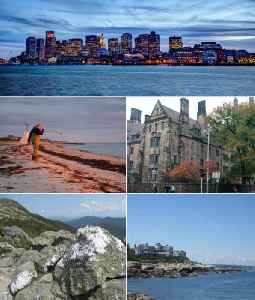 New England is a region comprising six states in the northeastern United States: Maine, Vermont, New Hampshire, Massachusetts, Rhode Island and Connecticut. It is bordered by the state of New York to the west and by the Canadian provinces of New Brunswick to the northeast and Quebec to the north. The Atlantic Ocean is to the east and southeast, and Long Island Sound is to the southwest. Boston is New England's largest city, as well as the capital of Massachusetts. Greater Boston is the largest metropolitan area, with nearly a third of New England's population; this area includes Worcester, Massachusetts, Manchester, New Hampshire, and Providence, Rhode Island.


You Might Like
Cam Newton Says Dolphins Players Tried to Snatch His Chain, 'It Was Disrespect'
THE DISRESPECT IS REAL!! Cam Newton says Miami Dolphins players tried to snatch the chain off his neck after his Patriots won on Sunday ... and it's all on video. The New England QB was wrapping up a..
TMZ.com - Published
Sarina Wiegman: New England manager says Lionesses are a 'world-class' team
Incoming England boss Sarina Wiegman says she will be managing a "world-class team" in a "world-class situation" when she takes over in 2021.
BBC News - Published
Trump opens Atlantic sanctuary to commercial fishing
President Donald Trump announced on Friday he will open up a 5,000 square mile conservation area in the Atlantic Ocean off the coast of New England to commercial fishing.
Reuters - Published
Shaken but united, Americans pull together to battle coronavirus
When residents of Wilton, Connecticut, first learned one of their own had contracted coronavirus, they naturally worried about infections spreading across their quiet New England hometown.
Reuters - Published
Super Tuesday triumph for Biden sets up one-on-one battle against Sanders
A resurgent Joe Biden rolled to victories across the South, Midwest and New England on the biggest day of voting in the U.S. Democratic presidential nomination campaign, setting up one-on-one battle..
Reuters - Published
Biden heading to South Carolina; Sanders steady as New Hampshire votes
MANCHESTER, N.H. - Democratic U.S. presidential hopeful Joe Biden told reporters in New Hampshire on Tuesday he was headed to South Carolina later in the day - before the results of the nominating..
Reuters - Published
New U.S. energy secretary slams NY for blocking gas pipelines
New U.S. Energy Secretary Dan Brouillette slammed New York state regulators on Thursday for blocking pipelines that would bring natural gas from Appalachia to New England, but did not specify whether..
Reuters - Published
Rugby World Cup 2019: Ben Youngs wants new England chapter after past failures
Ben Youngs wants England to write a new chapter at the World Cup in Japan after the disappointments of the 2011 and 2015 campaigns.
BBC News - Published