Robert De Niro
American actor, director, and producer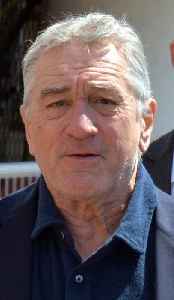 Robert Anthony De Niro Jr. is an American actor, producer, and director. He has received numerous accolades, including two Academy Awards, a Golden Globe Award, the Cecil B. DeMille Award, the Golden Lion, the AFI Life Achievement Award, Presidential Medal of Freedom, and has been nominated for six BAFTA Awards, four Primetime Emmy Awards, and four Screen Actors Guild Awards. He also has Italian citizenship.


De Niro, Emilia Clarke arrive for Hollywood's SAG awards
A silver-haired Robert De Niro, sporting a beard, "Stranger Things" star Millie Bobby Brown, and Helena Bonham Carter of "The Crown" were among early arrivals at the Screen Actors Guild SAG) awards on..
Reuters - Published
'Marriage Story' leads mostly white, male Golden Globe nods, De Niro snubbed
Netflix divorce drama "Marriage Story" on Monday led a Golden Globes nominations list dominated by movie stories about white men and marked by snubs for actor Robert De Niro and television shows "Game..
Reuters - Published
The Farewell takes top prize at the Film Independent Spirit Awards
Lulu Wang's poignant family drama The Farewell has taken the top prize at the 35th Film Independent Spirit Awards. Wang appeared visibly shocked when presenter Robert De Niro called the name of her..
Credit: PA - Press Association STUDIO Duration: 01:40Published
Lack of diversity looms over BAFTAs ceremony
First World War drama "1917" was the big winner at the BAFTAs on Sunday, picking up seven awards including best picture and director for Sam Mendes, at a glittering ceremony that made headlines for a..
Credit: Reuters Studio Duration: 01:49Published
Hollywood superstars arrive for the SAG awards
Oscar-winners Renee Zellweger, Charlize Theron, Nicole Kidman, Michael Douglas and Catherine Zeta-Jones were among Hollywood A-listers who walked the silver carpet at the Screen Actors Guild awards..
Credit: Reuters Studio Duration: 00:59Published
Watch Oscar Nominees Tom Hanks, Adam Driver on the Full Actor Roundtable
2020 Oscar nominated actors Tom Hanks (two-time Oscar winner) and Adam Driver joined Oscar-winners Robert DeNiro and Jamie Foxx and actors Adam Sandler and Shia LaBeouf for the full Actor Roundtable.
Credit: The Hollywood Reporter Duration: 01:36Published
Robert De Niro slams political climate in SAG speech
Robert De Niro - a vocal critic of President Donald Trump - called out the "dire" political climate of the US as he accepted a Life Achievement Award at the Screen Actors Guild (SAG) awards on Sunday..
Credit: Bang Media World Duration: 01:30Published
SAG Awards: 2020 Highlights
Parasite was a shock winner at the Screen Actors Guild Awards as Joaquin Phoenix and Renee Zellweger cemented their positions as Oscars favourites. In the TV categories, Phoebe Waller-Bridge picked up..
Credit: PA - Press Association STUDIO Duration: 00:52Published
Robert De Niro to appear in divorce court on Valentine's Day
Robert De Niro has a Valentine's Day date in court this February the 14th with his estranged wife Grace Hightower as part of their divorce proceedings.
Credit: Cover Video STUDIO Duration: 00:40Published
Oscar voters snub J.Lo, Adam Sandler and De Niro
Veteran actor Antonio Banderas lands his first nomination for the film "Pain and Glory."
Credit: Reuters Studio Duration: 01:51Published
Robert De Niro's Critics' Choice Award quip
Robert De Niro laughed off winning just one prize out of 14 at the 2020 Critics' Choice Awards on Sunday night (12.01.20).
Credit: Bang Media World Duration: 01:10Published
MOVIE REVIEW: Joker
by Graham Pierrepoint - JOKER IMDb Dir: Todd Phillips Starring Joaquin Phoenix, Robert De Niro, Zazie Beetz, Frances Conroy 4.5 STARS (out of 5) DISCLAIMER: While I am reviewing this movie for the..
One News Page Staff - Published
Robert De Niro sued by ex-aide for 'bullying and discrimination'
The Oscar-winning actor says his former assistant's claims are "beyond absurd".
BBC News - Published
Robert De Niro's ex-aide sued for misusing funds and 'TV bingeing'
The actor's company claims the aide spent "astronomical amounts of time" watching Netflix at work.
BBC News - Published
Search this site and the web:
You Might Like