Robert De Niro
American actor, director and producer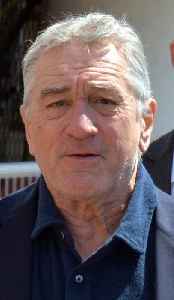 Robert Anthony De Niro Jr. is an American-Italian actor, producer, and director. He is a recipient of numerous accolades, including two Academy Awards, a Golden Globe Award, the Cecil B. DeMille Award, the Golden Lion, the AFI Life Achievement Award, Presidential Medal of Freedom, and has been nominated for six BAFTA Awards, four Primetime Emmy Awards and four Screen Actors Guild Awards.


MOVIE REVIEW: Joker
by Graham Pierrepoint - JOKER IMDb Dir: Todd Phillips Starring Joaquin Phoenix, Robert De Niro, Zazie Beetz, Frances Conroy 4.5 STARS (out of 5) DISCLAIMER: While I am reviewing this movie for the..
One News Page Staff - Published
Robert De Niro sued by ex-aide for 'bullying and discrimination'
The Oscar-winning actor says his former assistant's claims are "beyond absurd".
BBC News - Published
Robert De Niro honoured with SAG Lifetime Award
Robert De Niro has been honoured with a Screen Actors Guild Lifetime Achievement Award.
Credit: Bang Media World Duration: 00:59Published
Robert De Niro to receive Hollywood Acting Union's top honour
Robert De Niro is to be honoured with the SAG Life Achievement Award at the 26th annual Screen Actors Guild Awards in the New Year.
Credit: Cover Video STUDIO Duration: 00:44Published
The pick of the movies coming out in November
Take a look at the pick of the movies being released in November, from The Good Liar to Frozen 2. Fans of motor racing should get revved up by Le Mans '66 while aficionados of Martin Scorcese can feast..
Credit: PA - Press Association STUDIO Duration: 01:31Published
Scorsese says he wanted to 'enrich' past De Niro work with 'The Irishman'
The "Casino" director waited over a decade for the right project to unite De Niro, Pesci, Keitel and Pacino, a Netflix gangster movie that closes BFI London Film Festival 2019. Rough cut (no reporter..
Credit: Reuters Studio Duration: 02:44Published
De Niro Has Words For Fox News Critics
New York (CNN Business) Robert De Niro says he thinks Democrats had no choice but to open an impeachment inquiry into President Donald Trump. "It has to happen," De Niro told CNN Business' Brian..
Credit: Wochit News Duration: 00:33Published
New trailer for The Irishman with Robert De Niro released
Credit: Netflix The trailer for the new film The Irishman, starring Robert De Niro has been released. The Hollywood star, 76, plays gangland enforcer Frank Sheeran in the Netflix production, which..
Credit: PA - Press Association STUDIO Duration: 02:22Published
Robert De Niro's ex-aide sued for misusing funds and 'TV bingeing'
The actor's company claims the aide spent "astronomical amounts of time" watching Netflix at work.
BBC News - Published
Search this site and the web:
You Might Like