Paralympic Games
Major international sport event for people with disabilities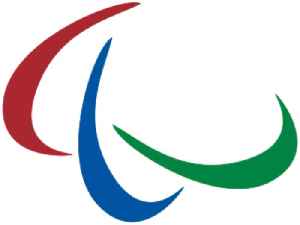 The Paralympic Games or Paralympics are a periodic series of international multi-sport events involving athletes with a range of disabilities, including impaired muscle power, impaired passive range of movement, limb deficiency, leg length difference, short stature, hypertonia, ataxia, athetosis, vision impairment and intellectual impairment. There are Winter and Summer Paralympic Games, which since the 1988 Summer Games in Seoul, South Korea, are held almost immediately following the respective Olympic Games. All Paralympic Games are governed by the International Paralympic Committee (IPC).


World Para-Swimming: Paralympic star Bethany Firth clinches first world gold
Northern Ireland's Bethany Firth adds to her four Paralympic titles by winning a first World Para-Swimming gold medal.
BBC News - Published
'The Paralympics and the Olympics should be less separate'
Paralympic long-jumper Markus Rehm wants to see a closer relationship between the Olympics and Paralympics.
BBC News - Published
China unveils mascots for the 2022 Winter Olympics
A panda named "Bing Dwen Dwen" is named as the mascot for the 2022 Beijing Winter Olympics while "Shuey Rhon Rhon", a red and white lantern child, is the 2022 Paralympics mascot.
Credit: Reuters - Sports Duration: 01:23Published
Paralympic marathon to start 30 minutes earlier due to heat concerns
The Tokyo 2020 Paralympics marathon will begin 30 minutes earlier than scheduled as organsiers try to combat the heat.
Credit: Reuters - Sports Duration: 01:22Published
Paralympian Sophie Christiansen stuck on SWR train
Eight-time Paralympic gold medallist Sophie Christiansen tweeted a video of her ordeal.
BBC News - Published
Christopher Holmes: Blind Tory Lord and Paralympian swimmer denies sexually assaulting woman
Record-breaking athlete turned politician accused of touching victim at five-star hotel
Independent - Published
From best friends to on-court foes in battle for Paralympics place
Meet Britain's Jack Shephard and Krysten Coombs, the world number one and two going head to head to compete at the Tokyo 2020 Paralympics.
BBC News - Published
Paralympics to join TV free-to-air 'crown jewels' list
The government is set to add the Paralympics to the 'crown jewels' list of sports that must be screened live on free-to-air television.
BBC News - Published
Wimbledon 2019: Britain's Andy Lapthorne reaches quad wheelchair final
Two-time Paralympic silver medallist Andy Lapthorne makes history as the first Briton to reach a quad wheelchair tennis final at Wimbledon.
BBC News - Published
Paralympic champions Menna Fitzpatrick and Jen Kehoe to 'recharge the batteries'
Wales' Menna Fitzpatrick and guide Jen Kehoe to take time out from para-skiing after an "emotional" and "exhausting" season.
BBC News - Published
'I didn't take saddle pain seriously' - Paralympic cyclist Dines after surgery on swollen vulva
Paralympic cyclist Hannah Dines says she thought her persistent saddle injury was a "sacrifice" for being an elite athlete.
BBC News - Published
Tokyo 2020: Medals to be made from recycled waste
All the medals at the 2020 Olympic and Paralympic Games in Toyko will be made from recycled electronic waste, say organisers.
BBC News - Published
You Might Like