Closed-circuit television
Use of video cameras to transmit a signal to a specific place on a limited set of monitors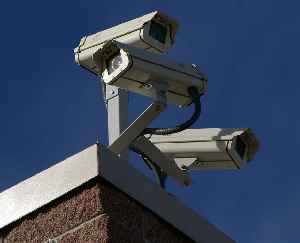 Closed-circuit television (CCTV), also known as video surveillance, is the use of video cameras to transmit a signal to a specific place, on a limited set of monitors. It differs from broadcast television in that the signal is not openly transmitted, though it may employ point to point (P2P), point to multipoint (P2MP), or mesh wired or wireless links. Though almost all video cameras fit this definition, the term is most often applied to those used for surveillance in areas that may need monitoring such as banks, stores, and other areas where security is needed. Though Videotelephony is seldom called 'CCTV' one exception is the use of video in distance education, where it is an important tool.


Uganda's cash-strapped cops spend $126 million on CCTV from Huawei
A forest of slender white poles topped with dark, unblinking eyes is quietly sprouting on the rubbish-strewn, potholed street corners of the Ugandan capital.
Reuters - Published
Death toll from typhoon in eastern China rises to 32 as storm moves north
The death toll from a typhoon in eastern China rose to 32 on Sunday, with 16 people missing, state broadcaster CCTV reported, as the country braced for more travel disruptions as the storm moved..
Reuters - Published
Police release CCTV timeline of Dayton shooting
Dayton Police Lieutenant Paul Saunders narrated surveillance video on Tuesday showing accused Dayton shooting suspect Connor Betts' whereabouts and outfit change in the moments leading up to the..
Credit: Reuters Studio Duration: 02:15Published
Van packed with drugs slams into Australian police car
A clumsy driver led police to a A$200 million ($140 million) drug bust in Australia on Monday (July 22) after he crashed a van laden with 270 kg (600 lb) of methamphetamines into a patrol car parked..
Credit: Reuters Studio Duration: 00:59Published
Chip shop arsonist who set himself on fire jailed
An arsonist who engulfed himself in a fireball when he set light to a chip shop has been jailed. North Yorkshire Police said Lubos Filek, 40, has never explained why he torched Abbey Fisheries in..
Credit: PA - Press Association STUDIO Duration: 00:39Published
Driver found guilty of attack outside Houses of Parliament
A student has been found guilty of trying to kill cyclists and police officers outside the Houses of Parliament. Salih Khater, 30, ploughed his Ford Fiesta into a pedestrian and a group of cyclists who..
Credit: PA - Press Association STUDIO Duration: 01:05Published
Missing Leah Croucher's sister appeals for information
Missing teenager Leah Croucher's sister, Jade, appealing for information more than five months after she disappeared in Milton Keynes. Miss Croucher was last seen by her parents at their home in..
Credit: PA - Press Association STUDIO Duration: 01:07Published
CCTV: Houses of Parliament attack 'designed to cause maximum death'
An alleged terrorist drove at cyclists and police outside the Houses of Parliament in a "premeditated and deliberate" attack designed to cause maximum carnage, a court has heard. Salih Khater, 30,..
Credit: PA - Press Association STUDIO Duration: 00:43Published
Man fights off machete-wielding robber with bar stool and pot plant
Police have released CCTV as part of their investigation into an armed robbery in Mermaid Beach, Queensland. The offender left empty-handed after a citizen fought him off using a large stool and pot..
Credit: PA - Press Association STUDIO Duration: 01:08Published
CCTV of child falling down platform gap released to warn parents
A dramatic video of a boy falling between a train and a platform is being used to warn parents to keep a close eye on their children when travelling on public transport. The clip, taken in February and..
Credit: PA - Press Association STUDIO Duration: 00:47Published
CCTV released as police investigate fatal stabbing of pregnant woman
Detectives from the Met Police investigating the alleged murder of Kelly Mary Fauvrelle in Thornton Heath, Croydon, have released CCTV footage of a man they wish to trace. Police are looking to..
Credit: PA - Press Association STUDIO Duration: 00:29Published
Typhoon in eastern China causes landslide, killing 18 people
Eighteen people were killed and 14 were missing in eastern China on Saturday in a landslide triggered by a major typhoon, which caused widespread transport disruptions and the evacuation of more than..
Reuters - Published
Typhoon forces evacuations, flight cancellations in eastern China
Hundreds of flights were canceled and a million people were evacuated from their homes as the third-largest typhoon on record in China hit the east of the country, state-run China Central Television..
Reuters - Published
Search this site and the web:
You Might Like