Rotten Tomatoes
American review aggregator for film and television, owned by Fandango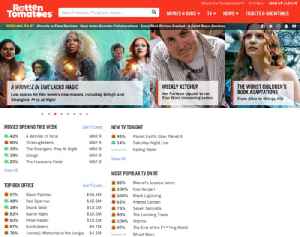 Rotten Tomatoes is an American review-aggregation website for film and television. The company was launched in August 1998 by three undergraduate students at the University of California, Berkeley: Senh Duong, Patrick Y. Lee, and Stephen Wang. Although the name "Rotten Tomatoes" connects to the practice of audiences throwing rotten tomatoes when disapproving of a poor stage performance, the original inspiration comes from a scene featuring tomatoes in the Canadian film Léolo (1992).


What Are The 100 Best Dramas Of All Time?

Business Insider ranked the 100 best dramas of all time based on Rotten Tomatoes' adjusted score. The adjusted score is based on a weighted formula that gives newer movies an advantage. What are the..
Credit: Wochit News Duration: 00:42
Published
You Might Like
MOVIE REVIEW: The Angry Birds Movie 2
by Graham Pierrepoint - THE ANGRY BIRDS MOVIE 2 IMDb Dir: Thurop Van Orman Starring Jason Sudeikis, Josh Gad, Leslie Jones, Bill Hader, Awkwafina, Sterling K Brown, Eugenio Derbez, Danny McBride,..
One News Page Staff - Published
MOVIE REVIEW: Toy Story 4
by Graham Pierrepoint - TOY STORY 4 IMDb Dir: Josh Cooley Starring Tom Hanks, Tim Allen, Annie Potts, Tony Hale, Keegan-Michael Key, Jordan Peele, Madeleine McGraw, Christina Hendricks, Keanu..
One News Page Staff - Published
Search this site and the web: