Newcastle upon Tyne
City and metropolitan borough in England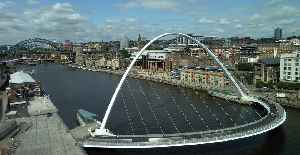 Newcastle upon Tyne, commonly known as Newcastle, is a city in Tyne and Wear, North East England, 103 miles (166 km) south of Edinburgh and 277 miles (446 km) north of London on the northern bank of the River Tyne, 8.5 mi (13.7 km) from the North Sea. Newcastle is the most populous city in the North East, and forms the core of the Tyneside conurbation, the eighth most populous urban area in the United Kingdom. Newcastle is a member of the UK Core Cities Group and is a member of the Eurocities network of European cities.


FA Cup match preview: Newcastle v Manchester City

A look ahead at Newcastle's home clash with Man City. Steve Bruce has challenged Newcastle to replicate their Premier League performances against Manchester City as they bid to pull off an FA Cup..
Credit: PA - Press Association STUDIO Duration: 01:14
Published
Man jailed for coughing at police officer and claiming to have Covid-19

A drunken man who claimed he had coronavirus and coughed in a police officer's face has been jailed. Body-camera footage shows the incident as 23-year-old Mark Wright was being arrested in Newcastle..
Credit: PA - Press Association STUDIO Duration: 00:29
Published
You Might Like



FA Cup semi-final draw: Manchester United to face Chelsea

Manchester United will face Chelsea and Arsenal will play holders Manchester City or Newcastle in the semi-finals of the FA Cup.




BBC News - Published





Newcastle v Aston Villa: Ahmed Elmohamady rescues point for Villa at Newcastle

Ahmed Elmohamady's late header rescues a point for Aston Villa at Newcastle, but it is not enough to lift them out of the bottom three.




BBC News - Published





Coronavirus: Great North Run cancelled in 40th year

About 55,000 people were set to run the half-marathon, from Newcastle to South Shields, in September.




BBC News - Published





Coronavirus: Circles mark out distancing in Newcastle parks

The council said the rings were a way of helping people stay 2m apart while relaxing in the sun.




BBC News - Published





'You can feel the pain' - Saint-Maximin on Floyd death and growing up 'with nothing'

Issues raised by the death of George Floyd "touch everyone", Newcastle's Allan Saint-Maximin tells the BBC in a wide-ranging interview.




BBC News - Published





'He's glad I'm not living in the US' - Newcastle's Yedlin reveals grandfather's fears

Newcastle and United States defender DeAndre Yedlin says his grandfather is "glad" he does not live in the US as he would fear for his grandson's life "as a young black man".




BBC News - Published





Zodiakos wins first race as British horse racing returns after coronavirus suspension

Zodiakos, ridden by Jimmy Sullivan and trained by Roger Fell, is the first winner as British horse racing returns at Newcastle.




BBC News - Published





Wednesday's gossip column: Newcastle in talks to sign Coutinho

Newcastle in talks to sign Coutinho, Magpies takeover in doubt, Arsenal and Tottenham compete for Willian, plus more.




BBC News - Published





Coronavirus: Newcastle health workers recruited to vaccine trial

Newcastle Hospitals Trust will also help to trial possible new treatments for Covid-19.




BBC News - Published





Newcastle to make £53m bid for Bale - gossip

Newcastle to make £53m Gareth Bale move, Odion Ighalo blow for Manchester United, Dejan Lovren to Roma, plus more.




BBC News - Published





Coronavirus: Newcastle children's cancer doctor smashes head shave target

Dr Geoff Shenton says the fundraiser also served to make patients aware his hospital was still open.




BBC News - Published





Newcastle-Gateshead kittiwakes arrive back on Tyneside

The population of the protected seabirds has risen in the last few years, a charity says.




BBC News - Published




Coronavirus: Newcastle couple hold virtual wedding day in lockdown

Poppy and Steven recreated their big day, complete with cardboard guests, after it was postponed.




BBC News - Published





Neymar would have to take pay cut for Barca return - gossip

Neymar to take pay cut to force Barcelona move, Beckham wants James, Newcastle eye Cavani, Karius to join Wolves, plus more.




BBC News - Published





Boy from Newcastle accused of right-wing terror offences

The 16-year-old faces 11 charges including supporting the banned neo-Nazi group National Action.




BBC News - Published





Coronavirus: UK Pride event cancelled amid outbreak

The festival, set to be staged in Newcastle in July, has been rearranged for next year.




BBC News - Published





'Largest' fair cancelled due to virus outbreak

The annual event in Newcastle, dating back to 1882, is said to be Europe's largest travelling fair.




BBC News - Published





Coronavirus: Newcastle boss criticises Ealing over possible legal action

Newcastle boss Dean Richards says the possibility of Ealing pursuing legal action over promotion from the Championship is "distasteful".




BBC News - Published





Coronavirus: Newcastle breath test forced to trial outside UK

A Northumbria University scientist believes his test could be better and quicker than current tests.




BBC News - Published





Coronavirus: Newcastle church member 'had no symptoms' at worship

The man went to the church in Newcastle and his child also went to a party at a soft-play venue.




BBC News - Published





Man City travel to Newcastle in FA Cup quarter-finals - full draw

Holders Manchester City will travel to Newcastle United in the FA Cup quarter-finals.




BBC News - Published





Why a potential Saudi takeover holds no issue for many Newcastle fans

News of a potential £340m takeover of Newcastle from Saudi Arabia has been greeted on the streets of Tyneside with excitement rather than any moral outcry.




BBC News - Published





Two UK coronavirus patients being treated in northern England

The first two people in Britain to be diagnosed with the new coronavirus are being treated in a hospital in Newcastle, northeast England, Britain's health ministry said on Friday.




Reuters - Published




Newcastle United talks on Saudi Arabia takeover at 'advanced' stage

Talks over a £340m takeover of Newcastle by Saudi Arabia's sovereign wealth fund are "advanced", BBC Sport understands.




BBC News - Published





League One Oxford draw at Newcastle to earn FA Cup replay

Steve Bruce is hugely critical of his Newcastle side's "ridiculous" mistakes as they are held at home by League One Oxford in the FA Cup fourth round.




BBC News - Published




Coronavirus: British artist given all clear after China return

Michael Hope developed "a nasty cough" on returning to Newcastle from Wuhan where he worked.




BBC News - Published





Passenger dies on board EasyJet flight to Newcastle

The airline said medical assistance was provided after someone was taken ill en route from Alicante.




BBC News - Published





Man City top & Newcastle bottom - the Premier League according to expected goals

At the turn of the year, Liverpool hold a dominant lead in the Premier League, but expected goals paints a different picture.




BBC News - Published




Labour wins first seat of general election

Labour won the first seat to be declared in the 12 December general election, with Chi Onwurah taking Newcastle-upon-Tyne Central with 21,568 votes to her Conservative rival's 9,290.




Independent - Published





Newcastle offer season ticket holders free half-season ticket to try to fill St James' Park

Newcastle are offering season ticket holders a free additional half-season ticket to gift to fellow supporters to help fill St James' Park.




BBC News - Published




Controversial Shelvey goal helps Newcastle end Sheff Utd's unbeaten run

Jonjo Shelvey has a goal awarded by VAR as Newcastle stun Sheffield United to win 2-0 at Bramall Lane and move up to 11th in the Premier League.




BBC News - Published





Police staff at fault over Mark Needham custody death

Mark Needham had five seizures in his cell at a police station in Newcastle.




BBC News - Published





Melissa Tate: Man pleads guilty to causing 10-year-old's death by dangerous driving in Newcastle hit-and-run

The schoolgirl had 'a heart of gold', says father




Independent - Published





Jonny earns draw for Wolves at 10-man Newcastle

A close-range finish from Jonny ensures Wolves fight back to earn a battling point against Newcastle at St James' Park.




BBC News - Published





Lewis Ritson beats Robbie Davies Jr in Newcastle super lightweight thriller

Lewis Ritson beats Robbie Davies Jr by unanimous decision in a thrilling super lightweight fight at Newcastle's Utilita Arena.




BBC News - Published





Ewan Ireland: Teen who murdered lawyer Peter Duncan named

Ewan Ireland stabbed Peter Duncan to death at the Eldon Square shopping centre in Newcastle.




BBC News - Published





Melissa Tate death: Girl's donated organs 'save four lives'

Ten-year-old Melissa Tate died the day after she was struck by a car in Newcastle last month.




BBC News - Published





Leicester 5-0 Newcastle: No need for Newcastle to panic yet - Micah Richards analysis

Things look pretty grim for Newcastle after Sunday's heavy defeat by Leicester but I don't think they need to press the panic button yet, says MOTD2 pundit Micah Richards.




BBC News - Published




Ten-year-old girl killed in 'horrific' hit-and-run in Newcastle

Police arrest four people including man believed to be driver in collision




Independent - Published





Boy, 17, admits Eldon Square screwdriver murder

Peter Duncan was attacked outside a branch of Greggs in Newcastle city centre last month.




BBC News - Published





YouTuber Alberto Dumba raising awareness of knife crime

The 21-year-old says he moved away from Newcastle after seeing people his own age getting involved in knife crime.




BBC News - Published





Dubai helicopter rides, hating movies & killing rabbits - Michael Owen busts internet rumours

England and Liverpool star Michael Owen reveals how he 'hates watching films' and how he 'didn't commute to Newcastle every day in a helicopter' as he busts internet rumours in BBC Sport's 'Setting it..




BBC News - Published





Great North Run 2019: Thousands to take on half-marathon

About 57,000 runners have registered for the annual half-marathon between Newcastle and South Shields.




BBC News - Published





Megabus mix-up annoys Newcastle to London passengers

A coach from Newcastle to London breaks down after arriving with not enough seats for its passengers.




BBC News - Published





Teen in court over screwdriver stab death in Newcastle

A 17-year-old boy is charged with murdering "devoted father" Peter Duncan in Newcastle.




BBC News - Published





Peter Duncan: Youth charged with screwdriver murder

A youth is charged with murdering "devoted father" Peter Duncan, who was stabbed in Newcastle.




BBC News - Published





Newcastle stabbing: 'Devoted father' Peter Duncan killed with screwdriver at shopping centre

Seven teenagers arrested after 'chance encounter' outside Greggs




Independent - Published





Newcastle shopping centre stabbing: Seven teenagers arrested

A 52-year-old man was stabbed to death outside Greggs in Old Eldon Square in Newcastle city centre.




BBC News - Published





Newcastle stabbing: Six arrested on suspicion of murder

Six men are arrested on suspicion of murder in connection with the assault outside a Greggs.




BBC News - Published