Durham, North Carolina
City in North Carolina, United States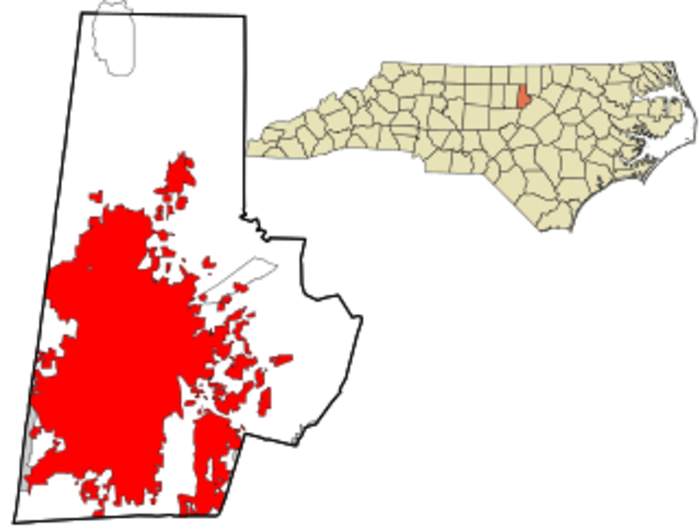 Durham (/ˈdʌrəm/) is a city in and the county seat of Durham County in the U.S. state of North Carolina. Small portions of the city limits extend into Orange County and Wake County. The U.S. Census Bureau estimated the city's population to be 278,993 as of July 1, 2019, making it the 4th-most populous city in North Carolina, and the 79th-most populous city in the United States. The city is located in the east-central part of the Piedmont region along the Eno River. Durham is the core of the four-county Durham-Chapel Hill Metropolitan Area, which has a population of 542,710 as of U.S. Census 2014 Population Estimates. The Office of Management and Budget also includes Durham as a part of the Raleigh-Durham-Chapel Hill Combined Statistical Area, commonly known as the Research Triangle, which has a population of 2,037,430 as of U.S. Census 2014 Population Estimates.


Biden attacks Trump in N. Carolina over COVID-19

During a speech in Durham, North Carolina, on Sunday, Democratic presidential candidate Joe Biden criticized President Donald Trump for saying over the weekend that the United States had "turned the..
Credit: Reuters Studio Duration: 02:07
Published
You Might Like



Dominic Cummings: Private prosecution has 'reasonable prospect' of convicting PM's adviser of lockdown breaches, QC says

Law graduate crowdfunding case over Downing Street aide's trip to Durham




Independent - Published





Black Durham trainee vicar denied job at 'white' church

Augustine Tanner-Ihm was told he "might feel uncomfortable" at a "monochrome white" church.




BBC News - Published





Dominic Cummings' trip partly to blame for public following lockdown rules less strictly, poll finds

One third of those following restrictions less closely cite Durham journey made by prime minister's aide as factor




Independent - Published





Matt Hancock repeatedly refuses to say whether Dominic Cummings 'did the right thing'

Matt Hancock has repeatedly refused to answer whether Dominic Cummings "did the right thing" when travelling to Durham despite strict coronavirus restrictions.




Independent - Published





Coronavirus: Durham police lockdown travel fines revealed

The BBC uncovers details of fines issued by police forces for travelling at height of coronavirus lockdown.




BBC News - Published





Dominic Cummings: Scottish Tory leader calls for resignation of top Boris Johnson aide

Follows the resignation of Douglas Ross, junior minister at the Scotland Office, over top advisor's lockdown trip to Durham




Independent - Published





UK politics news – live: Dominic Cummings made 'mockery' of public health advice, experts say, amid fury at failure to apologise for Durham trip

Follow all the latest development as the Dominic Cummings scandal unfolds




Independent - Published





Defiant Dominic Cummings 'does not regret' lockdown trip to Durham amid public and Tory anger




Independent - Published





Dominic Cummings blames media for public anger over his lockdown trip to Durham

Boris Johnson's senior aide Dominic Cummings has blamed the media for public anger over his 260-mile trip with his wife and child during lockdown.




Independent - Published




Dominic Cummings says he does not regret breaking lockdown by travelling to Durham

Dominic Cummings has said he has no regrets about breaking the lockdown and driving to Durham after his wife had fallen ill with coronavirus, in a briefing at Downing Street.




Independent - Published




Dominic Cummings defends breaking lockdown and says he was worried for safety of wife and child

Dominic Cummings has said he broke lockdown rules by travelling to Durham because he feared for the safety of his wife and young son.




Independent - Published





Dominic Cummings: How many Tory MPs have now called on Boris Johnson to sack top aide?

Brexiteer Steve Baker and ex-minister Caroline Nokes among top Conservatives turning against PM over adviser's trip to Durham




Independent - Published





Boris Johnson skirts around question of whether Dominic Cummings took day trip 30 miles from self-isolation in Durham

Boris Johnson has skirted questions over whether or not Dominic Cummings took a sightseeing trip while the country was in lockdown, as he set out his support for his most senior adviser.




Independent - Published





Grant Shapps dodges question on whether PM knew about Dominic Cummings' lockdown trip to Durham

A cabinet minister has said Boris Johnson was "pretty ill" when Dominic Cummings took a 250-mile trip during lockdown, as he dodged questions about what the prime minister knew and when.




Independent - Published





'This was staying put': Grant Shapps attempts to defend Dominic Cummings' 500-mile lockdown round trip to Durham

The transport minister has insisted the government's chief advisor Dominic Cummings did not break the lockdown rules when he made a 500-mile round trip to his family in Durham.




Independent - Published





Dominic Cummings defends lockdown trip as 'right thing' to do amid calls for him to resign

Dominic Cummings has broken his silence after it emerged he apparently flouted lockdown rules by travelling to Durham with his sick wife and child.




Independent - Published





'It was essential': No 10 breaks silence to defend Dominic Cummings' 250-mile trip during lockdown

No 10 have defended Dominic Cummings saying it was "essential" he visited Durham while sick with coronavirus.




Independent - Published





UK politics news – live: Dominic Cummings under pressure to resign after flouting lockdown rules as poll shows Johnson's support ebbing away

Prime minister's top aide travelled to Durham while suffering from coronavirus, it emerges




Independent - Published





Labour call for action after reports police spoke to Dominic Cummings over breaking lockdown rules

The Labour Party has urged Downing Street to provide a "very swift explanation" after reports suggested the prime minister's chief political aide Dominic Cummings was spoken to by police about a trip..




Independent - Published





Coronavirus: Durham mothers stay fit at home during outbreak

With group meetings scrapped due to the outbreak, they can now take part at home.




BBC News - Published





Murder inquiry after man stabbed near Durham bus station

The man was treated by paramedics but died at the scene shortly after he was found injured at 08:30 GMT.




BBC News - Published





Durham archaeological dig reveals 'earliest resident'

The remains, dated to between 90BC and AD60, are evidence of Iron Age settlement in the area.




BBC News - Published





Ben Stokes: England star to be made freeman of Cockermouth

The England and Durham all-rounder grew up in Cockermouth in Cumbria.




BBC News - Published





Peter Hanscomb: Durham sign Australia wicketkeeper for remainder of season

Durham sign Australia's Peter Hanscomb for the rest of the season, with the wicketkeeper to feature in all three formats.




BBC News - Published





Mark Wood on Cricket World Cup, Durham and England v Australia

England's Mark Wood has some news for Durham supporters and looks forward to Thursday's World Cup semi-final against Australia.




BBC News - Published





Teenage 'white supremacist' who wanted race war sexually assaulted 12-year-old girl, court hears

Boy, 16, accused of preparing act of terrorism and collecting bomb and weapons manuals in Durham




Independent - Published





Durham boy, 16, 'wanted to start race war'

The boy, who is accused of six terror offences, had a Molotov cocktail shopping list, a court hears.




BBC News - Published