Benin
Coastal country in West Africa on the Gulf of Guinea, formerly known as Dahomey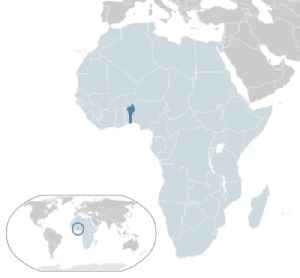 Benin, officially the Republic of Benin and formerly known as Dahomey, is a country in West Africa. It is bordered by Togo to the west, Nigeria to the east, Burkina Faso to the north-west, and Niger to the north-east. The majority of its population lives on the small southern coastline of the Bight of Benin, part of the Gulf of Guinea in the northernmost tropical portion of the Atlantic Ocean. The capital of Benin is Porto-Novo, but the seat of government is in Cotonou, the country's largest city and economic capital. Benin covers an area of 114,763 square kilometres (44,310 sq mi) and its population in 2018 was estimated to be approximately 11.49 million. Benin is a tropical nation, highly dependent on agriculture, and is a large exporter of cotton and palm oil. Substantial employment and income arise from subsistence farming.


You Might Like
Kidnapped captain of Portugal-flagged ship freed-Bulgaria
The Bulgarian captain of a Portuguese-flagged cargo ship who was kidnapped along with seven other sailors by pirates off the coast of Benin last month, has been freed, Bulgaria's foreign ministry said..
Reuters - Published
Pirates seize Portugal-flagged ship off Benin, kidnap crew: Bulgaria
Pirates attacked a Portugal-flagged ship and kidnapped its Bulgarian captain and seven sailors off the coast of Benin, Bulgaria's foreign ministry said on Tuesday.
Reuters - Published
Benin prince calls for Bristol Museum to return stolen sculpture
Prince Edun Akenzua urges Bristol Museum to consider returning one of the stolen Benin Bronzes.
BBC News - Published
Benin company harvesting plants that could soak up oil spills
A company in Benin harvests water hyacinths which can be used to soak up oil.
BBC News - Published
Pressure grows on UK to return looted colonial artefacts as France prepares to give back artworks
Benin's culture minister welcomes 'opening of a broader discussion'
Independent - Published
Cambridge college to return looted Benin cockerel statue to Nigeria
A Cambridge University college said on Thursday it would return an antique statue of a cockerel to Benin City in Nigeria, more than 120 years after the work was looted by British colonial forces.
Reuters - Published
Nigeria to form border force with neighbors Benin and Niger to fight smuggling
Nigeria and neighboring countries Benin and Niger have agreed to set up a joint border patrol force to tackle smuggling between the West African countries, they said in a communique on Thursday.
Reuters - Published
Pirates kidnap four crew from Greek boat off Togo: Togo navy
Pirates attacked a Greek oil tanker off the coast of Togo in the early hours of Monday and fled after taking four crew members as hostages, the West African nation's navy said, two days after a similar..
Reuters - Published
Benin authorities open investigation after nine people abducted by pirates
Benin authorities have opened an investigation after pirates abducted nine people from a Norwegian-flagged boat off the coast of the West African nation, the port of Cotonou said.
Reuters - Published
Pirates kidnap nine from Norwegian ship off Benin
They boarded the vessel while it was at anchor in the Gulf of Guinea, a hotspot for piracy.
BBC News - Published
Norway's Ugland says nine crew abducted by pirates from vessel off Benin
A vessel owned by Norwegian shipping firm J.J. Ugland was boarded by pirates while at anchor off the coast of Benin on Saturday, and nine crew members were kidnapped, the company said on Sunday.
Reuters - Published