River Thames
River in southern England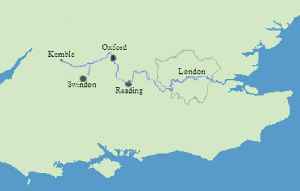 The River Thames, known alternatively in parts as the Isis, is a river that flows through southern England including London. At 215 miles (346 km), it is the longest river entirely in England and the second-longest in the United Kingdom, after the River Severn.


Sadiq Khan proposes City Hall Docklands move

Mayor of London Sadiq Khan has proposed the Greater London Authority move to London's regenerating Docklands area to save rental costs of up to £55 million. Mr Khan suggested the GLA move from their..
Credit: ODN Duration: 02:52
Published
Cat puts up a fight before being rescued from the Thames

Chiswick Lifeboat came to the aid of a black cat on a rapidly diminishing patch of shingle. The crew was greeted with snarls and spits, before the cat tried to climb the six-metre wall.
Credit: PA - Press Association STUDIO Duration: 01:11
Published
Pilots take advantage of Britain's empty skies

Instead of a Boeing or Airbus flying overhead, Londoners are now likely to see a vintage biplane or two as a group of flying enthusiasts make the most of the empty airspace over the capital.
Credit: Reuters Studio Duration: 01:37
Published
You Might Like



Thames drowning: Eyad Al Ryabi 'trying to save friend'

Eyad Al Ryabi is named locally as the man found dead in a stretch of the River Thames in Berkshire.




BBC News - Published





Cookham: Search continues for missing Thames swimmer

The man got into difficulty in a stretch of the river in Berkshire on Tuesday evening, police say.




BBC News - Published





Sadiq Khan plans to move office as coronavirus leaves £500m black hole in London's finances

Consultation begins on leaving iconic City Hall site on south bank of Thames




Independent - Published





Cookham: Police searching for man missing in River Thames

The man has not been seen since he entered the water in Cookham, police say.




BBC News - Published

Also reported by •Independent


Abingdon missing man: River Thames body thought to be Robert Wilson

Police said the body, thought to be Abingdon man Robert Wilson, was found in the river on Sunday.




BBC News - Published





Dorchester-upon-Thames man jailed for coughing in officer's face

Alex Wood did the "deliberate act" as he was being arrested for assaulting a woman, police say.




BBC News - Published





London Bridge road works force partial Thames crossing closure

Buses, licensed taxis, motorcycles and bikes are the only modes of transport allowed on the bridge.




BBC News - Published





Two bodies found in River Thames

Police treating deaths as 'unexplained'




Independent - Published





Sperm whale dies after three-day struggle in Thames estuary

Rescuers monitored 'distressed and confused' animal off coast of Whitstable




Independent - Published





River Thames: Shepperton search for 'nature lover' Gary Sturgess

Gary Sturgess has not been seen since he entered the Thames from his moored boat on Saturday night.




BBC News - Published





London New Year's Eve celebrations: Police warn revellers not to attend River Thames fireworks without a ticket

New decade set to be ushered in with mass displays lighting up cities across country




Independent - Published





WWII bomb found near River Thames in Chelsea

The device was discovered in Chelsea, west London, by the team building a new sewer under the river.




BBC News - Published





Third whale in two months found dead in River Thames

Stranded minke discovered by members of public near Battersea Bridge in London




Independent - Published





Sinking suburban 'home' drifts down Thames in watery climate protest

A floating mock-up of a typical British suburban home was seen slowly sinking into the Thames in central London on Sunday in a protest organized by Extinction Rebellion to demand politicians fighting a..




Reuters - Published




Thames flood defence scheme secures £270m boost

The planned scheme, which aims to protect thousands of homes, is awarded £270m from Surrey Council.




BBC News - Published





Second whale found dead in the Thames in one month

Early indications suggest 32ft-long animal is rare fin whale




Independent - Published





Another whale dies in the Kent stretch of the River Thames

The body of the mammal, thought to be a fin whale, was spotted in the water near Gravesend.




BBC News - Published





Zane Gbangbola evidence targets Thames flood inquest 'gaps'

Zane Gbangbola's parents believe the seven-year-old's death was linked to gases from a landfill site.




BBC News - Published





Humpback whale spotted swimming in Thames has died, charity says

Autopsy will be carried out later this week on creature nicknamed Hessy




Independent - Published

Also reported by •BBC News


Humpback whale spotted in River Thames found dead

The mammal was found motionless on mudflats at Greenhithe, a marine rescue group says.




BBC News - Published

Also reported by •Independent


Passengers leap into River Thames as flames engulf ship

'The flames were really bad and the smoke was thick and black'




Independent - Published





Body found in Thames was attack suspect Everett Watson

Everett Watson was wrongly identified as white man when he was pulled from the Thames.




BBC News - Published





River Thames virtual dive exposes an array of life

A "virtual dive" into the River Thames reveals some of the creatures that now inhabit the waterway.




BBC News - Published





Antibiotic-resistant bacteria found in River Thames

Scientists are concerned that it could lead to infections that cannot be treated.




BBC News - Published





Marchioness disaster: Thames historic vessels 'still not modernised'

More than 50 people died when the Marchioness pleasure boat sank on the Thames 30 years ago.




BBC News - Published





Marchioness disaster: The night of the tragedy

Fifty-one people were killed when the pleasure boat collided with a dredger on the River Thames.




BBC News - Published





Benny the beluga whale 'left Thames in January'

The beluga whale was regularly spotted along the Kent stretch of the River Thames.




BBC News - Published





Third body found in hunt for swimmers missing in River Thames

Menelik Mimano was last seen struggling in the water at Waterloo Bridge during heatwave




Independent - Published




Third body recovered from River Thames by Canary Wharf

The man is believed to be Manelik Mimano, 26, who was missing from the Southbank area since Wednesday.




BBC News - Published





River Thames missing swimmers: Body pulled from water in Wapping

Searches are continuing for two other swimmers who vanished in different stretches of the river.




BBC News - Published





Shadwell Basin: Police divers search for missing swimmer

A 22-year-old man is missing after entering the River Thames in sweltering temperatures.




BBC News - Published





First London bridges light up for illuminated Thames project

Up to 15 bridges across London will eventually become part of the Illuminated River project,




BBC News - Published





River Thames swans 'under threat'

The Queen's Swan Marker says cygnets are under threat from dogs and the American mink.




BBC News - Published





"All up": Queen Elizabeth's swans checked and counted

Royal officials clad in scarlet outfits took to the River Thames in traditional boats on Monday for the annual "Swan Upping" ceremony, an 800-year-old tradition of counting the swans owned by..




Reuters - Published





Henley Royal Regatta 2019: Boats, blazers, beer and bubbles

Rowers will battle it out on the River Thames in Oxfordshire over the next five days.




BBC News - Published