Birmingham
City in the English Midlands, 2nd highest population of UK cities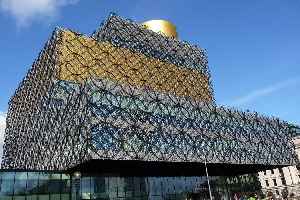 Birmingham is the second-most populous city in the United Kingdom, after London, and the most populous city in the English Midlands. It is also the most populous metropolitan district in the United Kingdom, with an estimated 1,137,123 inhabitants, and is considered the social, cultural, financial, and commercial centre of the Midlands. It is the main local government of the West Midlands conurbation, which is the third most populated urban area in the United Kingdom, with a population of 2,897,303 in 2017. The wider Birmingham metropolitan area is the second largest in the United Kingdom with a population of over 4.3 million. It is frequently referred to as the United Kingdom's "second city".


Leneto Kellengbeck death: Man charged with murder
A man is due to appear before Birmingham magistrates accused of killing Leneto Kellengbeck.
BBC News - Published
Erdington shooting: Man shot dead in street
The 28-year-old man, who has not yet been named, was killed on Church Road in Birmingham.
BBC News - Published
Stained glass technique kills deadly hospital bacteria
A new kind of glass can eradicate the deadliest hospital infections within hours using a technique similar to medieval stained glass-making. Stuart McDill reports from Aston University in Birmingham.
Credit: Reuters Studio Duration: 02:09Published
Five mosques vandalised in Birmingham | #TheCube
UK police launch an investigation after five mosques and islamic centres are vandalised in Birmingham.
Credit: euronews (in English) Duration: 01:41Published
Birmingham Mosque Vandalism Under Counter-Terrorism Investigation
According to a report by CNN, on Thursday, counter-terrorism police launched an investigation after 5 mosques in the British city of Birmingham were vandalized. West Midlands Police first responded to..
Credit: Wochit News Duration: 00:45Published
Man shot dead by police in Birmingham
A man in his 50s has been shot dead by armed police during an operation in Lee Bank, Birmingham, West Midlands Police said.
Credit: PA - Press Association STUDIO Duration: 00:38Published
'Dylan the villain' wins UK's Crufts dog show
A mischievous toy dog known affectionately as 'Dylan the Villain' won the Crufts dog show in Birmingham. Rough Cut (no reporter narration)
Credit: Reuters Studio Duration: 00:45Published
Pitch invader punches Villa's Grealish during derby at Birmingham
Police arrest man who attacked Aston Villa's Jack Grealish in the derby game against Birmingham City.
Credit: Reuters - Sports Duration: 00:53Published
Erdington shooting: 28-year-old man shot dead in Birmingham, police say
A man has been killed following a shooting in a Birmingham suburb, police have said.
Independent - Published
National Action trial: Accused sent 'kill, kill kill' text
Alice Cutter was texting her partner Mark Jones in 2016, Birmingham Crown Court hears.
BBC News - Published
Digging for victory in Birmingham allotments battle
The plots have been under threat of redevelopment linked to the 2022 Commonwealth Games.
BBC News - Published
Search this site and the web:
You Might Like