Yemen
Country on the Arabian Peninsula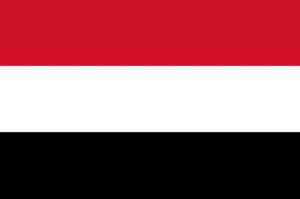 Yemen, officially the Republic of Yemen, is a country at the southern end of the Arabian Peninsula in Western Asia. It is the second-largest Arab sovereign state in the peninsula, occupying 527,970 square kilometres. The coastline stretches for about 2,000 kilometres. It is bordered by Saudi Arabia to the north, the Red Sea to the west, the Gulf of Aden and Guardafui Channel to the south, and Oman to the east. Yemen's territory encompasses more than 200 islands, including the Socotra islands in the Guardafui Channel. Yemen is characterized as a failed state with high necessity of transformation. Yemen's constitutionally stated capital is the city of Sanaa, but the city has been under Houthi rebel control since February 2015 as well as Aden, which is also controlled by the Southern Transitional Council since 2018. Its executive administration resides in Riyadh, Saudi Arabia.


Several killed in Yemen floods

Storms continue around Gulf of Aden and southern Red Sea, leaving at least 17 dead in the northern Marib region.
Credit: Al Jazeera STUDIO Duration: 02:43
Published
Boys raise thousands of pounds for Yemen by selling lemonade

Six-year-old best friends raise £37,000 for Yemen by selling homemade lemonade from their driveway in Redbridge. Report by Bassaneseg. Like us on Facebook at http://www.facebook.com/itn and follow us..
Credit: ODN Duration: 01:21
Published
UN warns over oil tanker stranded off Yemen coast for years

Both the Yemeni government and Houthi fighters lay claim to its valuable cargo and neither side is budging.
Credit: Al Jazeera STUDIO Duration: 02:19
Published
Air strikes kill civilians in Yemen's al-Jawf province

Air raids by Saudi-led coalition hit residential homes in northern al-Hazm district, killing women and children.
Credit: Al Jazeera STUDIO Duration: 02:13
Published
UN says migrants in Yemen stranded, abused amid coronavirus fears

At least 14,500 African migrants, mostly Ethiopians, blamed for the coronavirus, rounded up and forcibly moved.
Credit: Al Jazeera STUDIO Duration: 01:53
Published
UN slammed for taking Saudi coalition off child rights blacklist

HRW denounced Guterres for ignoring the UN's own evidence of continued grave violations against children in Yemen.
Credit: Al Jazeera STUDIO Duration: 02:28
Published
Yemen: UAE-backed separatists take control of Socotra

UAE-backed southern separatists in Yemen seize control of the strategic Socotra island from the Saudi Arabian-backed government.
Credit: Al Jazeera STUDIO Duration: 02:44
Published
Clashes erupt between Yemen gov't forces, separatists in Socotra

Southern separatists storm security department building in city of Hadibouh, official says.
Credit: Al Jazeera STUDIO Duration: 02:13
Published
Saudi coalition shoots down Houthi ballistic missiles and drones

Missiles and 'booby-trapped unmanned aircraft' from Yemen's Houthi rebels intercepted, including one fired on Riyadh.
Credit: Al Jazeera STUDIO Duration: 06:01
Published
Coronavirus: Yemen refugees face terrible conditions

More than 280,000 refugees are living in Yemen, but many say they no longer feel welcome and are leaving.
Credit: Al Jazeera STUDIO Duration: 02:12
Published
Houthis launch missile, drone attack on Riyadh

Yemen's Iran-aligned Houthi movement said it launched a large missile and drone attack deep in Saudi Arabia on Tuesday that struck the defense ministry and a military base in Riyadh, but the kingdom..
Credit: Reuters Studio Duration: 01:24
Published
Yemen COVID-19: Fears cases and deaths are being underreported

The WHO believes many more people in Yemen are affected by coronavirus than official reporting shows.
Credit: Al Jazeera STUDIO Duration: 02:46
Published
You Might Like



Boys' lemonade stand raises thousands for Yemen crisis

Best friends, Ayaan and Mikaeel, aged six, want to help children suffering in the Yemen crisis.




BBC News - Published




Yemen conflict: Southern separatists give up self-rule

An agreement aims to heal a rift in the Saudi-led coalition against Houthi rebels in the north.




BBC News - Published





From Yemen to Wales: 'I thought I would die under that lorry'

Forced to flee for his life, Mujahed Aqlan relives his perilous journey across Europe as a teenager.




BBC News - Published





Yemen war: Tortured for supporting the 'wrong' side

Disappearances and brutality have become hallmarks of the fighting in Yemen, documented cases show.




BBC News - Published





Coronavirus: The doctors on Yemen's front line

Five years of civil war have left the country's medical system devastated and Covid-19 is spreading largely unchecked.




BBC News - Published





UK to resume arms sales to Saudi Arabia despite 'possible' war crimes in Yemen, government says

Government says possible war crimes commited by Saudi Arabia are 'isolated incidents' and resumes sales




Independent - Published





Yemen crisis: Five years of hunger, five years of war

Yemen's humanitarian crisis is worsening as coronavirus compounds the impact of the conflict.




BBC News - Published





Yemen crisis: Separatists take over 'Galapagos of Indian Ocean'

Socotra, prized for its flora and fauna, falls to separatists further complicating the Yemen crisis.




BBC News - Published





Coronavirus: Five reasons why it is so bad in Yemen

Five reasons why Yemen could be the worst place for coronavirus in the world.




BBC News - Published





Saudi proposes framework to end standoff between allies in southern Yemen: sources

Saudi Arabia has proposed a framework to end the latest standoff in southern Yemen between nominal allies under a Saudi-led coalition, three sources said, as violence escalates with the Iran-aligned..




Reuters - Published




Saudi-led coalition in Yemen denies killing civilians in Saada air strike

The Saudi-led coalition fighting in Yemen on Wednesday denied that an air strike it carried out earlier this week in Saada province had killed civilians, as alleged by Houthi authorities.




Reuters - Published





Saudi-led coalition asks U.N. to share details of child deaths in Yemen

A Saudi Arabia-led military coalition fighting in Yemen asked the United Nations on Tuesday to share details of its accusations that the coalition was responsible for 222 child deaths or injuries last..




Reuters - Published





Yemen war: UN takes Saudi-led coalition off child rights blacklist

Human rights groups accuse the secretary general of ignoring evidence of grave violations in Yemen.




BBC News - Published





Violence surges in Yemen after coronavirus truce expires

The Saudi-led coalition fighting in Yemen said it intercepted and destroyed a ballistic missile fired by the Iran-aligned Houthi movement towards the south of the kingdom on Tuesday after intercepting..




Reuters - Published





Saudi-led coalition cut from U.N. blacklist of warring parties killing children

U.N. Secretary-General Antonio Guterres on Monday removed a Saudi Arabia-led military coalition from a United Nations blacklist, several years after it was first named and shamed for killing and..




Reuters - Published




Separatists in south Yemen seize convoy with billions of riyals for central bank

Southern separatists in Yemen seized a consignment of billions of riyals intended for the central bank in Aden on Saturday, in a further attempt to wrench control from the Saudi-backed government since..




Reuters - Published





Saudi-led coalition in Yemen says it destroyed missile targeting Saudi Arabia

The Saudi-led military coalition in Yemen said on Saturday it had intercepted and destroyed a ballistic missile targeting the Saudi Arabian border city of Najran.




Reuters - Published





Yemen's qat markets still draw crowds despite coronavirus threat

Yemeni qat seller Hamdan Hussein's customers still come daily to the crowded market to buy the addictive green stimulant, despite doctors' concerns that chewing in groups and spitting it could spread..




Reuters - Published





Yemen aid operations at risk after fundraiser falls $1bn short

Donors pledge $1bn less than the UN says it needs to stop cuts to the world's largest aid operation.




BBC News - Published





Donors promise Yemen $1.35 billion, falling short of U.N. target to save aid operations

International donors raised $1.35 billion in humanitarian aid for Yemen on Tuesday but the amount fell short of the United Nations' target of $2.4 billion needed to save the world's biggest aid..




Reuters - Published





U.N. says donors have promised $1.35 billion in humanitarian aid to Yemen: aid chief

International donors promised $1.35 billion in humanitarian aid to Yemen on Tuesday, U.N. aid chief Mark Lowcock told a pledging conference to help the war-torn country.




Reuters - Published





Britain announces 160 million pounds in humanitarian aid to Yemen: minister

Britain announced on Tuesday 160 million pounds ($201 million) in humanitarian aid to Yemen, James Cleverly, the Foreign Office minister for the Middle East and North Africa, told a pledging conference..




Reuters - Published




Yemen pledging drive hopes to raise $2.4 billion to save aid ops as virus spreads

The United Nations and Saudi Arabia host a pledging conference for war-ravaged Yemen on Tuesday to help raise some $2.4 billion as funding shortages imperil the world's biggest aid operation.




Reuters - Published





Factbox: U.N. programmes in Yemen at risk of going broke

The United Nations said ahead of a pledging conference for Yemen on Tuesday that 30 of 41 major aid programmes in the war-torn country would close in the next few weeks without funding.




Reuters - Published





Saudi-led coalition says shot down two drones launched by Yemen's Houthis: agency

The Saudi-led coalition has shot down two drones launched by Yemen's Houthi group in the direction of Saudi Arabia, the state-run Saudi Press Agency said, citing a coalition spokesman.




Reuters - Published




Saudi Arabia confirms virtual donors conference for Yemen with U.N.

Saudi Arabia confirmed it will host a virtual donors conference next week for Yemen together with the United Nations which said the conflict-riven nation risked being overwhelmed by the coronavirus.




Reuters - Published




U.N. seeks $2.4 billion for Yemen, warns aid operation nearly broke

U.N. agencies trying to help the millions at risk from the conflict in Yemen are nearly broke, U.N. aid chief Mark Lowcock said on Thursday, announcing a drive to raise some $2.4 billion next week to..




Reuters - Published





Six killed in Saudi Arabia in shooting incident: state news agency

Saudi Arabian police in Assir, a region close to the Yemeni border, are investigating after a shooting incident in which six citizens died on Tuesday, state-run news agency SPA reported on Wednesday.




Reuters - Published





Missile attack on Yemen army base in Marib kills seven: sources

Houthi fighters in Yemen fired missiles at a military base of the Saudi-backed government in Marib province, northeast of the capital Sanaa, on Tuesday, killing seven people including relatives of the..




Reuters - Published





Child labour, marriages on rise in Yemen as COVID spreads: U.N. agency

The U.N. refugee agency said on Tuesday its work in Yemen was near a "potential breaking point" as coronavirus spreads in the war-damaged country, with rising numbers of families resorting to begging,..




Reuters - Published





Migrants stuck in Hungary can take walks after 'transit zones' shut

Pale, thin but in high spirits, Yemeni engineering student Wesam Al-Hadrami emerged from the unlocked gate of a new migrant centre in Hungary on Friday to take his first walk after nine months of..




Reuters - Published





Coronavirus: Yemen's healthcare system 'in effect collapsed'

A UN humanitarian agency warns that infections are spreading fast across the war-torn country.




BBC News - Published





Yemen's health system 'has in effect collapsed' as COVID spreads: U.N.

The new coronavirus is believed to be spreading throughout Yemen where the health care system "has in effect collapsed", the United Nations said on Friday, appealing for urgent funding.




Reuters - Published




Coronavirus catastrophe unfolding in south Yemen: medical charity MSF

The main coronavirus treatment centre in southern Yemen has recorded at least 68 deaths in just over two weeks, the medical charity running the site said on Thursday, more than double the toll..




Reuters - Published





FBI: US naval base attack 'motivated by Al-Qaeda'

The Saudi Air Force officer who killed three Americans in Florida spoke to the terror group in Yemen.




BBC News - Published





Yemen's Saudi-backed government pleads for coronavirus aid

Yemen's Saudi-backed government accused its Houthi foes of covering up a big outbreak of coronavirus in areas they hold and the United Nations warned that the country could suffer a "catastrophic" food..




Reuters - Published





Yemen could face 'catastrophic' food situation as pandemic worsens: FAO

Yemen, already pushed to the brink of famine by a five-year war, could see a "catastrophic" food security situation due to the coronavirus pandemic and lower remittances from the Gulf, the U.N.'s Food..




Reuters - Published





Pirates attack tanker Stolt Apal off Yemen, ship's manager says

Stolt Tankers said its vessel the Stolt Apal was attacked by pirates 75 nautical miles off Yemen's coast on Sunday.




Reuters - Published





Vessel attacked in Gulf of Aden: Britain's UKMTO

A vessel was attacked in the Gulf of Aden on Sunday, offshore of Yemen's port of Mukalla, the United Kingdom Maritime Trade Operations (UKMTO) said, without giving further details.




Reuters - Published





Yemen reports 21 new coronavirus cases including three deaths

Yemen's Saudi-backed government reported on Friday 21 new coronavirus cases, including three deaths, the coronavirus committee said on Twitter.




Reuters - Published





Coronavirus: Surge in deaths reported in southern Yemen

There are reports of a huge rise in people dying with coronavirus-like symptoms in the city of Aden.




BBC News - Published





Yemen reports first coronavirus cases in southern province

Yemen's Saudi-backed government on Thursday reported the first cases of novel coronavirus in the southern province of Al Dhalea, underlining fears that the infection had found a foothold in the..




Reuters - Published




Yemen warring parties make 'significant progress' on truce: U.N.

The warring parties in Yemen have made "significant progress" toward agreeing a ceasefire, U.N. Yemen envoy Martin Griffiths told the Security Council on Thursday.




Reuters - Published





Yemen's PM says the key to restoring peace is to end the armed militia rebellion

Yemen's Prime Minister Maeen Abdulmalik said on Wednesday the key to restoring peace in Yemen is to restore the country and its institutions and to end the armed militia rebellion, according to a..




Reuters - Published





Exclusive: As COVID-19 cases in Yemen surge, some sources see undercounting

Yemen has more suspected coronavirus cases and deaths than the authorities have so far reported, four sources familiar with the matter told Reuters, as the United Nations warned the virus is spreading..




Reuters - Published