Illinois
State in the midwestern United States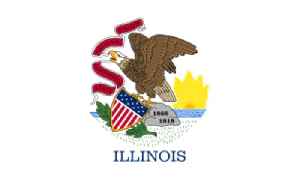 Illinois is a state in the Midwestern and Great Lakes regions of the United States. It has the fifth largest gross domestic product (GDP), the sixth largest population, and the 25th largest land area of all U.S. states. Illinois has been noted as a microcosm of the entire United States. With Chicago in northeastern Illinois, small industrial cities and immense agricultural productivity in the north and center of the state, and natural resources such as coal, timber, and petroleum in the south, Illinois has a diverse economic base, and is a major transportation hub. The Port of Chicago connects the state to international ports via two main routes: from the Great Lakes, via the Saint Lawrence Seaway, to the Atlantic Ocean and from the Great Lakes to the Mississippi River, via the Illinois River, through the Illinois Waterway. The Mississippi River, the Ohio River, and the Wabash River form parts of the boundaries of Illinois. For decades, Chicago's O'Hare International Airport has been ranked as one of the world's busiest airports. Illinois has long had a reputation as a bellwether both in social and cultural terms and, through the 1980s, in politics.


Kanye Wests inclusion on Illinois election ballot in doubt

Kanye Wests inclusion on Illinois election ballot is in doubt after officials have determined that almost two thirds of the signatures submitted to get the rappers name on the presidential ballot are..
Credit: Cover Video STUDIO Duration: 00:54
Published
African American Reporter: Like It Or Not, Box Braids Are Professional

For what seems like forever, the hair of African American women has been considered inherently unprofessional. In fact, the persistent practice of workplaces banning certain textures and styles..
Credit: Wochit News Duration: 00:41
Published
A Nasty Pandemic Side Effect: Murder

A new Wall Street Journal analysis reveals 36 of the United States' 50 largest cities have seen murder rates increase by double-digit percentages this year. A new Wall Street Journal analysis shows..
Credit: Wochit News Duration: 00:45
Published
Christopher Columbus statues removed in Chicago

Statues of Christopher Columbus were removed in Chicago, Illinois on Friday morning (July 24), in a bid by the mayor to prevent a repeat of recent clashes between police and protesters.
Credit: Reuters Studio Duration: 01:32
Published
There Are COVID Travel Restrictions In 15 States

According to Business Insider, nonessential travel is resuming as governors ease states' lockdown orders. But, it's not your typical summer travel season. 15 governors have enacted statewide travel..
Credit: Wochit News Duration: 00:34
Published
You Might Like



Kanye West Booted Off Illinois Ballot Due to 1,900 Invalid Signatures

Kanye West's Presidential run just got a death blow, at least in Illinois, where election officials say more than half his submitted signatures are invalid ... and that means he's off the ballot. TMZ..




TMZ.com - Published





Hat in hand: U.S. scientists scramble to support their COVID immunity research

It wasn't easy to build a COVID-19 antibody test during Illinois' statewide lockdown.




Reuters - Published




Protests against police violence sweep across small-town America

Before sundown on Thursday around 150 protesters marched down the main street in Anna, Illinois, past Bob's Tavern, Oasis of Grace Church, Douglas Skating Rink and Casey's General Store holding..




Reuters - Published




Illinois to sell debt in first deal with Fed's muni liquidity facility

Illinois announced on Tuesday an agreement to tap a new Federal Reserve borrowing program, marking the first state or local government to access funding to address revenue shortfalls due to the..




Reuters - Published





Trump, Illinois governor spar during call over get-tough talk

A conversation during which President Donald Trump urged U.S. state governors to crack down on nationwide protests became testy on Monday when Illinois governor J.B. Pritzker accused Trump of making..




Reuters - Published




U.S. high court rejects church challenges to state pandemic rules

The U.S. Supreme Court rejected challenges on Friday to curbs on religious services in California and Illinois during the coronavirus pandemic.




Reuters - Published




Trump administration backs lawsuit challenging Illinois coronavirus curbs

The Trump administration on Friday weighed in on a lawsuit brought against Illinois Governor J.B. Pritzker's coronavirus stay-at-home orders, with a rare federal court filing in support of the legal..




Reuters - Published




How big unions smooth the way for Amazon worker protests

Warehouse employees last month staged a walkout in Michigan to demand safer working conditions at their facility. So did workers in New York, Illinois and Minnesota.




Reuters - Published





Could coronavirus help Amazon workers unionize?

Warehouse employees last month staged a walkout in Michigan to demand safer working conditions at their facility. So did workers in New York, Illinois and Minnesota.




Reuters - Published





Illinois governor, staff to work from home after aide tests positive for coronavirus

Illinois Governor JB Pritzker and employees in his office will work from home after a senior staff member tested positive for the new coronavirus, according to a statement from Pritzker's office.




Reuters - Published





Illinois county to probe earlier deaths from heart attacks, pneumonia for COVID-19

Health officials in the U.S. state of Illinois' Cook County, which includes the city of Chicago, will probe deaths involving heart attacks and pneumonia for indications of COVID-19 as far back as..




Reuters - Published





Illinois posts state's largest single-day COVID-19 death toll

Illinois health officials on Tuesday reported that 142 people had died due to COVID-19 during the past 24 hours, the state's largest single-day death toll since the outbreak began.




Reuters - Published





Illinois lawmaker wins restraining order against governor's state-at-home order

A state lawmaker in Illinois won a restraining order on Monday against Governor J.B. Pritzker's stay-at-home orders in a case that could lead to more legal challenges against decrees by the first-term..




Reuters - Published





Smithfield to close Illinois pork facility after workers test positive for virus

World's largest pork processor Smithfield Foods Inc said on Friday it will suspend operations at its Monmouth, Illinois pork processing facility next week after some employees tested positive for..




Reuters - Published





Illinois governor to extend stay-at-home order: local media

Illinois Governor J.B. Pritzker was expected on Thursday to extend his state's stay-at-home order, which was to expire on April 30, to stem the spread of COVID-19, local media reported.




Reuters - Published





Home gardening blooms around the world during coronavirus lockdowns

Jaime Calder all but gave up on gardening after moving from the fertile soils of Illinois to dusty Texas, but the coronavirus changed her mind.




Reuters - Published





U.S. officials run into dead ends in rush to find masks amid pandemic

The office of U.S. congressman Adam Kinzinger reached out to the White House last month with an urgent request: a business in his district in Illinois had located 13 million highly sought-after N95..




Reuters - Published





Illinois projects sharp revenue drop due to coronavirus fallout

Economic fallout from the coronavirus outbreak will cost Illinois $7.3 billion in revenue for the current and next fiscal year, Governor J.B. Pritzker announced on Wednesday.




Reuters - Published





U.S. Midwest exploring cooperation around reopening as coronavirus eases: Illinois officials

U.S. Midwest governors are talking about regionally cooperating to reopen their economies as the coronavirus pandemic begins to ease, echoing a similar approach being taken by states on the East and..




Reuters - Published





African-Americans dying of coronavirus at higher rates, preliminary data shows

The new coronavirus is killing African-Americans at a higher rate than the U.S. population at large, according to preliminary numbers from Louisiana, Michigan and Illinois that officials say point to..




Reuters - Published




Estate of Walmart worker who died from COVID-19 sues for wrongful death

The family of a Walmart Inc employee in Illinois who died after contracting COVID-19, the illness caused by the novel coronavirus, has filed a lawsuit accusing the retail giant of failing to adequately..




Reuters - Published





Two coronavirus testing sites open in Illinois Walmart parking lots

Walmart Inc said on Sunday that federal drive-thru coronavirus testing sites have been set up in parking lots of its stores in Northlake and Joliet, Illinois to test first responders and healthcare..




Reuters - Published





Coronavirus stay-at-home directives multiply in major U.S. states

New Jersey's governor was expected on Saturday to follow four other states - California, New York, Illinois and Connecticut - demanding that millions of Americans close up shop and stay home to slow..




Reuters - Published




Stay-at-home orders in major states mark next phase of U.S. coronavirus crisis

New York and Illinois on Friday followed California in telling tens of millions of people to stay at home in the most sweeping measures the United States has taken so far to try to contain the..




Reuters - Published




Factbox: California, New York and Illinois 'stay at home' orders - What's allowed?

Three U.S. states - California, New York and Illinois - have issued similar statewide "stay at home" orders directing more than 72 million residents to remain in their homes for the foreseeable future..




Reuters - Published




Biden routs Sanders in Florida and Illinois, projected to win Arizona

Joe Biden rolled to blowout victories in Tuesday's three Democratic presidential primaries, expanding his lead in the race to challenge President Donald Trump in November and increasing pressure on..




Reuters - Published




A majority of Democrats look to Biden, not Sanders, during a crisis: poll

Most voters in Democratic presidential primaries in Illinois, Florida and Arizona said they trusted Joe Biden to handle a major crisis more than Bernie Sanders, according to Edison Research, as many..




Reuters - Published




Front-runner Biden crushes Sanders in Florida, projected to win Illinois

Joe Biden coasted to a blowout victory over Bernie Sanders in Florida's Democratic presidential primary and was projected to win Illinois on Tuesday, edging closer to the nomination to face President..




Reuters - Published




At a glance: Democratic presidential primary results and state delegate counts

The U.S. Democratic presidential nominating battle moved on to three more states - Florida, Illinois and Arizona - on Tuesday as the country grappled with the spreading coronavirus.




Reuters - Published




Ohio seeks to delay Tuesday's primary voting, others proceed amid coronavirus

Ohio will seek to postpone its presidential primary while Florida, Arizona and Illinois move ahead with voting on Tuesday amid growing concerns about the coronavirus that has shut down schools,..




Reuters - Published




The coronavirus campaign: Health threat reshapes U.S. presidential race

The U.S. presidential campaign enters a new and uncertain phase on Friday when Democratic front-runner Joe Biden holds his first virtual town hall for Illinois voters after pulling back from in-person..




Reuters - Published





Four states holding U.S. Democratic primary votes plan to go forward on Tuesday

Arizona, Illinois, Ohio and Florida will hold primary votes on Tuesday as planned, election officials in the four states said in a joint statement, despite growing government cancellations as officials..




Reuters - Published





Democrats swap virtual campaign events for rallies in coronavirus crisis

Democratic presidential contender Joe Biden on Wednesday canceled political rallies in Florida and Illinois due to concerns about the coronavirus pandemic and replaced them with what his campaign..




Reuters - Published